The second year of the COVID-19 pandemic is drawing to a close. The first half of this year has been extremely eventful. COVID-19 vaccines are being issued around the world, possibly bringing the end of the pandemic into sight. For the financial world, H1 2021 has also been eventful. For crypto — even historic. As H1 is behind us, here are the most important crypto trends of 2021 so far.
#1: The Explosion of DeFi — Crypto Trends 2021
Activity on the decentralized finance (DeFi) front began to see a major pickup in the summer months of 2020. Throughout June, July, and into August, some DeFi token prices saw triple-digit percentage jumps. However, DeFi's gains in summer 2020 were nothing compared to the first quarter of 2021.
Since the beginning of the year, the amount of capital being used in DeFi protocols–also known as "total value locked (TVL)"–was roughly $16 billion. As of March 25th, 2021, DeFi's TVL was over $38 billion, an increase of nearly 140 percent.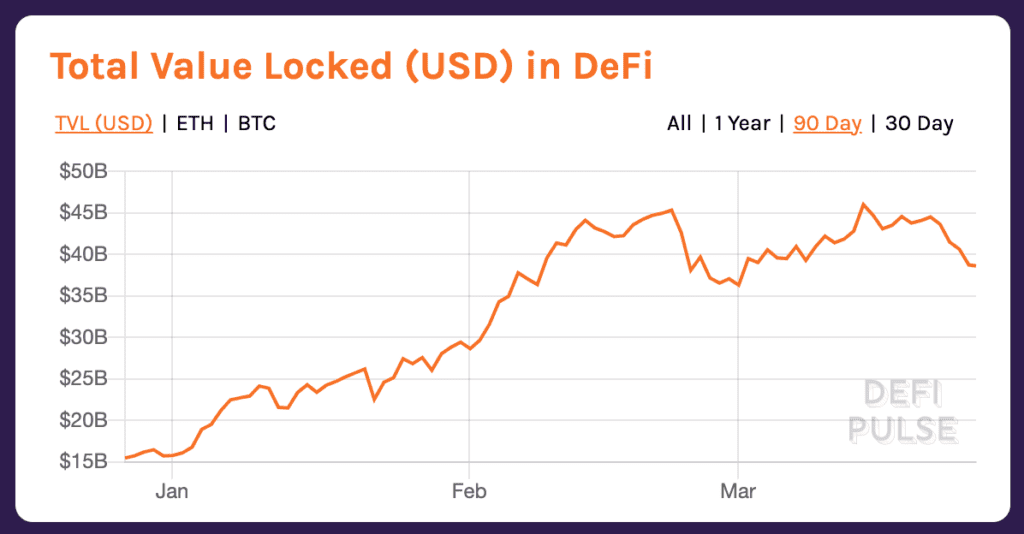 What has drawn all of this new money into DeFi? The exact reasons aren't clear. However, opportunities to earn passive income in the DeFi space seem to be an essential factor. Staking, yield farming, and lending are just a few (not to mention the impressive price-performance that many DeFi tokens have continued to display.)
In spite of (or perhaps because of) all of the hype around DeFi, critics have compared it to the initial coin offering (ICO) boom of late 2017. However, DeFi enthusiasts claim that there are some key differences between the ICO era and the DeFi age. Specifically, DeFi has brought higher-quality projects, a better understanding of blockchain's use cases, and a savvier investment base.
DeFi is growing so fast that many developers have sought alternatives to the Ethereum network, the original "backbone" of the DeFi industry. This has caused increased interest in other smart contract-enabled blockchains, such as Polkadot (DOT) and the Binance Smart Chain (BNB).
#2: NFT-o-Rama: Non-Fungible Tokens Have Arrived
One of the things contributing to the DeFi space's growth is the rise of non-fungible tokens, or NFTs.
If you haven't heard already, NFTs are digital collectables. Just like a one-of-a-kind painting or super-rare, unique Pokemon card in the "real world," no two NFTs are alike. This is what "non-fungible" means: assets that are non-fungible cannot be traded interchangeably for one another.
NFTs have been around for several years, but it seems like they are finally having their "moment" in 2021. In March, a number of high-profile artists and celebrities pulled in millions of dollars in NFT sales. Canadian musician Grimes pulled in $6.6 million in an NFT drop at the beginning of the month. American visual artist Beeple made $69 million from the sale of a single NFT. Even John Cleese got in on the fun.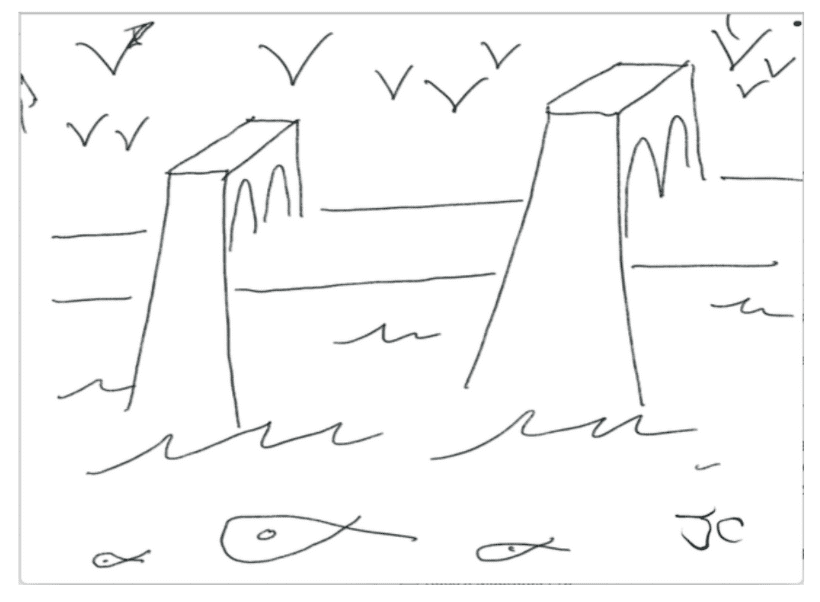 All of the attention on the NFT space has drawn quite a bit of criticism to the NFT concept. This criticism is not altogether unjustified. After a fake Banksy NFT sold for almost a million US dollars, smaller artists shared stories of their work being stolen and sold as NFTs.
Some artists are concerned about the environmental impact of NFTs, though there is some debate over the carbon footprint of creating an NFT.  Despite the controversy, many analysts seem to agree that NFTs aren't going anywhere anytime soon. 
#3: Institutional Investors See Bitcoin as a Hedge Against Inflation
As the COVID-19 pandemic has continued through the first quarter of 2021, governments around the globe are still seeking ways to stave off economic recession (or even depression).
As a result, money printers have continued to go "brrr," as many crypto enthusiasts love to say. In other words, quantitative easing has continued–particularly in the United States. This has shaped one of the 2021 crypto trends.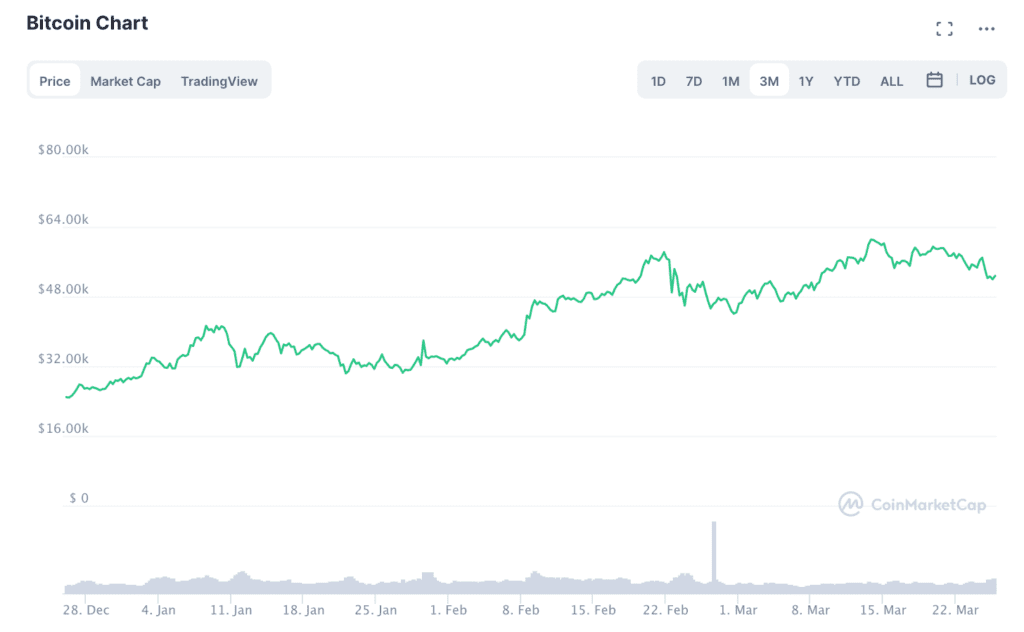 Because of this rapid increase in the number of dollars in circulation, many economic analysts have predicted that USD inflation could be in the cards over the next several years. These concerns over fiat inflation have caused many investors and money managers to seek assets that display anti-inflationary properties. For some, this quest led to investment in gold; for an increasing number of others, however, it led to Bitcoin.
Indeed, many high-profile institutional investors and corporations have added BTC to their balance sheets this year: Microstrategy, Tesla, Square, and Stoneridge, to name a few. Paul Tudor Jones also described BTC as "the fastest horse" in the race against inflation. 
#4: Central Bank Digital Currencies (CBDCs)
Central Bank Digital Currencies, or CBDCs, are not a new concept for crypto. However, some analysts have said that this year may bring the first large-scale CBDCs to market.
Throughout 2020, the list of countries and supranational entities that began exploring CBDCs grew considerably. Data from Remitano in March 2021 listed more than 40 countries in the "exploration" phase of CBDC development, including the United States and the United Kingdom. Twelve countries had moved onto the "pilot" stage.
What effect could these CBDCs have on crypto markets as we know them? It's unclear. However, Thomas Trepanier, Director of Business Development for Roxe at Apifiny, said in November 2020 that "embracing the CBDC will help break down the phobias and barriers that many have toward cryptocurrencies."
#5: The Rise of Retail Investors
If there's any significant change that 2021 has brought to all financial markets, it's the realization of just how much power retail investors have.
It all started in February when a group of rogue traders on the r/WallStreetBets subreddit banded together to "squeeze" hedge funds on Wall Street. The traders began to pump millions into GameStop (NYSE:GME) and several other "meme stocks." Soon after, they went for Dogecoin (DOGE).
Since then, retail investors have learned how much power they have in crypto markets and beyond. The rest is history.
Watch This Space for Crypto Trends of 2021
It certainly has been an eventful quarter for the cryptocurrency sphere. However, the year is only halfway gone. Stay tuned–Coinmotion is always there to help you participate in all of the hottest 2021 trends in crypto.