Once upon a time–long, long, ago–the banking world was very different than it is today. You see, dear reader, the account fees that banks charge and low-interest payments that they offer customers weren't always the way of the world. In fact, banks used to pay their customers fairly high rates in exchange for using their money to lend out to other customers.
Today, most Western banks offer their customers rates of 0.1% to 0.5%. Some banks offer no interest rates at all. But, for example, in 1957, customers could earn as much as 3% interest on their bank account holdings. Nerdwallet reports that by 1986, some passbook savings accounts paid their customers more than 5%. Today, however, you'd be hard-pressed to find a bank that offered even 1% interest even on the highest-yield savings account you can find.
In fact, depending on which country you are in and how much money you hold in your bank, you may be paying monthly fees to keep your money in a bank account. The bank then lends that money out to other customers and makes a profit–a profit that it keeps for itself.
This, dear reader, is precisely why interest-bearing crypto accounts were made.
Crypto interest accounts provide their users with higher interest rates than traditional banks
The ethos of the bitcoin and cryptocurrency worlds at large have long focused on democratization and decentralization of finance.
While the bitcoin whitepaper does not explicitly state it, several analysts have theorized that BTC was developed as a response to the 2008 financial crisis and the quantitative easing that followed it. Bitcoin, analysts say, was created so that people could wrest control of their financial lives away from banks and into their own hands.
Therefore, one can argue that the creation of bitcoin and other cryptocurrencies was a sort of "first step" toward true financial independence. However, suppose the creation of bitcoin and other cryptocurrencies was the "first step" away from centralized financial institutions. In that case, one can see the proliferation of interest-bearing crypto accounts as an essential next step in the march away from the imbalances of centralized power.
How do crypto interest accounts work?
While it's true that private companies offer interest-bearing crypto accounts, these accounts provide a much higher rate of compensation to customers than most banks do. Unlike traditional bank accounts, these crypto savings accounts offer their users higher interest rates.
In a traditional bank account, customers are limited to storing various kinds of fiat currency. Often, bank accounts only offer their customers to store the fiat currency of the country in which the bank is based. Interest-bearing crypto accounts, by contrast, allow their customers to store various kinds of cryptocurrencies. The exact variety of cryptos that one can hold in these accounts varies from provider to provider.
Just like a regular bank uses its customers' fiat currency to lend to other customers, interest-bearing crypto accounts use their customers' long-term holdings to lend out to other clients. However, instead of keeping the majority of the profits for themselves, these companies return a large portion of the profits to the users.
For example, most banks offer interest rates of 0.1-0.5% on traditional savings accounts. Meanwhile, some interest-bearing crypto-asset accounts offer their users to receive interest as high as 10%.
How and when did crypto interest accounts become popular?
Interest-bearing crypto accounts have been around since as early as 2014. At the same time, many analysts agree that they did not really begin to gain popularity until 2020 when the COVID-19 caused economic fallout on a global scale. As the United States Federal Reserve, the European Central Bank, and a number of other major financial institutions began to inject capital into the economy, investors increasingly sought alternative assets.
This resulted in a "financial renaissance" of sorts. Cryptocurrency exchanges and investment platforms across the board saw massive waves of new users signing onto their platforms. This, in turn, led to a major increase in the amount of retail capital coming into cryptocurrency markets.
However, having direct exposure to cryptocurrencies was (and is) still intimidating to many investors who may be dipping their toes into the crypto world for the first time. Therefore, interest-bearing crypto accounts seemed to attract customers who did not want to deal with the more technical aspects of crypto trading and custody.
Indeed, if someone buys bitcoin directly, they must jump through hoops of transferring their coins off of a crypto exchange and into a private crypto wallet. However, most interest-bearing crypto account services offer their customers the ability to purchase cryptocurrencies directly through the platform. Additionally, these services provide financial services such as crypto custody. (And, of course, you get a reward for keeping your digital currency in these accounts.)
Are there risks with using crypto interest accounts?
So, yes–there are many benefits to using interest-bearing crypto accounts. However, as with any digital asset platform, there are risks involved.
For one thing, interest-bearing crypto account providers don't have the same kinds of insurance that traditional banks get. In the United States, for example, this means that account providers don't have FDIC insurance (Federal Deposit Insurance Corporation). If a hack were to take place on one of these platforms, there is no legal guarantee that your digital coins would be protected.
Beyond hacks, there is also a risk of insolvency. Inevitably, some borrowers will be incapable of paying their loans back when they are due. Most cryptocurrency lending providers address this issue by requiring borrowers to provide high amounts of collateral when they take out loans. Still, even with high collateral, there is a risk of non-repayment.
All of this being said, reputable interest-bearing crypto account providers usually have their own form of insurance in place. Additionally, these account providers employ high levels of cybersecurity standards to prevent hacks or other incidences from taking place. The exact kind of insurance and cybersecurity measures vary from provider to provider. Before you deposit your coins on any cryptocurrency platform, make sure you understand what kinds of safety measures are in place.
In addition to cybersecurity risks, there is also a risk of fraud in the interest-bearing crypto account space. Before you deposit your coins on any platform, it is vitally important to research the platform's reputation. While crypto savings accounts do provide high rates of return, some promises are too good to be true. Ensure that the platform you are choosing is legitimate before you deposit your cryptocurrencies.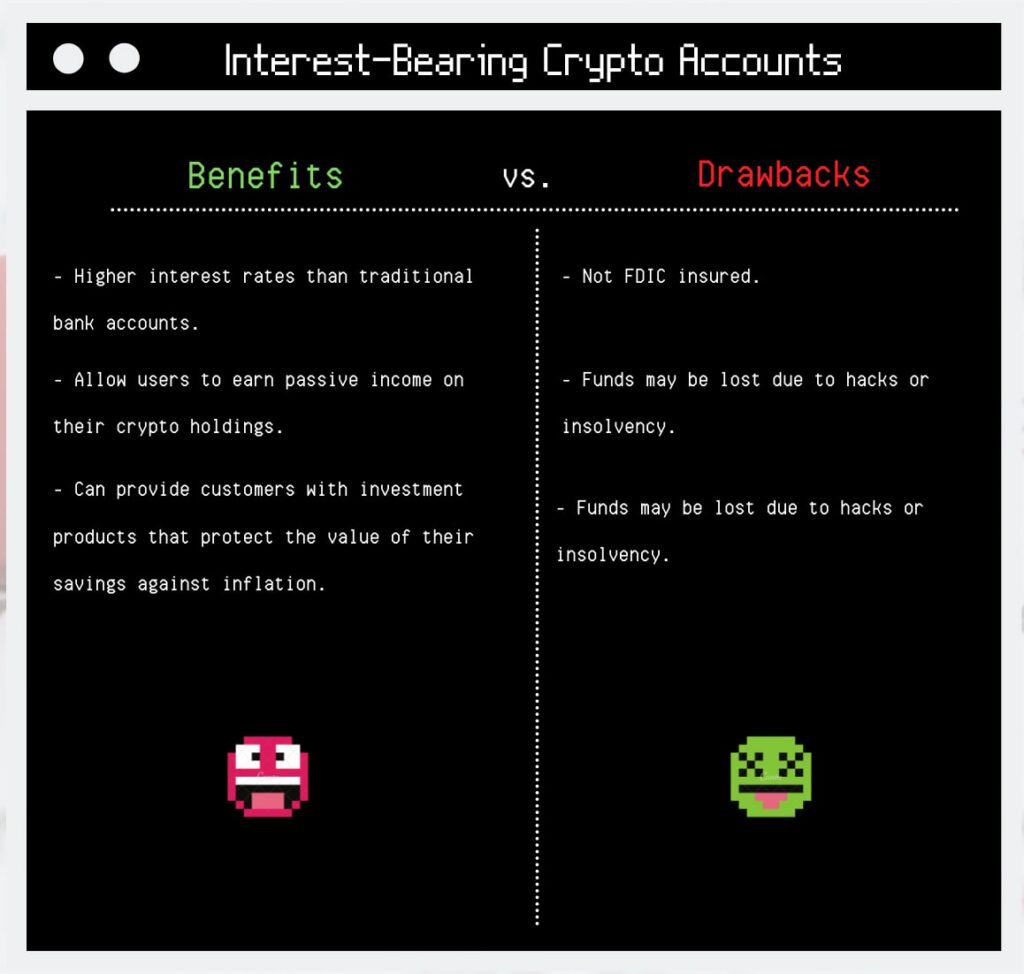 What to look for when choosing the right provider
If you're preparing to choose an interest-bearing crypto account provider for the first time, here are some important things to keep in mind. Use this list of questions to help guide your selection process.
Variety of cryptocurrencies: What kinds of cryptocurrencies does the provider offer interest on? Are there public plans to expand the number of cryptocurrencies in the future?
Interest rates and payment schemes: How much does the provider offer in exchange for holding cryptocurrency in an interest-bearing account? How often does the provider make are these interest payments? Will you be earning interest on a daily, weekly, monthly, or yearly basis? In which type of currency will you receive these payments?
Customer service and support: What kinds of customer service options are available on the platform? Can you reach the platform by phone, chat, email, or through another medium? Is customer support available 24 hours a day or during a fixed period?
Withdrawals: How long does it take to withdraw cryptocurrencies from the platform? Are there multiple steps involved in the withdrawal process (i.e., 2-factor authentication)?
Cryptocurrency purchase options: Can I purchase cryptocurrency directly through the platform? If so, does the platform accept debit/credit card payments, bank transfers, or other forms of payment? If not, what does the cryptocurrency deposit process entail?
Insurance and security
Are your digital assets insured through the provider? What kinds of cybersecurity measures does the provider have in place?
Reputation: How long has the provider been in business? Have any media outlets written articles about the provider? If so, what did they say? Does the provider have a social media community? What do social media users say about the platform? Has the provider formed partnerships with other businesses?
Spending options: Does the provider offer credit or debit cards that can be used with the account? Are there any rewards associated with the account?
The passive income opportunities in the cryptocurrency industry are exciting. Nevertheless, before one opens a crypto interest account, it's crucial to research what they are engaging with.
How to start earning interest on your digital assets today
Opening an interest-bearing cryptocurrency account is a relatively simple and painless process. For example, Coinmotion offers interest-bearing crypto accounts through a partnership with Tesseract Investments, a cryptocurrency investment firm based in Finland. The cryptocurrencies that Coinmotion supports — bitcoin, Ethereum, Ripple, Litecoin, and USD Coin — can be used with the Interest Account feature.
To earn interest on crypto holdings with Coinmotion, registered users simply need to deposit cryptocurrency into Coinmotion's interest-bearing accounts feature. If users don't yet own any cryptocurrency, they can easily purchase the cryptocurrency that they wish to earn interest on. You can buy cryptocurrencies through Coinmotion's trading platform.
Once you have purchased the digital currencies, you simply need to deposit the currencies into a Coinmotion's interest account. Users will earn daily interest on their holdings until the moment that they withdraw the coins from the interest account. The compound interest on your crypto will be paid upon a completed withdrawal. To learn more about how to earn interest on Coinmotion, click here.