Bitcoin split is coming, ….. or not?
The incredibly significant date is just around the corner. On August 1, Bitcoin is likely to split into two as a result of disagreements between miners over the future of Bitcoin blockchain and its ability to scale better.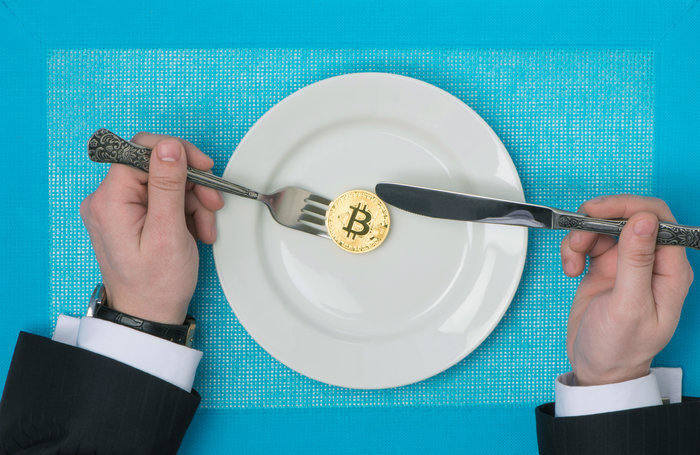 A hard fork is an outcome that majority of miners and Bitcoin holders were strongly opposed to. Until last weekend, the adoption of SegWit, which (if activated) would allow for more flexibility dealing with scaling issues, looked as a more likely outcome. However, now it seems the network split is unavoidable.
A hardfork known as Bitcoin Cash will supposedly allow for a larger block size (up to 8mb compared with the 1mb limit) and upgraded consensus rules that will allow it to grow and scale. It will result in a duplication to two new currencies – Bitcoin and Bitcoin Cash. All transactions and coins that existed prior the fork will remain valid on all subsequent chains. Those, who hold Bitcoin under their private keys will automatically receive Bitcoin Cash when the split happens. Those, however, who hold Bitcoins in online exchanges, which do not allow access to private keys, will not receive the new currency at least immediately. In Coinmotion we will not support Bitcoin Cash on 1st of August , but we might reconsider our position in the future.
It is unclear which currency miners will decide to support, but it is obvious that Bitcoin Cash will succeed only if enough miners will choose to mine it. Certainly, August 1 is going to mark a significant milestone in the history of Bitcoin, regardless of whether the network splits or it doesn't.
Digital assets are securities and are subject to federal securities law: SEC report
This week the US Securities and Exchange Commission (SEC) released an official statement expressing their position towards regulation of digital assets, as well as initial coin offering (ICO) procedures. Thus, SEC found that digital tokens generated in a majority of ICO campaigns should in fact be treated as securities and therefore regulated under federal securities laws.
This announcement came as a conclusion for investigation of the last year attack on the DAO when more than USD 50 million were gone. Announcement says:
"Tokens offered and sold by a "virtual" organization known as "The DAO" were securities and therefore subject to the federal securities laws. The Report confirms that issuers of distributed ledger or blockchain technology-based securities must register offers and sales of such securities unless a valid exemption applies. Those participating in unregistered offerings also may be liable for violations of the securities laws. Additionally, securities exchanges providing for trading in these securities must register unless they are exempt. The purpose of the registration provisions of the federal securities laws is to ensure that investors are sold investments that include all the proper disclosures and are subject to regulatory scrutiny for investors' protection."
Despite the fact that there are no official accusations against the DAO, SEC urged market players that digital assets are subjects to federal securities laws regardless of the type of currency they are sold for, and whether the issuer of these assets is a real or a virtual entity.
SEC also published explicit information about the nature of ICO campaigns and potential risks of participation.
The announcement was met with varied reactions. Some believe that this will mark the beginning for a strict centralization – something that contradicts the very idea of cryptoeconomy. While others see a positive impact the decision of SEC might bring, especially given the amount of attacks on ICO funds, as well as campaigns which raised funds and never delivered results.
American boxer Mayweather plans to invest in an ICO
While the whole cryptocommunity is wondering what's going to happen following SEC decision on ICOs and digital assets, it seems that ICO boom is unstoppable in reaching new heights.
This week one of the richest sportsmen in the world, american boxer Floyd Mayweather posted a picture on Instagram adding that he is going to make a "$hit t$n of money" investing in upcoming Stox ICO on August 26.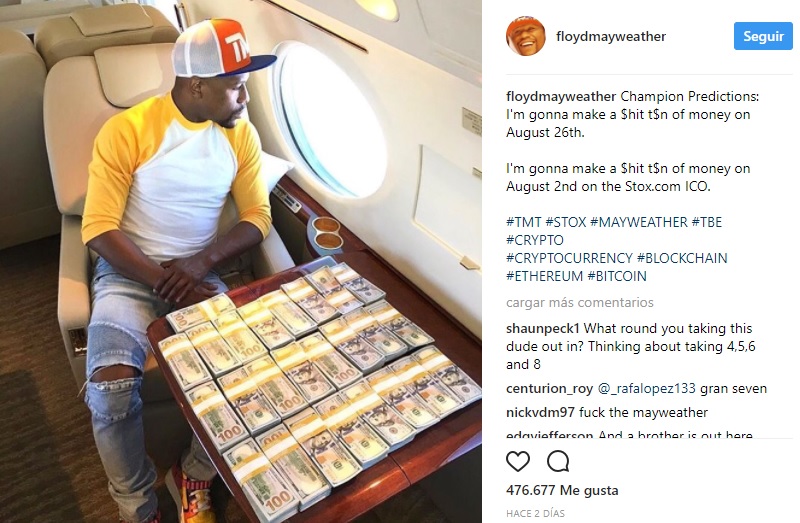 The picture posted shows him on the private jet sitting in front of the pile of dollars, and is tagged with a dozen of ICO-related hashtags. Stox, the project Mayweather is talking about is focusing on market predictions and planning to raise USD 30 million in two weeks. Well, maybe it will take them just a few seconds, if Mayweather is serious in his intentions.
It does seem actually that cryptomania is slowly approaching celebrities. In June, Ukrainian singer Olya Polyakova shared in her microblog on Instagram that she got her appearance fee in BTC for the first time when she performed at one private event for the IT community.
AMD and Nvidia will focus on gamers despite the mining boom
Interesting observation – just like in the time of Gold Rush, sellers of pickaxes and shovels often made the most money, producers of computer chips nowadays are enjoying the rise in sales thanks to the modern Digital Gold Rush.
Reportedly, shares of Nvidia and AMD have gained at least 14 and 27 percent respectively since June, surprisingly not due to gamers' interest in powerful graphics processors, but due to miners' need to gain access to encrypted digital currencies, especially those of ETH. Analytics say, such a demand resulted in temporary shortages of some types of graphic cards. According to Mitch Steves, analyst at RBC Capital Markets, AMD and Nvidia managed to secure additional sales of approximately USD 875 million due to the ongoing mining boom, which amounts to AMD total sales in 2016 and half of the quarterly income of Nvidia.
Despite the increase in shares' price, analysts urge potential investors to be extra careful, since it is hard to make any predictions as for how long the Digital Gold Rush is going to last. Indeed, if miners stop buying graphic cards, companies' sales will drop significantly. For instance, Ethereum price has decreased significantly compared to the maximum reached in June, while complexity of mining tripled. That only means that very soon miners will stop buying graphic cards, perhaps switching to ASIC hardware used for Bitcoin mining.
Rumor has it that Nvidia is not planning to take advantage of the mining boom for driving sales up, while AMD stated that producing graphic cards for gamers will remain their key priority.