Ripple is a money transfer network designed for the financial services industry's needs. The native cryptocurrency of the Ripple network is XRP. XRP has been among the top 10 cryptocurrencies by market value for years.
XRP's price peak was in 2018, and unlike many other cryptocurrencies, it did not reach a new high in the 2021 bull market. The legal battle between Ripple and the US Securities and Exchange Commission (SEC) has been among the most talked about topics in the crypto community in recent years.
What is Ripple?
Ripple is a company focused on financial technology and a payment network that aims to serve the future needs of financial institutions. Ripple helps financial companies move transactions from centralized databases to a more open infrastructure while significantly cutting transaction costs.
The native cryptocurrency of Ripple's payment network is XRP. Transactions made with the XRP token are reliable, instant, inexpensive, and convenient, especially for cross-border payment traffic.
The idea of ​​XRP is to act as an intermediary mechanism between two currencies or networks – a kind of temporary settlement layer denomination. XRP runs on the XRP Ledger, a blockchain designed by Jed McCaleb, Arthur Britton, and David Schwartz.
Ripple was first released in 2012 and was founded by Chris Larsen and Jed McCaleb to facilitate online transactions.
Ripple in a nutshell
Ripple is a blockchain-based digital payment network whose own cryptocurrency is XRP.
Instead of mining, Ripple uses a consensus mechanism to validate transactions. It takes place through servers owned by the bank.
Transactions made with Ripple consume little energy, are confirmed in seconds, and are affordable. XRP is a cryptocurrency designed purely for payment transactions.
Ripple (XRP) is one of the most valuable blockchain-based tokens by market capitalization.
The Ripple payment system is intended primarily for use by banks, but individuals can also invest in it and speculate on the price of XRP.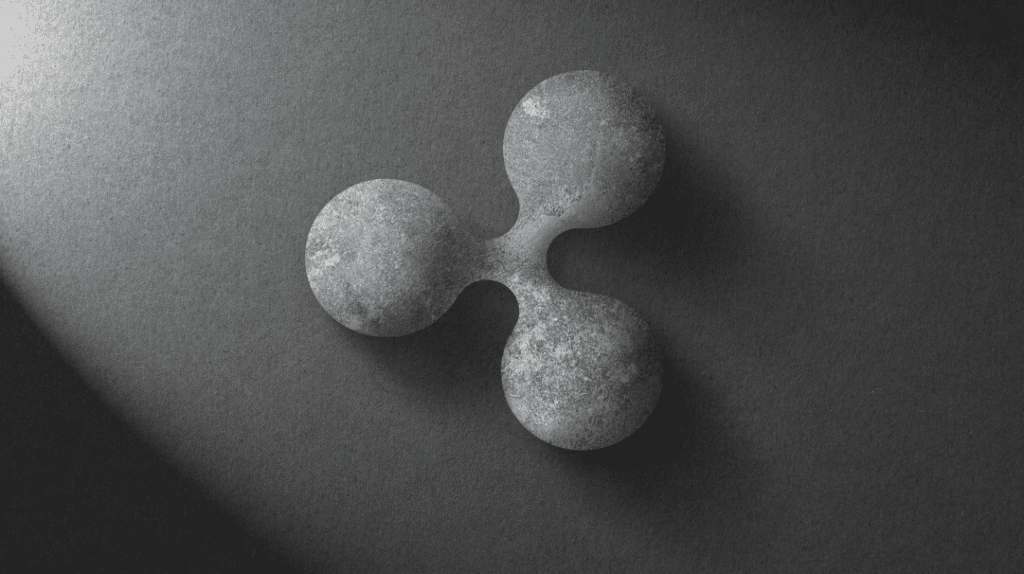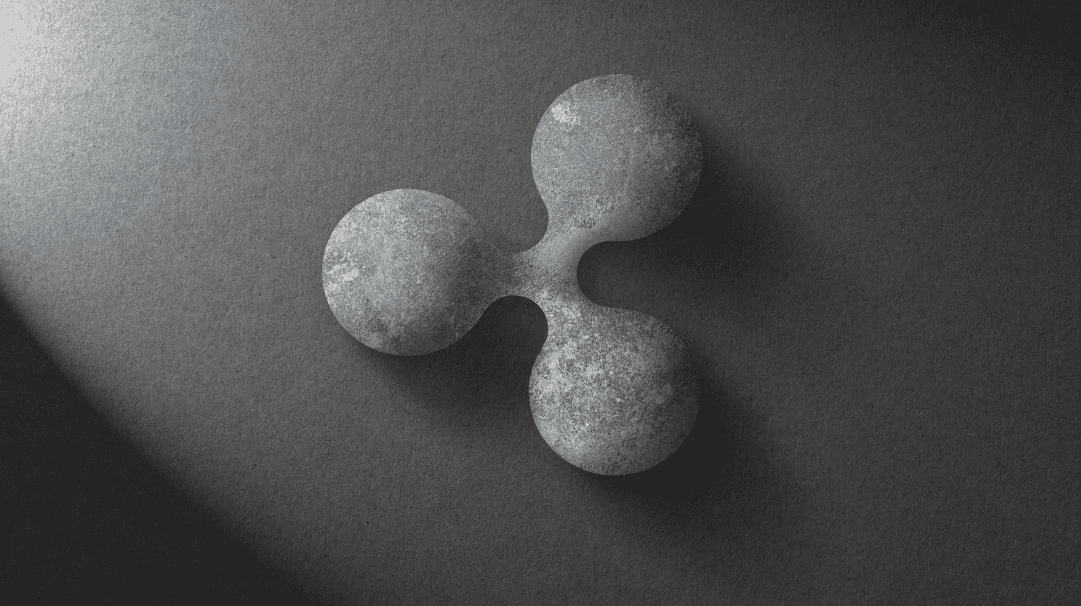 How does Ripple work?
Ripple operates on an open-source and decentralized P2P platform that enables seamless money transfer in any form, be it dollars, yen, euros, or cryptocurrencies.
Ripple is a global payment network whose customers include major banks and financial services institutions. Ripple's customers use XRP to facilitate and speed up currency conversion.
XRP's blockchain works differently than most other cryptos. Unlike numerous other cryptocurrencies, Ripple's network does not use a proof-of-work (PoW) mechanism like Bitcoin. It also does not use proof-of-stake (PoS) like Ethereum.
Instead, a consensus protocol on Ripple's network confirms account balances and transactions. Consensus aims to improve the integrity of the system by blocking double consumption.
If a Ripple user tries to send 100 euros to multiple gateways simultaneously, all but the first transaction will be deleted. Individual decentralized nodes unanimously decide which transaction was committed first. Confirmations are immediate and last about five seconds. Since no central authority decides who can create a node and validate transactions, Ripple is considered decentralized.
Ripple keeps track of all user IOUs (I Owe You) in a specific currency. IOU credits and transaction flows between Ripple wallets are publicly available to everyone in the Ripple consensus ledger. But while financial transaction history is publicly recorded and made available on the blockchain, the data cannot be linked to the account of any individual or company.
As new transactions occur online, validators update their ledgers every 3-5 seconds and ensure that they match the ledgers of other validators. When there is a conflict, they stop the events and discover what happened. This feature allows the network to securely validate transactions, giving it an edge over other cryptocurrencies.
The Ripple network is not entirely decentralized: it centralizes operations somewhat and uses a consensus protocol. Although anyone can download its validation software, Ripple maintains a unique list of validators. It allows the user to choose the most suitable validator for his own transaction based on what he believes to be the most reliable.
XRP transactions usually take 4-5 seconds to confirm.
Get started with Bitcoin Litecoin Ethereum AAVE USDC Stellar Ripple
Join Coinmotion and buy your first cryptocurrencies within minutes!
Can XRP be mined?
No. XRP does not work with a proof of work mechanism, so it cannot be mined. However, technically it is possible with other cryptocurrencies. For example, you can mine other cryptocurrencies, such as Bitcoin (BTC), and then exchange the mined Bitcoins for Ripple (XRP) through crypto exchanges.
Ripple vs. SEC
For over two years, one of the most talked about topics in the crypto world has been the legal dispute between Ripple and the SEC. In December 2020, the US Securities and Exchange Commission (SEC) filed a lawsuit against Ripple Labs, the company behind XRP, alleging that Ripple had completed a $1.3 billion unregistered offering by selling XRP, which was created by Ripple's founders in 2012.
Unlike Bitcoin or many other major cryptocurrencies, Ripple Labs is a registered American company, which means the SEC can take legal action against it.
One of Ripple's biggest counter-arguments is that, for example, Ethereum, the world's second-largest cryptocurrency, is no different from XRP in terms of unregistered securities, so it begs the question why the SEC is allowing Ethereum to operate freely. SEC Chairman Gary Gensler has avoided the subject. Ripple also claims that the SEC has no jurisdiction over XRP tokens because many are bought and sold through exchanges outside the United States.
However, the SEC claims that Ripple has sold its XRP tokens in exchange for "money," which satisfies the "Investment of Money" prong of the Howey test. The Howey test determines whether an asset can be defined as a security. Additionally, the SEC alleges that Ripple executives knew that the issuance and sale of XRP did not meet the principles of the Howey test.
Due to the legal dispute, XRP is one of the few mega-major cryptocurrencies that failed to reach a new price peak in the 2021 bull market. The price of XRP has suffered due to the legal battle, and XRP owners became the biggest victims of the story. To some, that means the SEC has acted against the people they are supposed to protect—investors.
The outcome of the lawsuit will significantly impact the entire crypto ecosystem, as it will set the tone for all future regulations in the United States and worldwide. These regulations determine whether a cryptocurrency is a security and to which jurisdiction it falls – the SEC or another authority.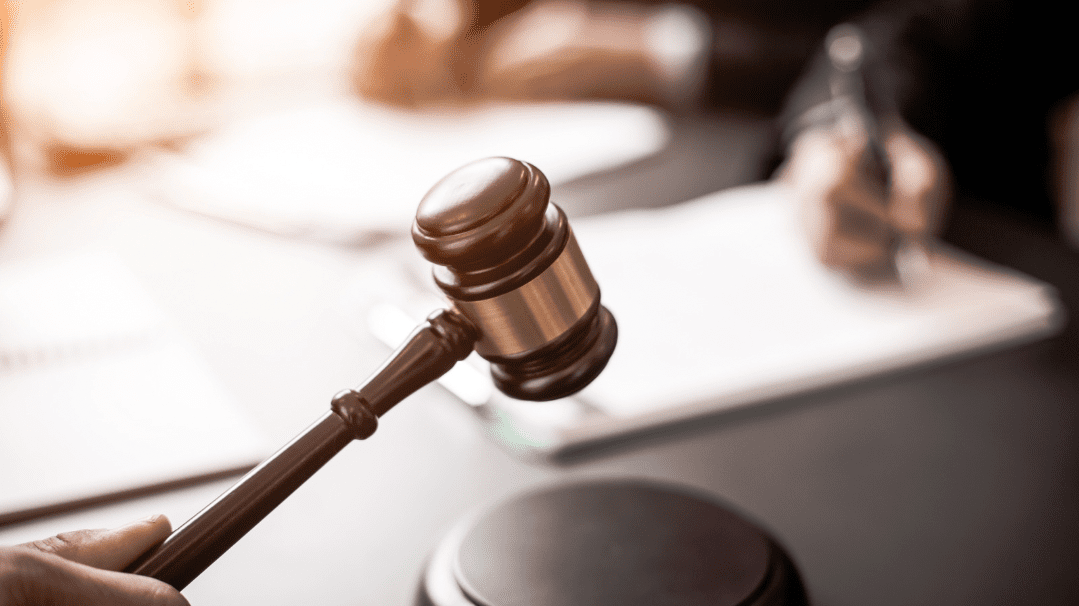 Difference between Ripple and XRP
Many people need clarification on Ripple and XRP. But are they the same thing? What is Ripple, and what is XRP?
It is necessary to understand that they are not the same thing: XRP is a cryptocurrency, while Ripple is a for-profit company that helps promote and develop XRP, the software behind it (XRP Ledger), and numerous other projects. The company firmly believes that these two entities are separate.
Ripple's digital currency, XRP, acts as a bridge currency to other currencies. It does not distinguish between fiat currency and cryptocurrency, making exchanging any currency for another easy.
Each currency in the ecosystem has its own gateway – for example, Bitcoin and the US dollar. If John would like to pay Amy with Bitcoin for her service, John does not necessarily need to have Bitcoin in his possession. He can send payment to his gateway in US dollars, and Amy can receive Bitcoin from her gateway.
Ripple describes XRP on its website as "faster, cheaper, and more scalable" than any other digital asset. It uses the XRP Ledger to "power innovative technology across the payments space."
The company describes the XRP token as follows:
"Ripple is focused on building technology to help create a purpose for XRP and revolutionize global payment traffic. Third parties are also exploring other use cases related to XRP."
What is Ripple used for?
You can use XRP like any other digital currency, either for transactions or as a potential investment. You can also use the Ripple network to exchange and process different types of transactions, such as currencies.
For example, if you want to exchange US dollars for Euros, you can first exchange US dollars for XRP on the Ripple network and then use them to buy Euros instead of exchanging directly through a bank or currency exchange. This can be a much faster and cheaper approach than paying the high fees that banks and remittance organizations may charge.
Pros vs. Cons of Ripple
Advantages of Ripple
It's quick. Transaction confirmations are incredibly fast. They usually take 4-5 seconds compared to the days banks can take to complete a wire transfer. It is also significantly faster than many other cryptocurrencies.
Affordable costs. It only costs a fraction of XRP tokens to complete a transaction on the Ripple network, which is a bit of a cent at current exchange rates.
Versatile exchange network. The Ripple network does not only process transactions using XRP. It can also be used for other fiat currencies and cryptocurrencies.
Major financial institutions use it. Even large companies can use Ripple as a transaction platform. Santander and Bank of America are a few of the network's users, indicating that it already has greater institutional adoption than most cryptocurrencies.
Disadvantages of Ripple
Somewhat centralized. One of the reasons for the popularity of cryptocurrencies is that they are decentralized, giving control to users instead of big banks and governments. The Ripple system can be relatively centralized due to its default list of validators, which is against the philosophy of cryptocurrencies.
Pre-mined XRP supply. Although most of the Ripple supply not in circulation is stored in a closed account, large amounts may be introduced to the market at inopportune times, which can affect the value of XRP.
SEC action against XRP. In December 2020, the SEC filed a lawsuit against Ripple, saying that since it can decide when to release XRP, the company should have registered it as a security. The trial's outcome will strongly determine the future of Ripple and many other cryptocurrencies.
Ripple (XRP) price
XRP was released in 2012, and its price stayed below one cent for many years. In March 2017, a 1.5-year price rally began, during which the price of XRP increased almost 500 times due to speculation alone. The peak price was over $3.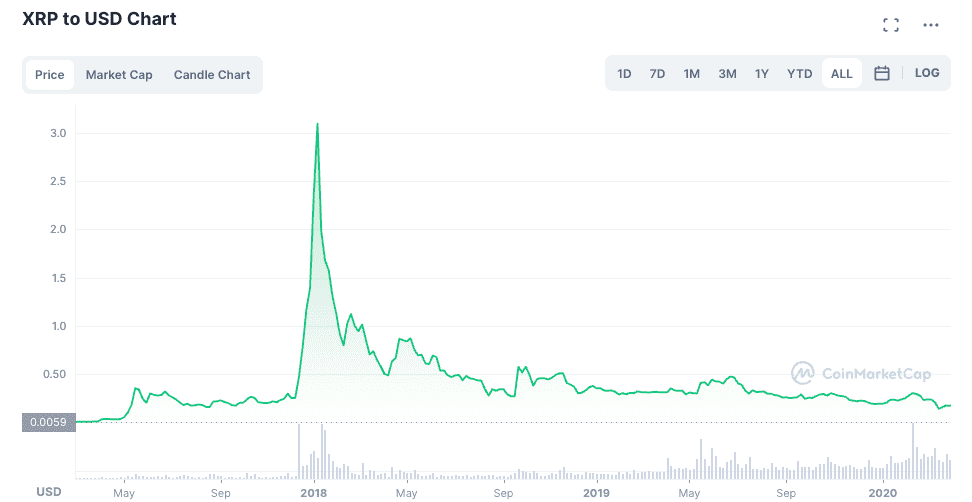 Such a price increase is naturally not sustainable, and the price quickly returned to tens of cents, after which the price development of XRP has been relatively stable compared to other cryptocurrencies.
In the bull market of 2021, XRP rose along with the others and traded close to $2 but failed to reach its previous peak. Compared to the rest of the market, the lack of price increase was probably due to the legal battle with the SEC.
After November 2021, the price of XRP fell along with the rest of the market and ended up hovering between $0.3-$0.4. In September 2022, XRP investors finally got a reason to rejoice when the price of XRP rose by almost 50 percent to over $0.5 in a short period where the price has remained until mid-2023.
Behind the powerful rise is investors' hope for a successful lawsuit. The trial is not over yet, but Ripple may be waiting for positive news in light of the latest information.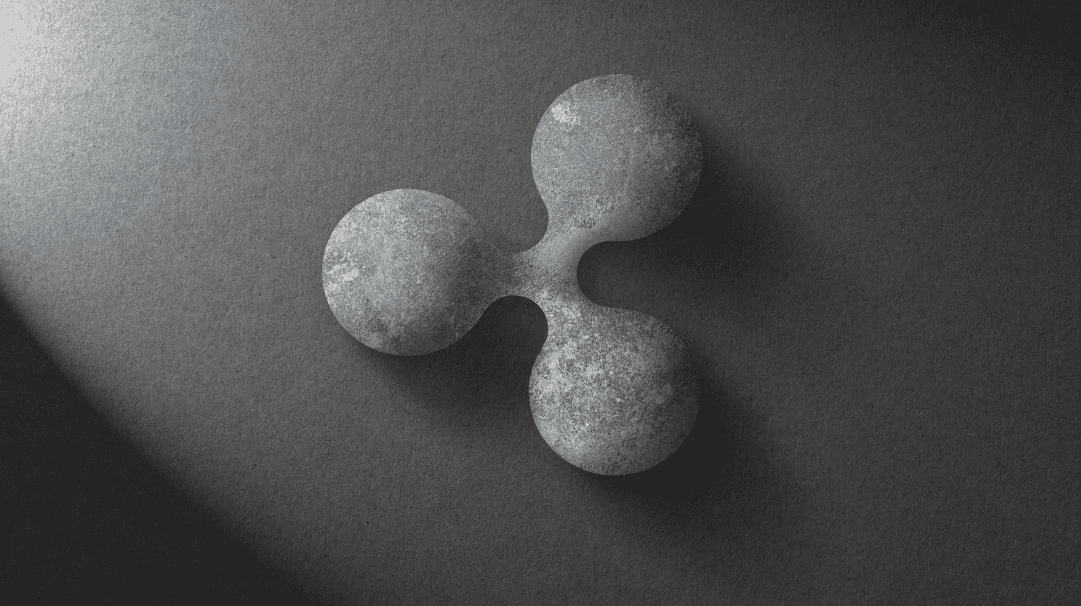 How to buy Ripple (XRP)?
You can buy XRP as an investment, as crypto to exchange for other cryptocurrencies, or as a way to fund transactions on the Ripple network.
You can buy XRP with fiat currency on multiple crypto exchanges. Some people fear buying cryptocurrencies because they think the process is too complicated. At Coinmotion, we have made buying as easy & simple as possible.
If you prefer a domestic player and want a reliable and safe alternative, you can buy XRP from Coinmotion using euros. By following these steps, you can buy XRP in no time.
1. Login to Coinmotion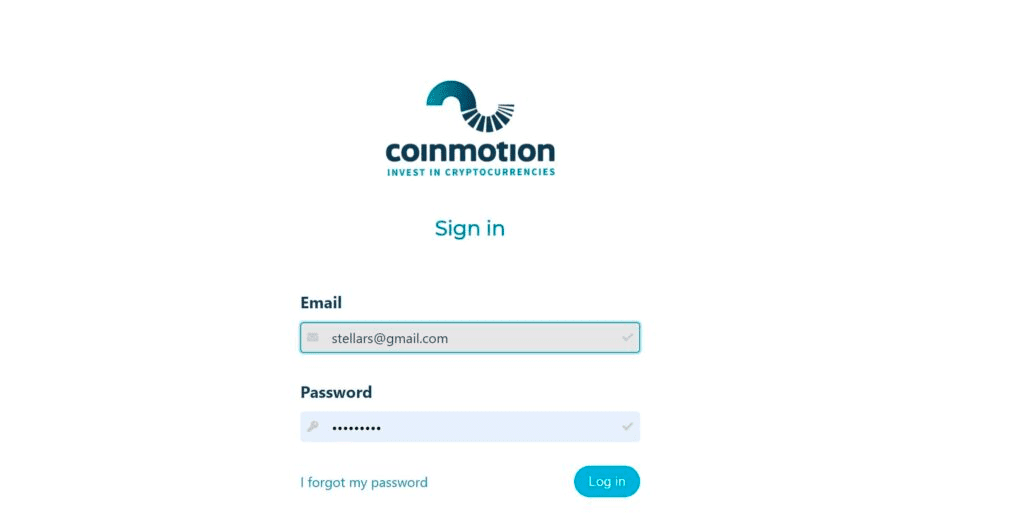 If you don't have an account on Coinmotion yet, you can create one from here.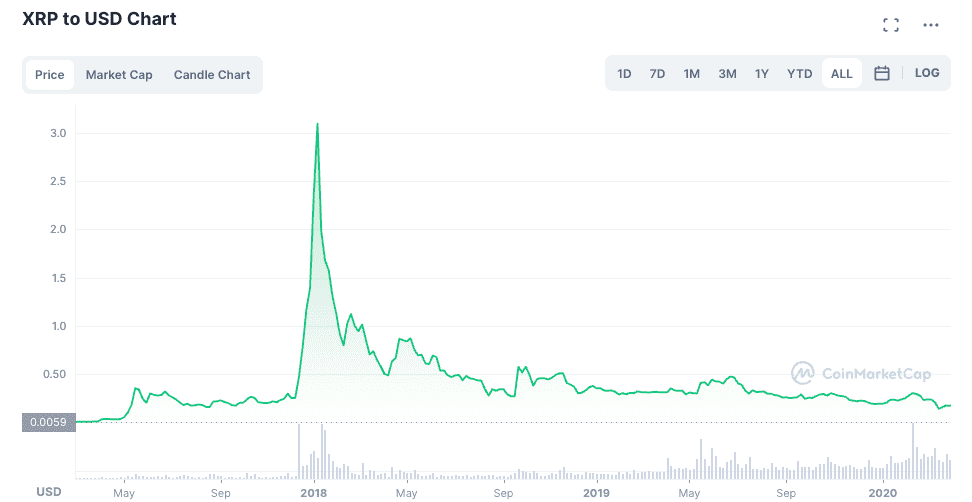 Confirm your registration with the code we will send to your email.
2. Buy XRP
To buy XRP, you must have Euros in your Coinmotion account. Go to Transfers – Receive – Euros and select the payment method you want to use. Enter the amount you wish to deposit and follow the instructions.
Once you have money in your Coinmotion account, you can buy XRP. Go to Trading and select the amount you want to buy XRP with.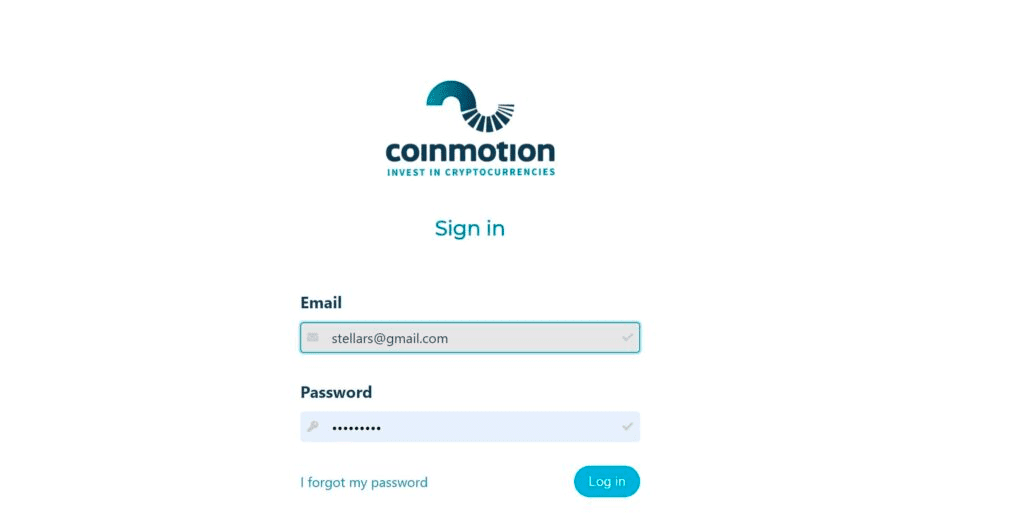 Pat on the back! You are now the happy owner of XRP.
3. Store XRP
You must have heard about cryptocurrency wallets. They are needed to store cryptocurrencies. A cryptocurrency wallet works like a traditional wallet, but it holds proof of your digital assets instead of paper currency.
When you sign up for Coinmotion, you will get a free wallet supporting XRP.
So you don't need to get a separate third-party wallet. Coinmotion's customer funds are safe from hackers thanks to multisig technology. If you need additional security for your funds, consider the Coinmotion Vault service.
Invest in Ripple (XRP) easily at Coinmotion! Open a free account from here.
XRP — Frequently asked questions
What is Ripple (XRP)?

Ripple is a US-registered company and a global payment network. XRP is the native cryptocurrency of the Ripple network. XRP has the advantage of low transaction fees, fast transactions, and easy cross-border payments.
What is the difference between Ripple and XRP?

Ripple is a technology company, and XRP is an open-source digital asset independent of Ripple. Ripple uses XRP in its solutions because it is fast, efficient, reliable, and carbon neutral.
What is Ripple used for?

In short, Ripple's XRP-based solution helps network members process payments in real-time and improve payment efficiency and security. XRP is used to obtain liquidity as needed and reduce the number of accounts required to make global payments.
Is XRP a good investment?

All cryptocurrencies are volatile – XRP is no exception. If you believe Ripple's growth will continue, a small investment in XRP may be worthwhile. However, it is not as safe as investing in stocks, but you can make money if Ripple succeeds. As always, investing always has its risks.
Ripple could replace the inefficient and outdated international money transfer system. Additionally, the fact that Ripple is cooperating with companies in the financial sector is encouraging.
Get started with Bitcoin Litecoin Ethereum AAVE USDC Stellar Ripple
Join Coinmotion and buy your first cryptocurrencies within minutes!

The views, thoughts, and opinions expressed in the text belong to the author and not necessarily to the author's employer, organization, committee, or other group or individual.