The majority of cryptocurrency investors and traders know Tether (USDT). We can consider USD Coin (USDC) a more regulated alternative to the famous Tether. USD Coin. launched in 2018. By now, it has secured its position as the preferred stablecoin for decentralized finance (DeFi) applications and smaller transactions. As USD Coin's name indicates, USDC derives its value from the original U.S. dollar (USD).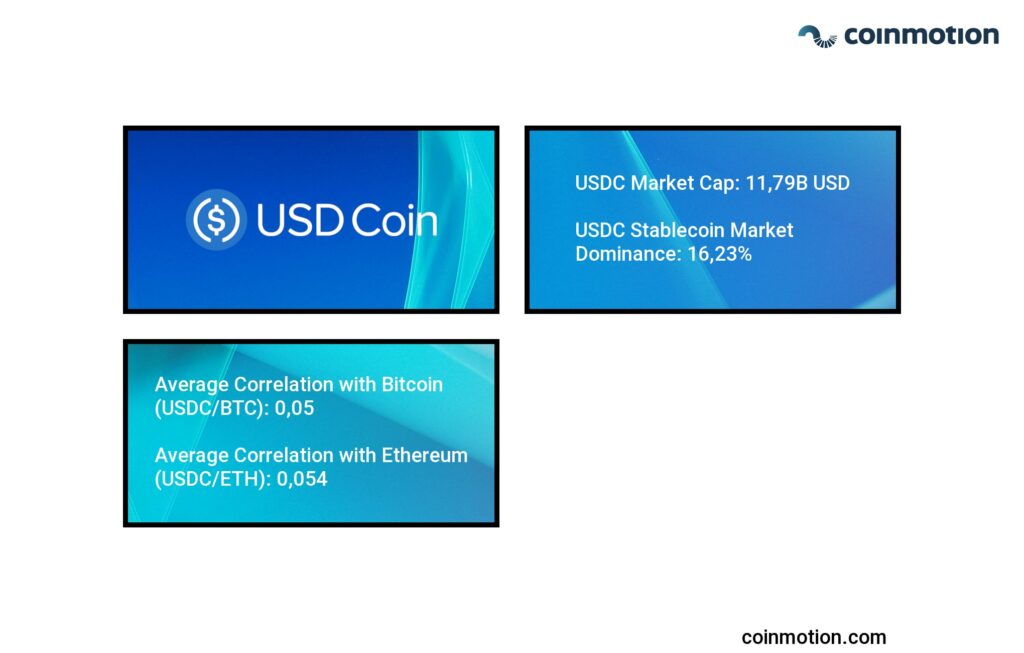 USDC is a Stablecoin
What are stablecoins? The European Central Bank (ECB) has a definition of them. They are digital units of value that differ from existing forms of currencies. Stablecoins rely on a set of stabilization tools to minimize fluctuations in their price against a currency or basket thereof.
The initial purpose of stablecoins was to act as an instrument for cryptocurrency traders to exit volatile markets. Stablecoins have also been important to cross-border transactions, following Bitcoin's use case. Contemporary stablecoins often serve as part of the decentralized finance ecosystem and applications.
"Stablecoins combine the low volatility characteristics of sovereign currencies with the settlement assurances of public blockchains, allowing fiat currency to be transferred and settled anywhere over the internet with less interference than the traditional banking system." – Nic Carter.
The issued tokens remain fully backed by US dollars held in reserve. An independent accounting firm, Grant Thornton LLP Circle creates reports confirming that, as Circle is regularly audited.
What is USDC: The Brief History
2018 May: Circle first announced USDC.
2018 September: Circle launched the tokens.
2020 August: Centre introduced USDC 2.0, including new features.
What is USDC Coin in numbers?
Obviously, the most crucial feature of a stablecoin is its price stability. USD Coin has a successful track record for holding its exact peg to the U.S. dollar (USD). Bitcoin's 50% price drop on March 12th, 2020 happened to be an excellent test for stablecoins on all crypto exchanges. As BTCUSD experienced a massive crash within hours, this dollar-backed stablecoin kept its peg to USD flawlessly.
While other stablecoins were not so "lucky," Gemini USD (GUSD) dropped significantly below its peg. GUSD did not recover until three days passed. Gemini USD's crash was probably caused by its small supply and relatively low liquidity.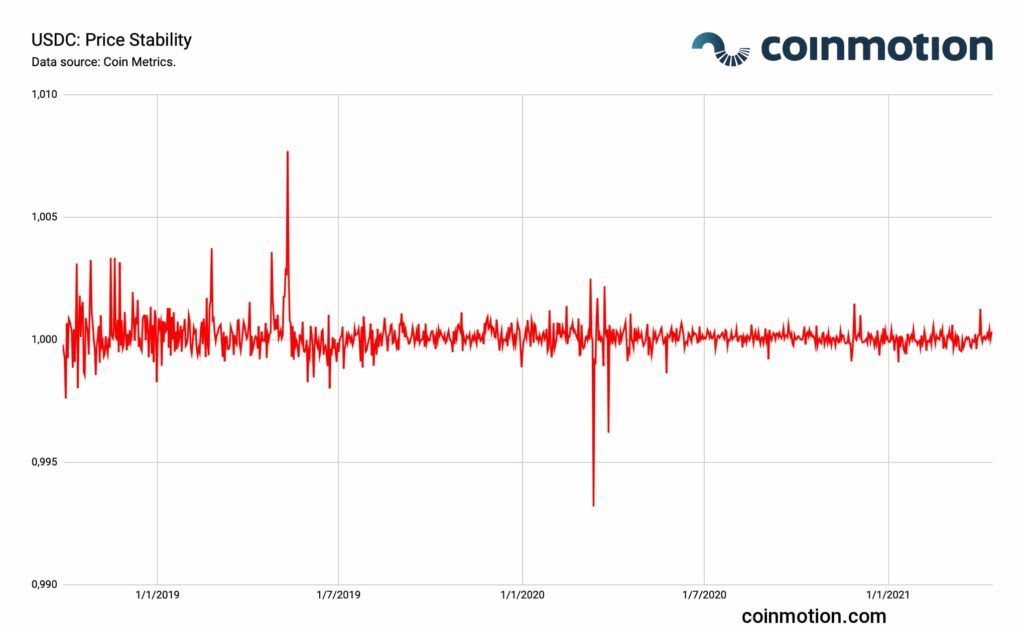 By April 2021, USDC has become a coin with a live market cap of $11 billion.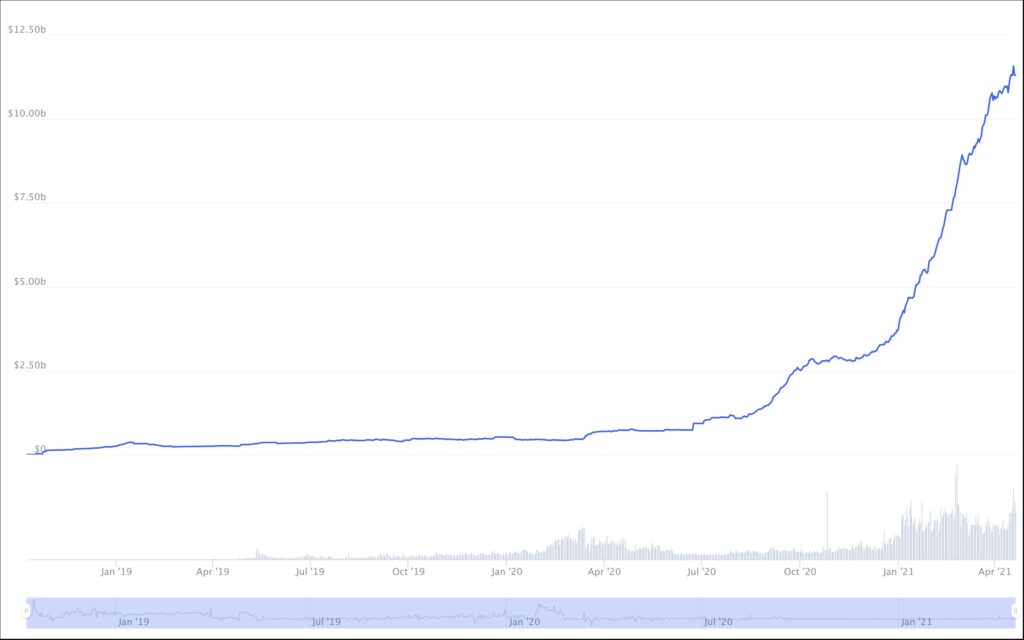 Compared to assets like Aave (AAVE) and Chainlink (LINK), the ownership concentration of USD Coin is distributed more evenly. Whales — investors with large amounts of assets — are the ones who mostly own AAVE and LINK. At the same time, whales own only 40,5 percent of the USD Coin. Traders, in turn, own 34,3% of USDC and investors 25,3%, respectively.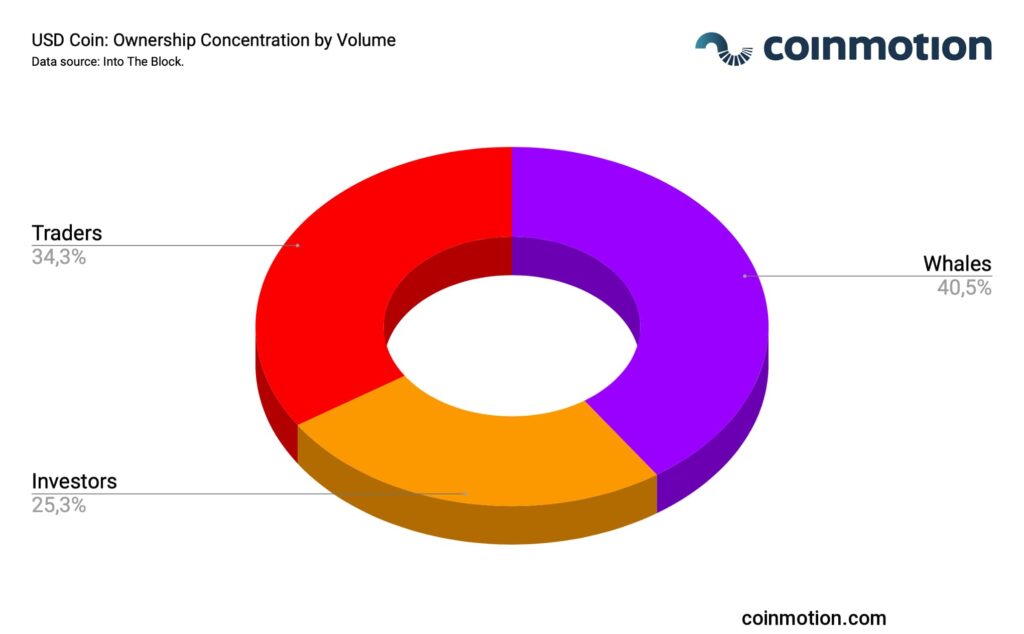 We can see the coin's growth by exploring the address and native unit data. Evidently, both metrics have escalated notably from 2020 to 2021.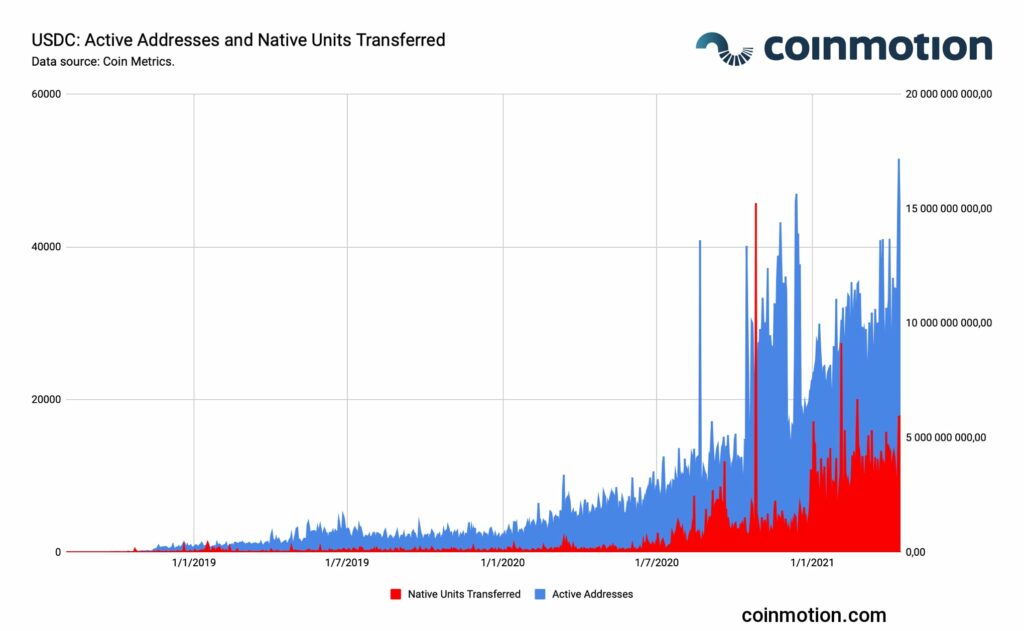 Besides the wallets, the exchanges that have listed USDC are another list to follow. Leading U.S., European, and Asian exchanges support USDC. Moreover, Circle and Coinbase stand out from the list with their cooperation. To clarify, Coinbase, one of the exchanges, co-founded USDC along with Circle, a crypto-financial services platform. Circle and Coinbase are the members of the Centre Consortium, the entity that manages USDC.
USDC Cryptocurrency Exchanges:
Binance
Bittrex
Coinbase
Coinmotion
FTX
Kraken
OKEx
Poloniex
USDC Blockchains:
Ethereum (ETH)
Solana (SOL)
Algorand (ALGO)
What is USDC's growth potential?
The growth of USD Coin is supported by increasing demand from decentralized finance (DeFi) space. New DeFi services such as yield farming are increasing USDC's volume.
Compared to USDC's closest competitor, Tether (USDT), USD Coin is more often used for smaller (micro) transactions. This indicates more organic use cases. Additionally, peer-to-peer trading is a particularly popular way to obtain USDC.
According to Circle's plans, they aim to work with commercial banks. The banks will allow users to deposit and withdraw stablecoins through their existing bank accounts. In April 2021, USDC issuer and the Circle partnered up with a New York-based, full-service commercial Signature Bank (Nasdaq: SBNY). As a result, Signature Bank became Circle's leading financial institution to hold billions of dollars in reserve deposits related to USD Coin.
The USD Coin operates on the Ethereum blockchain as an ERC-20 token. USDC also works on two other blockchains — Algorand and Solana — as ALGO and SOL tokens, respectively.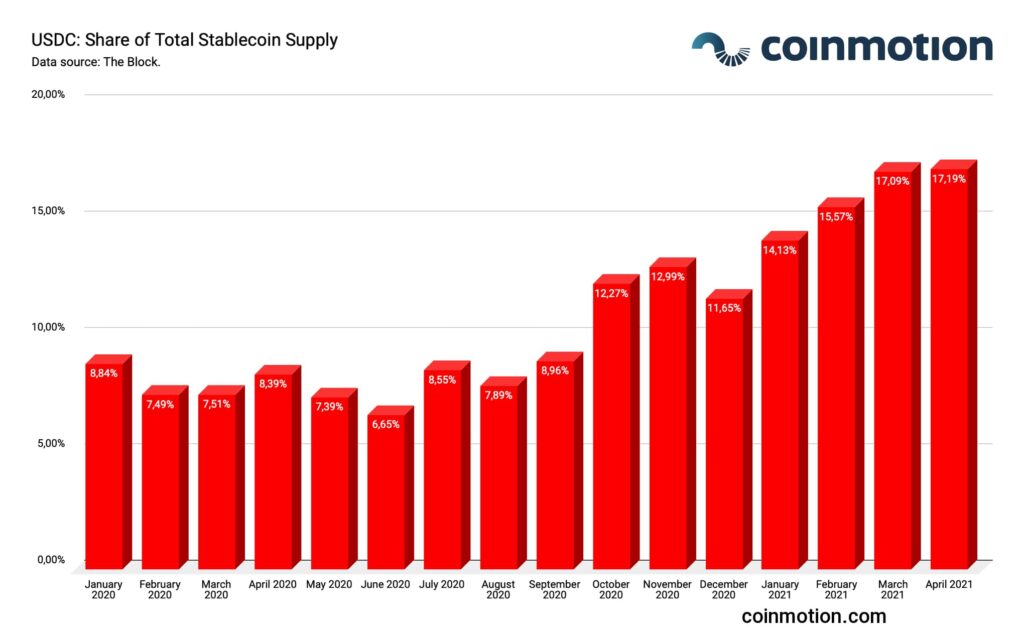 The stablecoin market is increasingly competitive. But USDC has been able to increase its market share, as portrayed by the embedded chart. While Tether continues to lead the market on multiple blockchains, the demand for more regulatorily fit alternatives increases.
USD Coin's business model is based on earning interest on fiat collateral that underpins USDC. Additionally, USD Coin doesn't necessarily need to earn income from the transactions themselves. The coin's owner Circle, a global financial technology firm creates and monetizes products around USDC usage and future adoption. Consequently, USD Coins monetization model is similar to that of extensive platform services. For example, such services are transaction banking that use APIs via fees and leverages.
Why does USD Coin matter?
USD Coin is essentially a compliance-friendly alternative to more market-dominant Tether (USDT). Above all, what makes USDC different is that this virtual currency operates under U.S. money transmission laws. Besides, USDC works on an open-source framework. Furthermore, there is another factor that makes USD Coin a promising asset. USDC will likely increase its relative market share even further as the stablecoin market keeps scaling up.
USD Coin tokens are now available for buying, selling, and storing on Coinmotion.com.