Everybody wants to hear a new bitcoin price prediction. If there's one thing that people want to know about Bitcoin, it's always about the price. People want to know how much bitcoin is going to cost today, tomorrow, in a year, and even in ten or twenty years. Why? They want to know whether they should buy bitcoin today, tomorrow, or never.
Most Bitcoin maximalists will tell you that the best time to buy bitcoin was yesterday. The second-best time to buy bitcoin, they will say, is today. Some analysts in the space may suggest that bitcoin could see a pullback in the future. They, therefore, suggest it may be best to buy bitcoin when that happens. Other analysts predict that bitcoin is headed to zero. Hence buying it yesterday, today, or anytime is a big mistake.
Of course, no one really knows what can happen in the future. And even if they do know, no one will believe them. Imagine that you could go back in time to tell the world in January of 2020 that a massive pandemic was headed straight for the planet earth. Imagine telling everyone that the economy (and life itself) would never be the same. You would have sounded crazy.
And yet, here we are. Many analysts argue that the monetary policy changes that were brought about by COVID have played an integral role in BTC's meteoric rose throughout 2020 and 2021. These policy changes–among many other things–will likely continue to affect the price of bitcoin for years to come.
While it may be impossible to predict the future of the cryptocurrency market, there are certainly some things that you can pay attention to if you're wondering what bitcoin's price will be in the future.
The price of bitcoin in 2021 & 2031
Making predictions for the price of bitcoin by December 2021 is one thing. One can take a look at the factors that are currently at play in markets all over the world. Then, one can make assumptions based on the fact that some of those factors will likely be at play in a few months. But what about the price of bitcoin 5 years from now? What could bitcoin cost 10 years from now?
Alex Mashinsky, CEO of cryptocurrency lender Celsius Network, has maintained his belief that the price of bitcoin would reach $140,000 to $160,000 this year, after trading above key levels in recent weeks. Mashinsky stated in an interview with Yahoo Finance that Bitcoin is a "very good" financial asset and must be treated as such, rather than to pay for regular transactions. He went on to explain that now BTC has managed to stay above vital support levels, it is preparing to climb higher. He restated his price forecast, predicting that Bitcoin might reach $140,000 or even $160,000 this year.
There are a few things to consider when thinking about what the bitcoin price could be in the long term. Analysts use a number of strategies that involve processes like calculating moving averages and Fibonacci retracements. Others rely on artificial intelligence and deep learning tools.
BTC Price vs Supply & Demand
However, if there's one thing that you need to know about making bitcoin price predictions, this might be it. As it currently stands, bitcoin's price is a nearly direct indication of market sentiment. What affects the price of bitcoin in real-time is the simplest of market forces–supply and demand.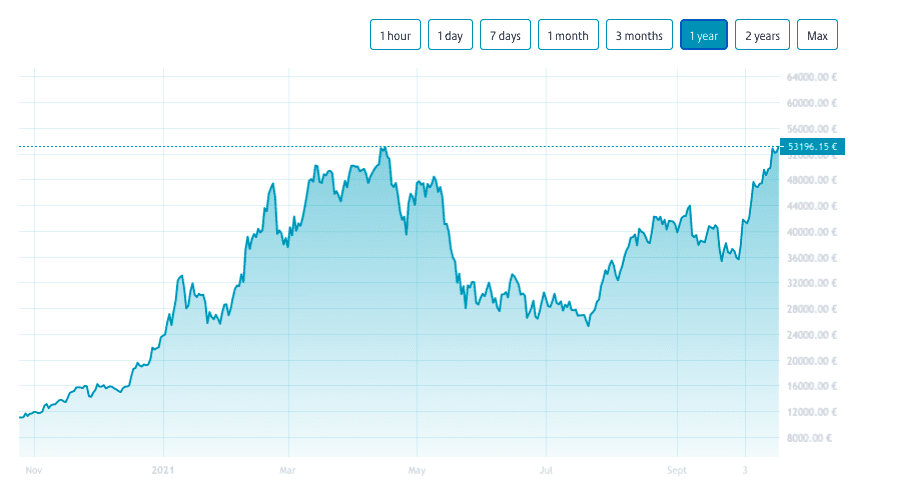 In other words, what almost purely determines the price of bitcoin is how many people are buying BTC, how many are holding, and how many are selling. The more people that buy bitcoin, the more its price increases. The more people that hold BTC, the more its price stabilizes. The more that sell BTC, the further its price decreases.
This kind of price-sentiment simplicity is due to several factors that are inherent to Bitcoin. For one thing, bitcoin has a fixed supply of 21 million BTC. As of July 22nd, 2021, the circulating supply of Bitcoin was 18,763,425 BTC. More bitcoins are added into the circulating supply each day as miners receive them as rewards for confirming transactions on the network. However, the network's algorithm is designed so that fewer BTC are released into the circulating supply. As time goes on, bitcoin becomes more scarce.
What determines the price of 1 BTC?
While there are new BTC that are added to the circulating supply every day, there is no central authority that can arbitrarily decide to add 10,000 BTC to the total supply. In this way, bitcoin is a non-inflationary asset.
Additionally, bitcoin markets are active in real-time during every minute of every hour of every day of the week. Therefore, the price of BTC reacts to news, social media, movements in parallel markets, and other factors immediately. There is virtually no delay between bitcoin's price reactions to any number of factors that influence investors' decisions to buy, sell, or hold.
By contrast, the factors that determine the value of the US dollar are arguably much more complex. The United States Federal Reserve can decide at almost any moment to add $1 trillion to the economy. Additionally, foreign exchange markets may not respond to these kinds of policy changes immediately. Instead, changes to the value of the USD may unfold over a period of weeks or months.
Bitcoin's Famously High Volatility
When any analyst makes a bitcoin price prediction, one of the most important factors that they must take into consideration is volatility. BTC is famously volatile. For retail investors (especially those that are new to BTC), its volatility may have been a deterrent. For institutional investors with high-speed trading capabilities, bitcoin's volatility may have been its greatest asset.
Will volatility kill Bitcoin?
However, the way that the bitcoin price moves today, in Q2 2021, is very different from how its course five years ago–or even one year ago.
For example, BTC famously crashed nearly 30 percent over a several-day period in March of 2020. While the crash was somewhat unusual at that point, bitcoin's price had historically crashed even more than 30% many times over. A crash of a similar magnitude happened again in May 2021. In fact, these kinds of sizeable crashes are such a big part of Bitcoin's history that 99 Bitcoins has kept a "Bitcoin Obituary" page. The page lists more than 400 instances in which someone officially declared Bitcoin "dead" after a crash.
However, as Bitcoin has grown larger and more prolific, the yearly number of BTC death pronouncements has decreased. In 2017, there were 124 such pronouncements. In 2019, there were just 41. In 2020, there were 14.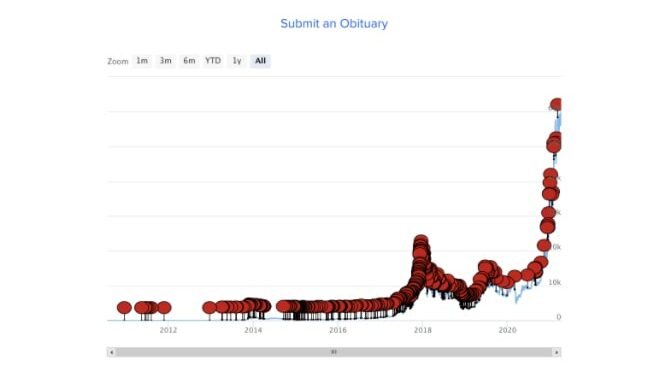 In 2021, there have been 32 BTC obituaries so far (by August). After the bull cycle of H1 2021, many did not anticipate a steep correction during the summer. Understandably, after bitcoin reached over 60,000 USD in April 2021 and then dropped over 50% of that value in May-July, some people may believe BTC died.
Bitcoin will be even less volatile
It has also been observed that bitcoin's price volatility has decreased over time. Bitcoin certainly still sees sharp corrections, e.g., when it reaches new all-time highs, to be sure. However, as time goes on, these corrections appear to happen less frequently. The volatility has been getting lower and lower every year since 2011. When new highs and lows do occur, they are often less serious than some of the price crashes it used to experience on a fairly regular basis. In other words, even though bitcoin remains a riskier and more volatile asset compared to, say, stocks, BTC price jumps up and down less than the prices of newer tokens.
Therefore, as time goes on, many analysts making bitcoin price predictions believe that the price of bitcoin may continue to stabilize. However, many analysts (and, perhaps, some billionaire investors) believe that bitcoin still has a long way to go before that point.
What will the price of Bitcoin be at the end of 2021?
Several analysts made the following bitcoin price prediction: it will increase by a margin of at least 100 percent by the end of 2021.
For example, Pantera Capital chief executive Dan Morehead wrote earlier this year that based on the stock-to-flow model, he expects BTC to reach $115,000 per coin before the end of summer 2021. Given the correction ongoing since May 2021, this prediction may have a harder time coming true than others.
Renowned broadcaster and financial analyst Max Keiser's bitcoin price prediction for 2021 is $220,000.
Analysts at trading platform PrimeXBT have upped the ante even more, suggesting that bitcoin's price could reach past $325,000 by the end of the year.
Mike McGlone, a senior commodity strategist at Bloomberg Intelligence, predicted that bitcoin's price can reach over $400,000 by the end of the year. "The technical outlook for bitcoin in 2021 remains strongly upward if past patterns repeat," he wrote, explaining that bitcoin is "on similar ground as the roughly 55x gain in 2013 and 15x in 2017."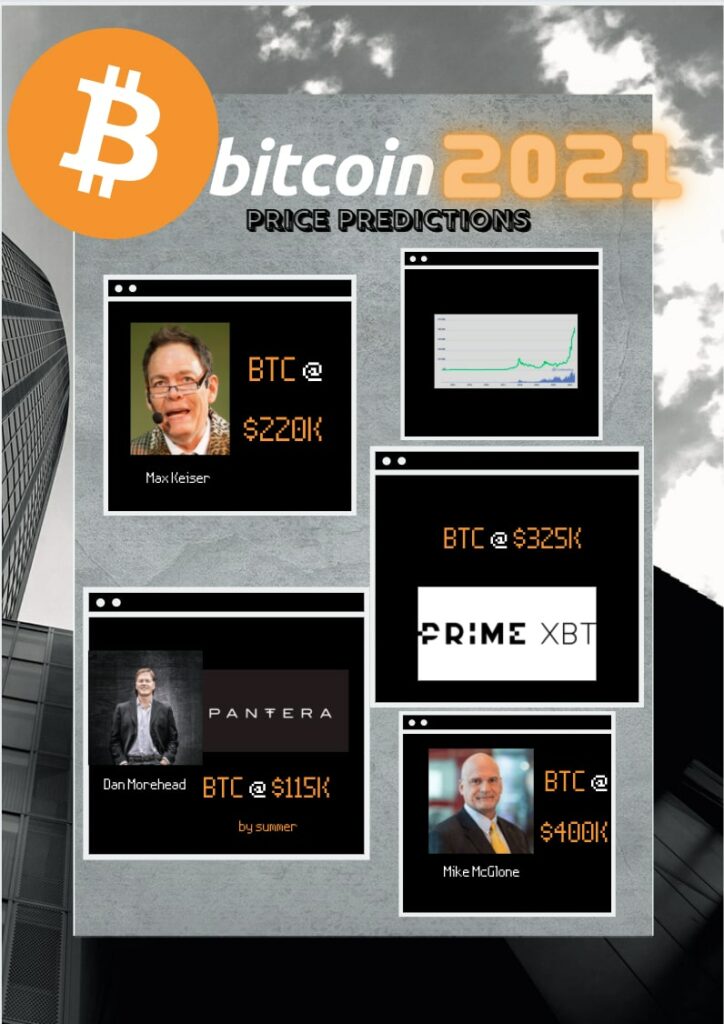 Price prediction for Bitcoin & Ethereum after 2021
Bitcoin has been the digital gold, the number one cryptocurrency almost since its launch. That is, until 2021 — before Ethereum started outpacing Bitcoin. First, in July 2021, ETH, for the first time, flipped (dominated) Bitcoin by the number of daily active addresses on its network. Next, we learned that Ethereum has outperformed all cryptocurrencies, including BTC, in the first six months of 2021, in terms of growth and trading volume.
As a result, the BTC price predictions that analysis make now take Ethereum in account, too. For example, the Finder's panel of crypto experts went as far as predicting that ETH price is likely to outperform BTC by the end of 2021.
The price of bitcoin in 2030, 2040 & beyond
What could the price of bitcoin be after the end of this year? What could the price of bitcoin be in 10 years, or even more?
The truth is that much depends on the social and political roles that Bitcoin and blockchain technologies will play in the future. Some believe that BTC's economic importance will continue to grow as hedge funds and other institutional investors continue to adopt bitcoin as a hedge against inflation. Others believe that governments will step in to ban Bitcoin and that the price could eventually drop into oblivion.
However, others believe that as digital currency continues to play a more critical role in society, Bitcoin could become bigger than ever. These factors influence a bitcoin price prediction an expert makes. If you want to learn more about Bitcoin's functionality, check out some of our other blog posts. To purchase BTC safely and securely, visit Coinmotion.com.