In this week's cryptocurrency technical analysis, we examine the latest market trends. What is happening to the BTC price in relation to its supply and circulation?
Is Bitcoin's Price Correlated with Stock-to-Flow Model?
Bitcoin's stock-to-flow model (S2F) mirrors Bitcoin's built-in scarcity, and S2F has historically been correlated with bitcoin's price BTCUSD. The Stock-to-flow model steepens after each Bitcoin halving event, and S2F estimates bitcoin's price to exceed 100 000 USD by 2024.
The stock-to-flow model acts as a reference point for Bitcoin's recent bull cycle from January 2021 onwards. S2F shows that the breakout of BTCUSD occurred in early January as bitcoin's price deviated from stock-to-flow correlation, heading up. This bull cycle lasted till May, when BTCUSD crossed S2F again, dropping below it. As stock-to-flow acts as a leading indicator, we can forecast BTCUSD to head upwards again, towards S2F's trajectory.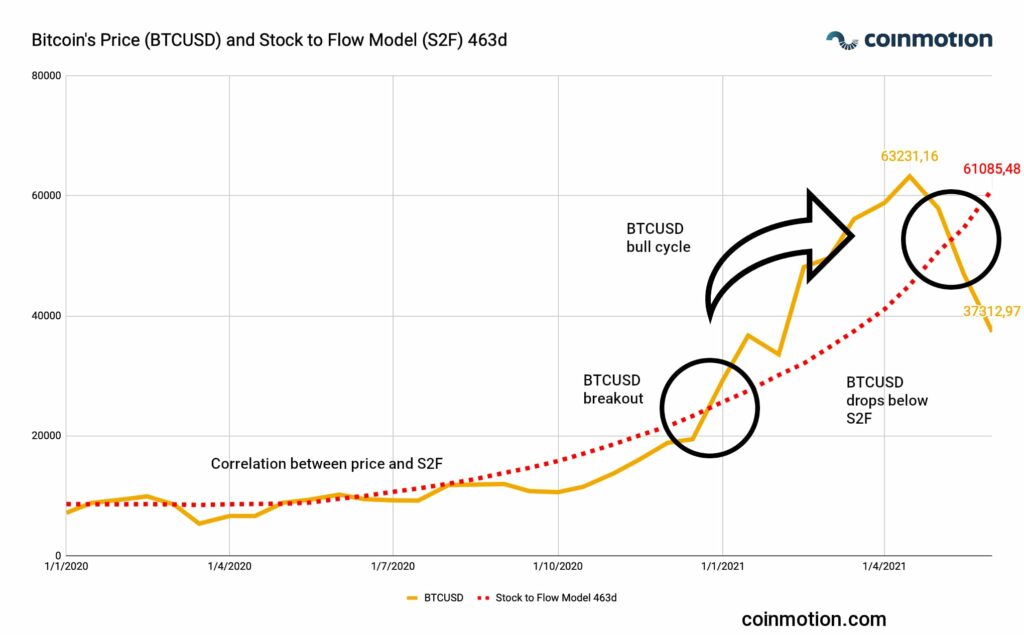 The stock-to-flow model generally means the relationship of Bitcoin units in supply and circulation. As Bitcoin is a scarce asset with gold-like features, other precious metals act as a good benchmark for Bitcoin. The current S2F of platinum is 0,4, a relatively low value. Silver has a stock-to-flow of 22, closer to Bitcoin's current S2F of 58,9. Gold currently has 62 stock-to-flow, while the estimated S2F for Bitcoin in 2024 is 121,4.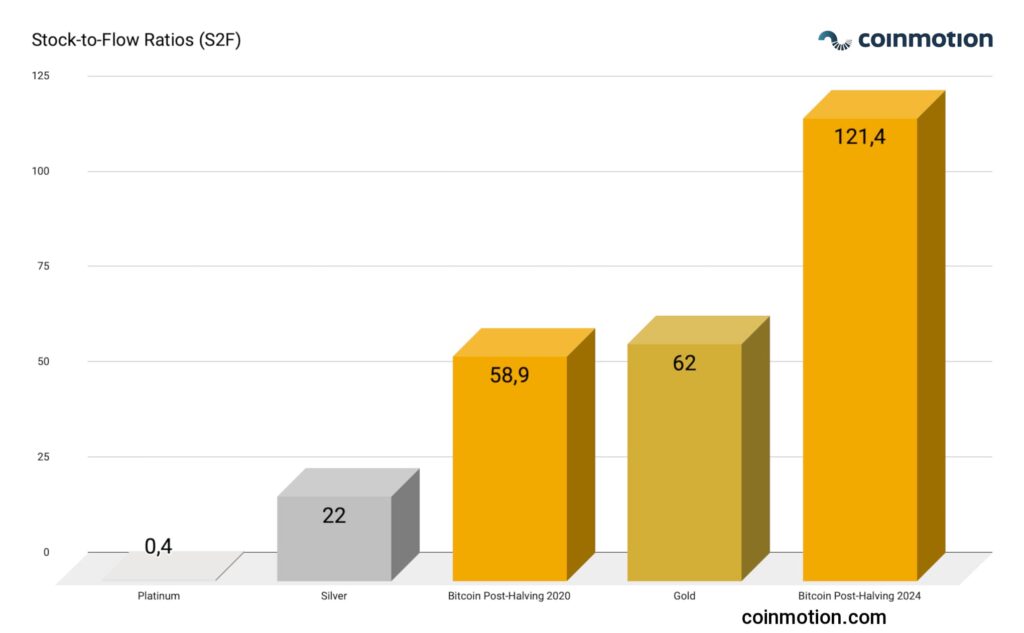 Flippening: On-Chain Volume of Bitcoin and Ethereum
There has been wide speculation towards "flippening" between Bitcoin (BTC) and Ethereum (ETH). The flippening usually describes a time when Ethereum's price outperforms Bitcoin's. Contemporarily Ethereum's price is 7,22 percent of Bitcoin's price, making the "price flippening" an unlikely scenario.
Nevertheless, Ethereum recorded the highest on-chain volume ever (ATH) in May 2021, surpassing Bitcoin's metrics. In May 2021 the Ethereum ecosystem transmitted 666 billion USD worth of transactions, compared with Bitcoin's 407,26 billion USD.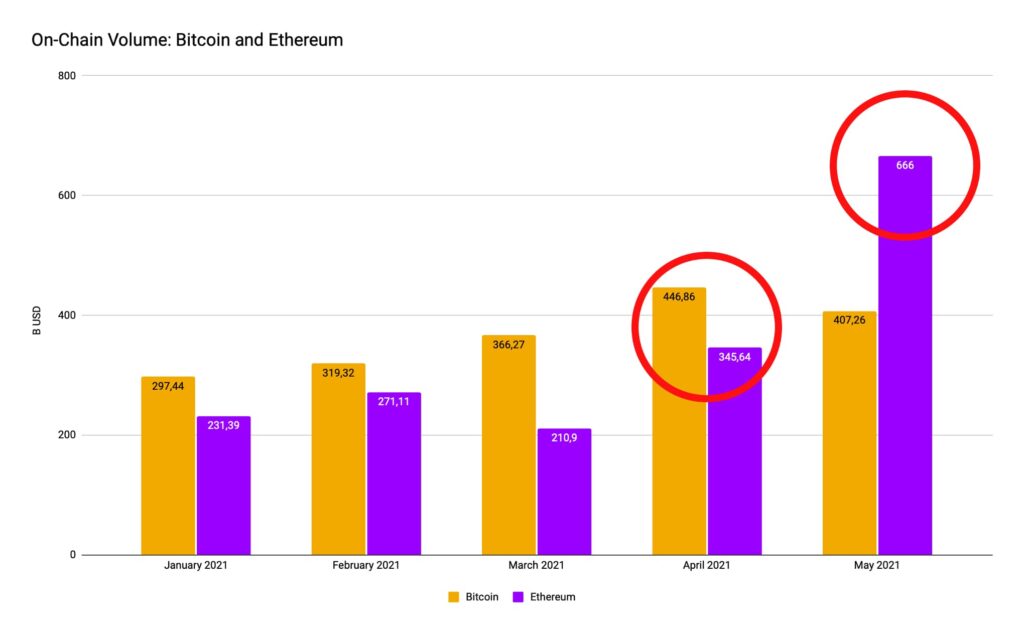 Increasing Growth for Decentralized Finance (DeFi), Despite The Recent Correction
Decentralized finance (DeFi) applications were more popular than ever in early June, as the DeFi userbase grew to 2,65 million. Decentralized exchanges (DEX) are some of the fastest-growing segments in DeFi. The DEX market is dominated by Uniswap (UNI). Uniswap was recently listed on Coinmotion, and its market share is 59,4 percent.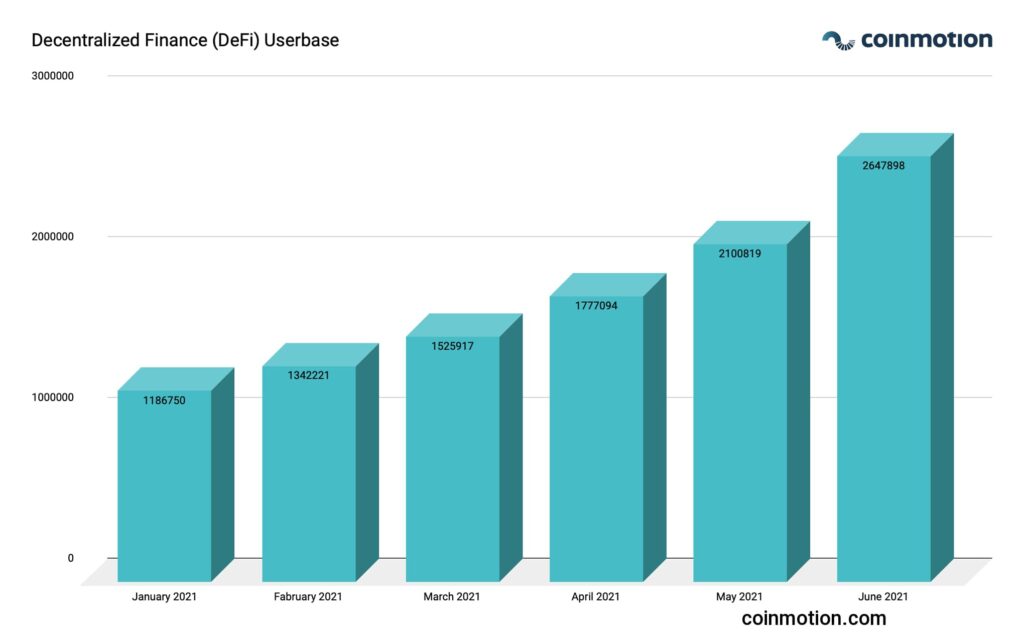 The popular Aave ecosystem reached another benchmark this week as the value of funds in the Aave protocol surpassed 20 billion USD. Stani Kulechov, the Aave founder with Finnish background, estimated the bullish DeFi sentiment to continue.