Through the existence of cryptocurrencies, the value of bitcoin has been superior compared to others. When altcoins raised faster than bitcoin during the 2017 rollercoaster, bitcoin's position among cryptocurrencies was at its weakest and Ethereum showed potential to grow bigger by total market value. Nevertheless this scenario didn't come true as Ethereum's rise stalled and afterwards bitcoin made a strong rise. Ethereum's share of the whole market was 31 percent, when at the same time bitcoin's share was 38 percent. Regardless of this momentary equality, bitcoin has been pretty superior.

Before the altcoin boom in 2017, bitcoin's market share mostly stayed at over 80 percent. During 2017 the situation moderated and bitcoin's share dived under 50 percent and stayed there for almost the whole year. Similar pattern was seen in January 2018 when bitcoin's market share was 33 percent at its lowest. Afterwards altcoin market plummeted and bitcoin returned to its dominant market position.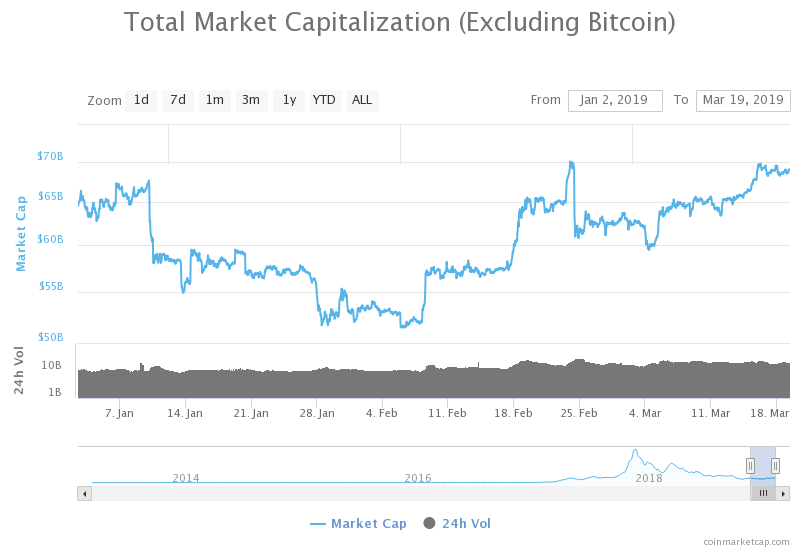 Bitcoin's market share has dropped during 2019

During 2019 altcoins have strengthened their position. Still at December 2018 bitcoin's market share was approximately 55 percent, but has afterwards dropped near the 50 percent line. At the time of writing, cryptocurrencies prices and other relevant data collecting service coinmarketcap shows 50,3 percent market share for bitcoin.

The recovery of altcoins over bitcoin may tell its part about growing interest of investors towards whole cryptocurrency market. Volatility of altcoins is stronger and investing to them is notably riskier than investing to bitcoin. Nevertheless, higher risk-level means higher expectation of earnings.

Strong rise of cryptocurrencies with lower market value doesn't need as much new money to the market as it does for the rise of already highly valued bitcoin. At the moment, to double the bitcoin's market value would need a rise of bitcoin's market value by 70 billion dollars. For an example, Tron (TRX) is listed last at coinmarketcaps TOP-10 list and its market value would need a rise of 1,5 billion dollars to double its market value. As a result, even more investors have began to search the next successor, which could rise hundreds or thousands percents when the next more powerful boom starts.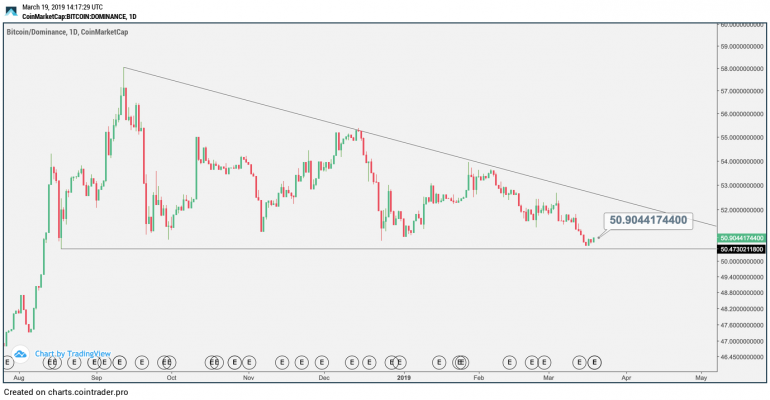 Bitcoin is also biggest by trade volume
Bitcoin's trade volume is clearly the largest of all the cryptocurrencies. The Second biggest trading volume of the typical cryptocurrencies belongs to Ethereum. Ethereum's trading volume is around 20% from bitcoin's corresponding value. Last weeks have shown bitcoin's trading value moving between 9-10 billion dollars, while the combined trading volume of all the other cryptocurrencies has been just over 10 billion dollars in the last few weeks.

Bitcoin's position is also very strong at services that Prasos offers. At the moment Bittiraha offers only bitcoin exchange services, but Bittimaatti ATMs offer also litecoin and Coinmotion includes litecoin (LTC), ethereum(ETH) and Ripple (XRP) in addition to bitcoin. Among our customers bitcoin is still the most interesting financial asset. Nevertheless, we plan to add more cryptocurrencies to our services, as many altcoins have big potential like bitcoin and we want to offer the possibility to invest in them for our customers.