Buy Polygon


(MATIC) on Coinmotion
Diversify your crypto portfolio by investing in MATIC, a highly-efficient currency designed for low fees and fast transactions. As the native cryptocurrency of Polygon, a sidechain scaling solution for Ethereum, MATIC has high growth potential, particularly given the growing popularity of NFTs. Contact us now for additional guidance from our private bankers. 
What Is Polygon (MATIC) & Why Invest in It?
Polygon began as one of the largest, most ambitious projects in the crypto sector, intended to address operational and design flaws within the Ethereum blockchain. 
Most notably, it was developed to address Ethereum's gas fee issue, thereby incentivizing the more widespread adoption of cryptocurrency. 
An ERC-20 token based on Ethereum, MATIC is Polygon's native currency, used not only for purchase and payment but also staking, governance, and fees. It's inherently scalable, and supported by a massive developer ecosystem  — owing in no small part to the fact that many decentralized finance projects are built atop the Polygon network. For businesses, this also means that MATIC offers a high potential for partnerships. 
MATIC's top value, reached in December 2021, was $2.92. As of June 2022, it has a value of $0.3959.
Invest in MATIC via Coinmotion Wealth
Coinmotion's OTC-trading service is safe, reliable, and intuitive. This makes it perfect for investing in MATIC and also hundreds of other cryptocurrencies. 
Our brokers will provide you with personalized guidance to help you maximize your investments. Because Coinmotion OTC trading is a manual, premium service, there's a minimum investment requirement of 5000 Euros
MATIC & Coinmotion:


Frequently-Asked Questions
How do I start buying Solana on Coinmotion?
The first step is to sign up for a Coinmotion account. It's free and simple, requiring at most ten minutes of your time. Here's the step by step process: 
Create a Coinmotion Account. 

Enter an email address and password on our

registration page

. 

Email address confirmation

Once you've provided us with your email address, we'll send you a confirmation email with a verification code.

Account verification.

To ensure you meet our requirements, we require some personal information including proof of address, a valid government ID, and a completed KYC form. 

collaboration.

Finally, once your account is fully verified, get in touch with our private bankers. They'll work with you to help you determine how much you want to invest and which currencies you're interested in alongside Polygon. Once you've finalized your initial transactions, we'll send you a contract and instructions on how to complete them.
What's involved in working with Coinmotion's private bankers?
It's as easy as working with a bank in any other capacity. Just reach out with details on how much you want to invest in MATIC. You'll receive a contract, then one of our bankers will act as an intermediary for the transaction once you've sent it back. 
You'll then be provided with a receipt that records: 
The purchase rate. 

Transaction fees.

How much MATIC you received. 
What currency can I deposit to invest in MATIC?
Coinmotion supports multiple European fiat currencies. However, you can deposit virtually any foreign currency; we'll automatically convert them to Euros. 
Who can use Coinmotion's Coinmotion Wealth and OTC services?
You must be at least 18 years old, meet Coinmotion's account verification requirements, and reside in the EEA area to use Coinmotion. 
Are there any fees for using Coinmotion?
We take a minor commission of 0.8-2% depending on trading volume. Coinmotion's prices are aggregated in real-time from several major exchanges plus a commission. The more cryptocurrencies you buy over time, the lower the commissions. Commissions start at 2% but are gradually reduced to 0.8% (e.g., if you buy 2000€ worth of crypto, you can expect to pay approximately 1.6%).
Is there an investment limit?
The minimum investment for buying MATIC through Coinmotion is 5000 Euros. Beyond that, there is no investment limit. 
How long does it take to buy Polygon on Coinmotion?
Not long at all! 
An OTC trade request can be completed in only minutes. One of our bankers will typically send back a contract within fifteen minutes. Once the contract has been signed and we've received the necessary funds, the trade will be processed immediately.
Requests submitted after 5 PM Eastern European Time (UTC +2) will be processed on the next business day.
Extremely. We protect all transactions through high-level encryption, and store funds in cold storage. 
Where can I see how much MATIC I have?
All receipts are stored in your Coinmotion inbox. You receive a receipt after every trade. 
How do I sell my MATIC on Coinmotion?
Selling MATIC on Coinmotion is very similar to buying MATIC. First, make a sales offer. We'll complete the trade, and deposit the Euros you receive in your account.
Is MATIC listed on Coinmotion?
Coinmotion is working tirelessly to bring new cryptocurrencies to our platform. We typically announce new listings close to their launch date. Even if one is not currently listed, our bankers can add it to your portfolio on request. 
Meet our
Incredible Coinmotion Wealth


Professionals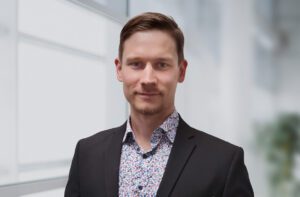 Pessi Peura
PARTNER MANAGER
Pessi is a veteran in the cryptocurrency market who has already seen more than one cycle. Pessi has worked at Coinmotion for a long time in various assignments and possesses expertise related to the altcoin market.  By his versatile experience in entrepreneurship, asset liability management, business and marketing Pessi is for the most part involved with our corporate customerships and with the content we produce to our Coinmotion Wealth clients.
Take the
first step


towards the future of crypto
Investing in cryptocurrency is easier than you thought. Contact Coinmotion today, and we'll show you the incredible financial freedom you can gain from a strategic investment. Get started below.