Buy Solana


OTC on Coinmotion
Build a more diverse crypto portfolio by investing in SOL, the fastest-growing blockchain ecosystem in the world. With a design that helps it process transactions more efficiently, SOL is ideally-suited for decentralized software development and finance. Contact us now, and our Key Account Managers can provide further guidance.
What Is Solana (SOL) & Why Invest in It?
Solana is an open, carbon-neutral blockchain protocol built for efficiency and affordability. It's also the fastest blockchain in the world. 
Solana also boasts an incredibly diverse development ecosystem, supporting more than 400 projects including NFTs, decentralized finance, and Web3. 
Supported by a thriving community of developers and investors, Solana is also censorship resistant. This means that no entity, whether they're a nation state or an individual investor, can interfere with anyone else's usage of the cryptocurrency. 
Originally launched in 2020 at a price of $0.77, Solana has since seen its cost increase by a factor of 22,000%.
Use Coinmotion Wealth
to Invest in SOL
Safe, intuitive, and reliable, Coinmotion's OTC-trading service is the perfect way to invest not just in SOL, but also hundreds of other cryptocurrencies.
Working with one of our brokers, you'll receive personalized guidance to help you maximize your investments. Note that because Coinmotion is a premium, manual service, we've set a minimum investment limit of 5000 Euros.
SOL & Coinmotion:


Frequently-Asked Questions
How do I start buying Solana on Coinmotion?
Before you can start your crypto investment journey, you'll need to sign up for an account. This is free, and only takes about ten minutes. You can see the full step-by-step process below. 
Create a Coinmotion Account.

Enter your email address and a strong password on our

registration page

.  

Confirm your email address.

Shortly after registration, you should receive a confirmation email with a code. 

Provide verification details.

This includes personal information, proof of address, a valid government-issued ID, and a completed KYC form. 

Get in touch.

Contact our Key Account Managers with details on how much you want to invest and which cryptocurrencies you're interested in alongside Solana. We'll circle back with a contract and instructions on how to complete your transactions.
What does contacting Coinmotion's Key Account Managers entail?
It's actually an incredibly simple process. Simply reach out to a banker to tell them how much you want to invest in SOL. They'll send you a contract, then act as an intermediary for the transaction once the contract has been accepted. 
When the transaction is complete, you'll be provided with a receipt that details the following: 
The rate at which the investment was finalized. 

Any relevant transaction fees.

How much SOL you've received
What currency can I deposit to invest in SOL?
All Coinmotion transactions are done in euros, and any foreign currencies you deposit will be automatically converted. That said, Coinmotion supports multiple European fiat currencies.
Who has access to Coinmotion Wealth and OTC services?
Only users residing in the EEA area may leverage our services. You must also be at least 18 years old and meet Coinmotion's account verification requirements..
Are there any fees I should be aware of?
Coinmotion does not feature any hidden fees. We base our crypto prices off a real-time aggregate of several major exchanges, and take a 0.8-2% commission, depending on trading volume. We also offer volume discounts starting at 500 € and based on volumes from the past 90 days
Coinmotion provides secure custodial storage of your cryptocurrencies. Instead of you worrying about setting up a cold wallet, we arrange the storage with the highest security standards. For large investments, we charge a yearly 1% custodial fee.
What's the limit on investments?
There is no upper limit on investments, but the lower limit is 5000 euros.
How long does it take to buy Solana on Coinmotion?
It only takes a few minutes to make an OTC trade request. Once the request has been submitted, we'll typically respond back with a contract in 15 minutes. Once that contract has been signed and you've transferred the necessary funds, we'll process the trade immediately. 
Note that any trade requests made after 5 PM Eastern European Time (UTC +2) will be processed on the next business day.
Is investing in SOL on Coinmotion secure?
In a word, yes. All transactions are protected by high-level encryption, and funds are kept in cold storage.
Where can I see how much SOL I have?
You can find all receipts in your Coinmotion inbox. We send a receipt with transaction details after every trade.
The process for selling SOL is very similar to the purchase process. Start by making a sales order with details regarding the sale. We'll complete the trade, and deposit the euros received in your Coinmotion account.
Will SOL be listed on the Coinmotion platform?
We are constantly working to bring new cryptocurrencies to our platform. New listings are generally announced close to the launch date. Even if a crypto/token isn't currently listed, our Coinmotion Wealth team can generally add it to your portfolio on request.
Meet the
great people


in Coinmotion Wealth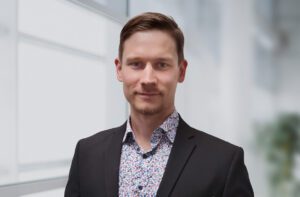 Pessi Peura
PARTNER MANAGER
Pessi is a veteran in the cryptocurrency market who has already seen more than one cycle. Pessi has worked at Coinmotion for a long time in various assignments and possesses expertise related to the altcoin market.  By his versatile experience in entrepreneurship, asset liability management, business and marketing Pessi is for the most part involved with our corporate customerships and with the content we produce to our Coinmotion Wealth clients.
Take the
first step


to the future of crypto
Becoming a crypto investor doesn't need to be daunting or intimidating. With Coinmotion, it's easy — contact us today, and experience the financial freedom of a strong investment. Start by creating your account: