While our standard Coinmotion trading platform is ideal for most investors and users, some clients might require more custom and personal cryptocurrency asset management solutions. For those of you we present our new Coinmotion Wealth services.

Our Coinmotion Wealth services are oriented for individuals or institutions who require personalized services to buy, sell and store cryptocurrencies. We offer a full range of services from our team of dedicated cryptocurrency professionals.

Coinmotion Wealth clients will receive their own, personal account manager to execute all of their orders on behalf of them. Clients will also be offered expertise and technological services in handling and storing cryptocurrencies, personalized for their individual needs.

We will also offer our insight on the cryptocurrency markets and offer help in topics like taxation of cryptocurrency investment profits and setting up additional security measures. Our account manager will help you in all possible questions related to cryptocurrency transactions and storing.
Cryptocurrency Purchases and Sales with Coinmotion Wealth is Easy

As our Coinmotion Wealth customer we will take care of handling all of your purchases and sales. To make a purchase, all you need to do is tell your personal account manager the trade you want to be executed and transfer the required Euros to us. As soon as the deposit is received, we execute the desired orders.

Selling cryptocurrencies is likewise easy. You tell us about the trade you wish to be executed and transfer us the cryptocurrencies. As soon as we receive the cryptocurrencies, we execute the sales order and transfer euros to you.

We Offer Low Fees for Our Clients
We offer stable, low fees for our Coinmotion Wealth clients. The trading fees range from 2.25% to 0.8%. Minimum fee per currency trade is 200 euros.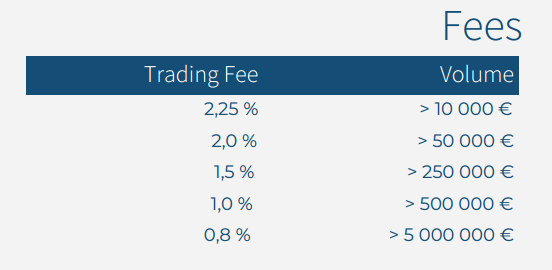 We Help You to Protect Your Wealth

Security is a key feature in today's fintech world. To answer the cybersecurity needs of our clients, our experts will help the Coinmotion Wealth customers to get the best possible security.

We will set up a physical Ledger wallet for you without additional costs. The service is available for more than 40 cryptocurrencies ranging from Bitcoin to lesser known altcoins.

We can also store your cryptocurrencies on Prasos' storage solution. We store our customers' cryptoassets in physical wallets, which are immune to hacking, and manage the transfers between our vault and your other wallets. The storage solution has a 1% annual fee.
Why Choose Prasos and Coinmotion Wealth?

Prasos is a well-known brand in cryptocurrency and blockchain field. We have over 6 years of experience in the sector, in secure storage of cryptocurrencies, flow of the markets and technological development.

We are dedicated for providing the best possible services in all measurable ways. We have over 80 000 satisfied customers.

If you are interested in our Coinmotion Wealth and have some questions or other required Coinmotion Wealth services we could help with, be free to contact us at [email protected].