Bitcoin's price is flatlining around $10k. Even though the monthly chart closed on levels that could easily be interpreted as bearish, we have not seen this potential actualized in any way. Let's start again from the monthly chart and work our way to lower time frames.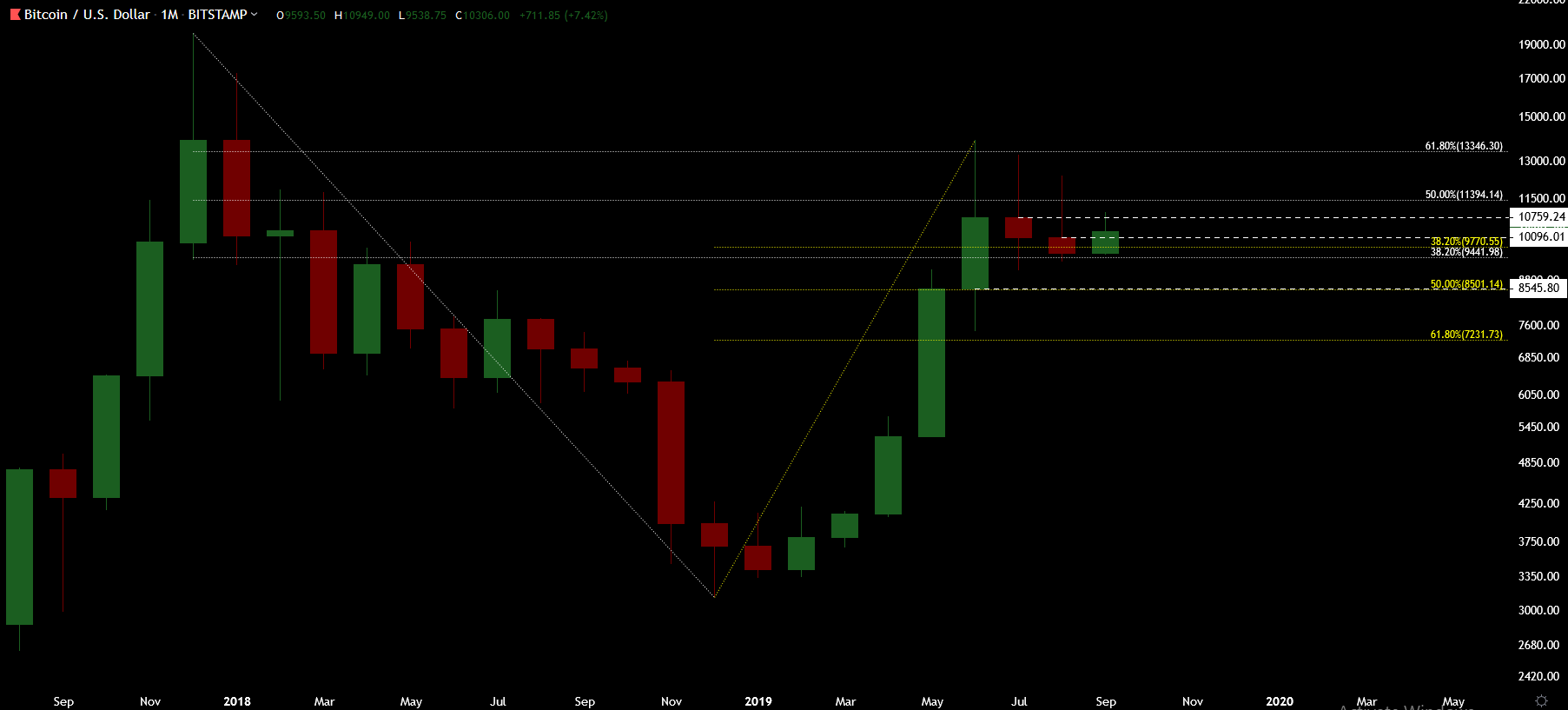 Here's the monthly chart with the bear market fibonacci levels (white), fibonacci levels of this rise from $3k (yellow) and a few important monthly open lines. Last month's close opened a possibility for an imminent dip to yellow 50% fibonacci level and the monthly open that is there too at about $8.5k, but we have not seen this dip.
Instead we have gone up and now, if we close this month over $10096 monthly open, it is a mildly bullish engulfing candle, while close over $10759 would be obviously bullish. Latter would engulf the whole corrections bodies while first would only engulf the small last month's body.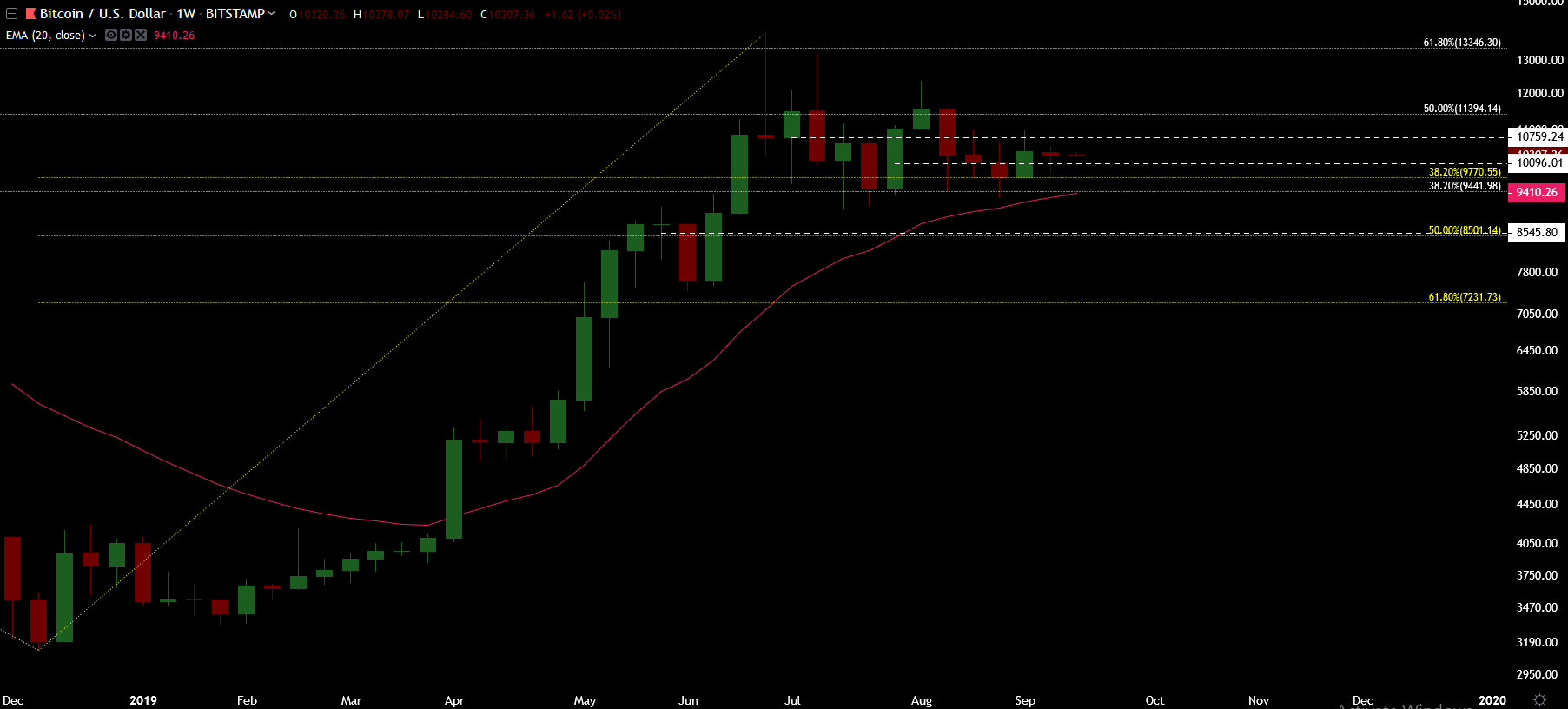 On the weekly chart we had a bullish green engulfing candle already, which doesn't necessarily mean much in these heavily consolidating circumstances, but can be the start of the trend continuation up.
The pink 20 weeks EMA (exponential moving average) is pretty close at about $9.4k. This EMA worked very well as support on the previous bull market between $200 – $20k.
Both 38.2% fibonacci levels have been working well as support during this correction from $14k.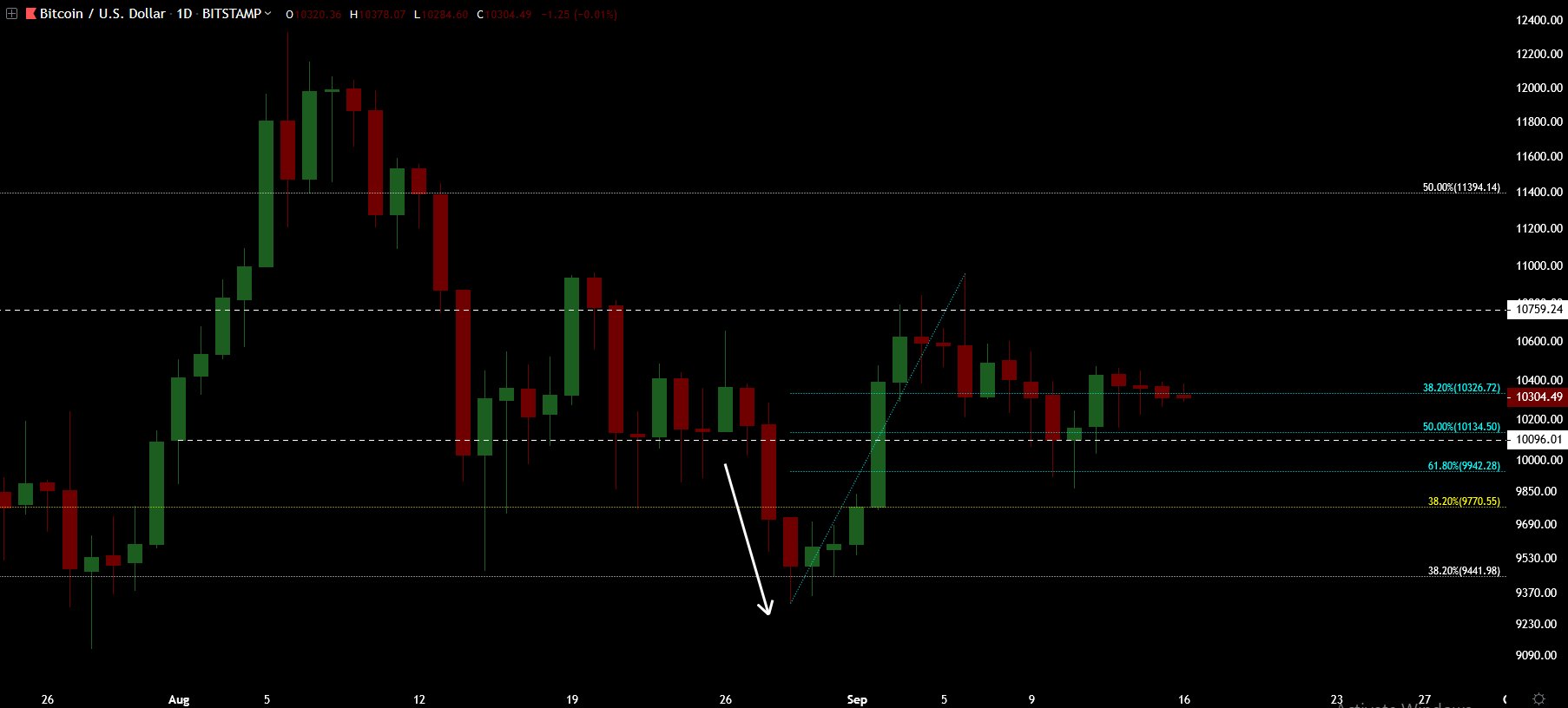 Let's go to the daily chart and see if there would be any hints of the direction for this consolidation to break out.
The drop pointed out with the white arrow looked promising for the $8.5k target to come true but now the drop looks more like a bear trap because of the pump that followed. Price got back above the $10096 monthly open, retraced to 62% fibonacci level (teal) and went back up a bit.
If we now get a follow through and break $11k, then it looks very promising for the upside break out.
This whole correction looks like the triangle I mentioned in the last analysis, heavily flatlining consolidation nearing the end now. When price flatlines it becomes harder to predict so this might go either way, but based on these little hints I would guess this explodes up, but as a trader be ready for the downside too.