We have recently launched a monthly saving feature to help our customers to distribute their investments over time. In this article, we will walk you through setting up a monthly saving plan on Coinmotion.com so that you too can take advantage of investing in cryptos and reducing your risk by distributing your investments over time.
Creating an account on Coinmotion
If you already have a Coinmotion.com account, you can skip this first step. Otherwise, keep reading.
The obvious first thing to is to create an account on Coinmotion — this is how you do it. Click here to register your free account now.
Just a heads-up: During registration, Coinmotion.com will ask your name and contact details. You will also need to verify your identity and fill a KYC form. Nothing too complicated there, but just necessary steps to keep things running smoothly and reduce different kinds of risks.
Setting up your monthly savings plan
Now that your account is ready, go into the Savings section of the service. You can find it easily in the main menu. Monthly savings is the default subpage, and there's also the Vault subpage for increased time-locked security, if you're into that sort of thing.
Once you're on the monthly savings page, setting up the plan is very straightforward.
Set your monthly investment amount
Fill in the amount that you want to save every month, and select the day of the month that you want your plan to execute on.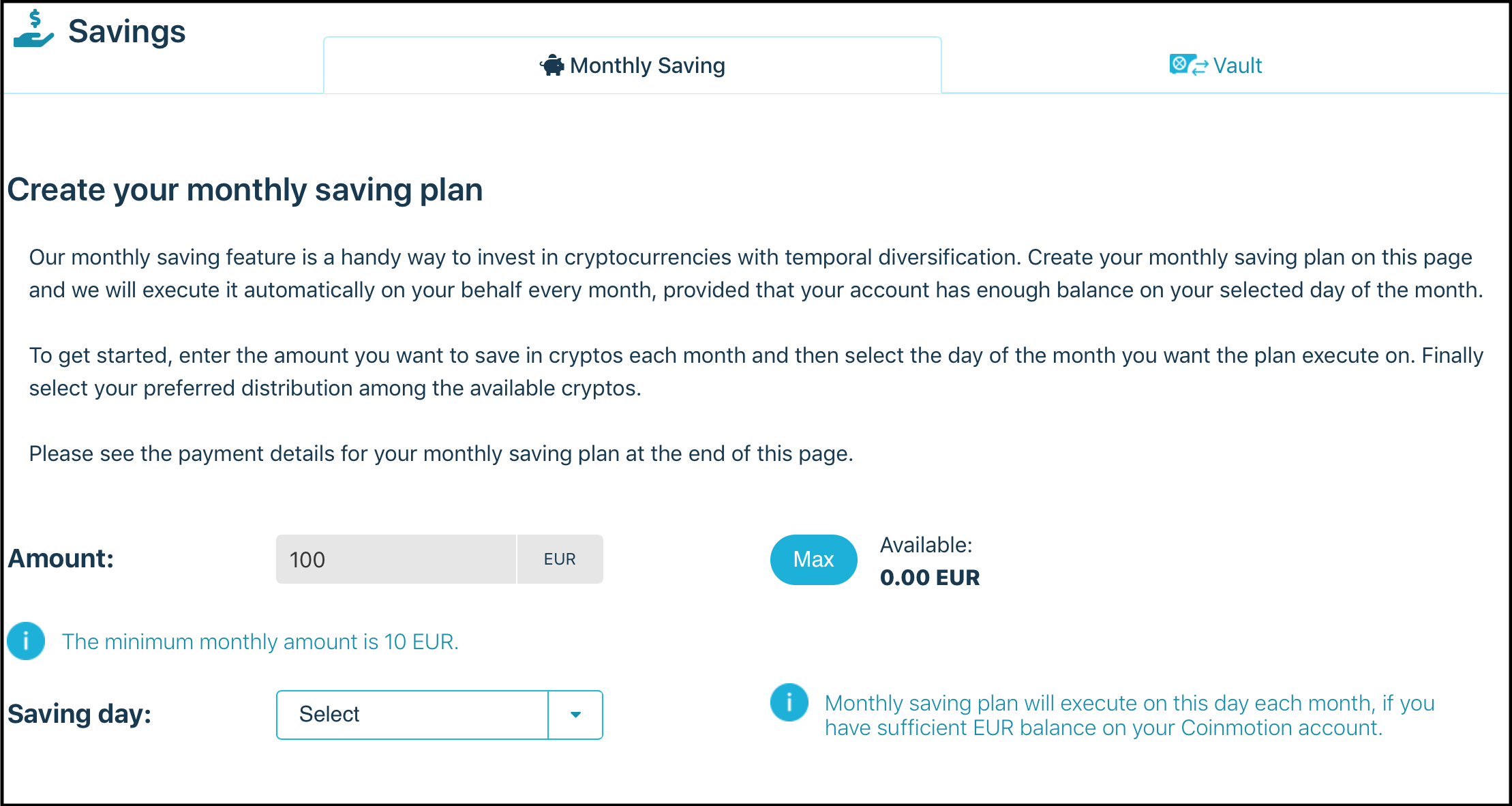 Choose your selection of cryptocurrencies
Choose the distribution of cryptos that you want to save into. Personally, I'm saving 100% into Bitcoin, but your preferences may be different. For example, you could distribute your monthly saving evenly among the available cryptos. You can also change your crypto distribution at any time for upcoming saving events free of charge.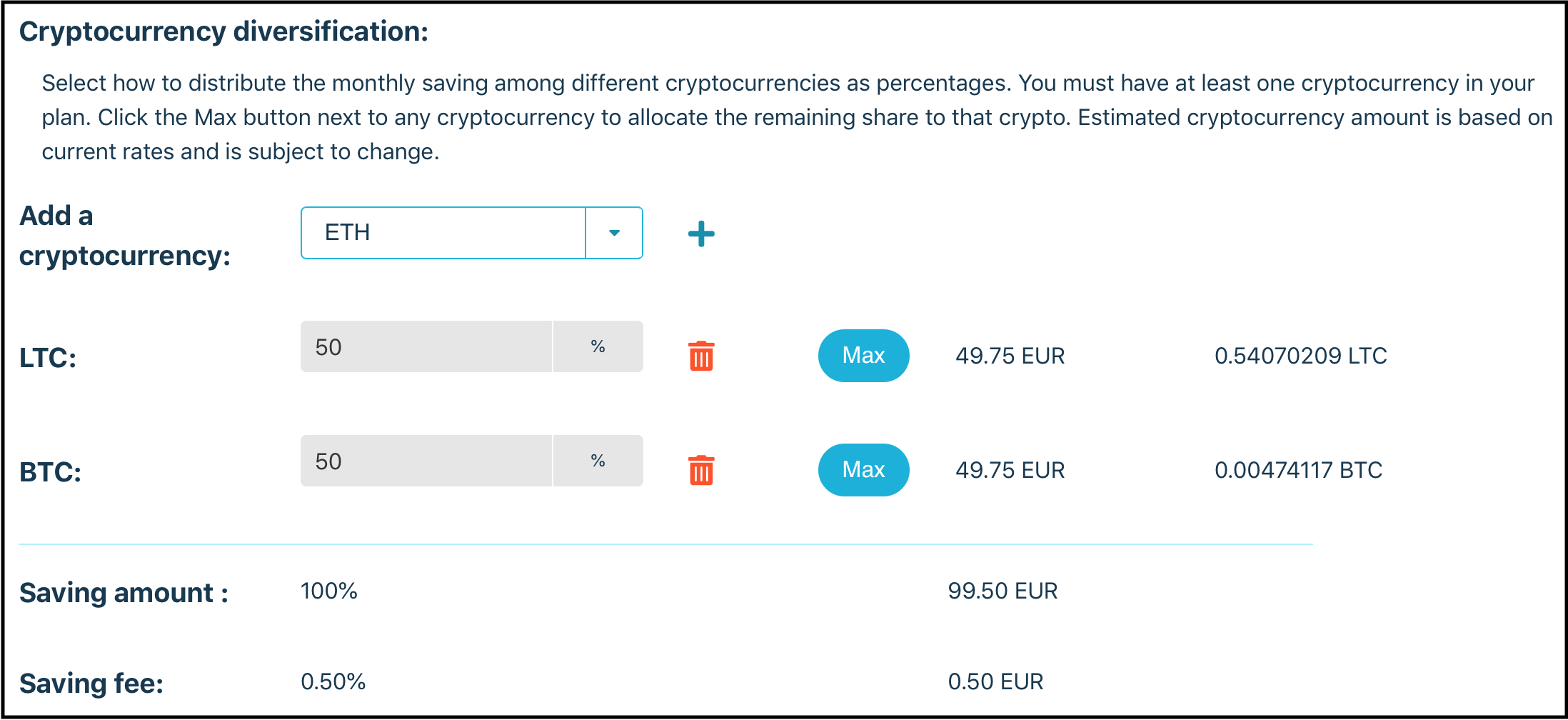 Set up a reminder about the deposit
Finally, you can choose whether you want email reminders about making deposits. You also need to accept the terms of the service. See the next section for more information about deposits.
And that's it! Just save your plan and it's good to go — Coinmotion will now automatically execute your plan every month as long as your Euro balance is sufficient.

Making necessary deposits
Like stated above, your Euro balance on Coinmotion needs to be sufficient for monthly savings to work automatically.
You can make manual deposits via the Transfers page using SEPA payments, credit and debit cards, Sofort and some other options depending where you live.
However, the most convenient way is to set up recurring monthly payments directly from your bank, if your bank has that feature.
The necessary payment details are shown at the end of the Monthly Savings page. It's recommended to set up the recurring payment a few days before your planned saving date so that the deposit has enough time to arrive.
A credit card subscription feature will be added here later for even more convenient monthly savings.
After setting up the recurring payment, you're all done. Just lay back and allow Coinmotion to automatically to save in cryptos for you!
If you can't set up recurring deposits, there's nothing to worry about. In that case we recommend selecting the email reminders when creating the monthly saving plan. Also, it doesn't break anything, if you miss a month or two. The plan will automatically continue next month when there's sufficient balance available.
Bonus tip: get reduced service fees
As you can see in the monthly saving page, the regular Coinmotion trading fees apply to monthly savings, but there are no other fees.
Coinmotion does offer volume discounts and these are applied automatically to your monthly saving, if your volume meets the criteria.
Also, the registration links provided in this article — like this one: register on Coinmotion now — have a special benefit for you, as you will get 50% reduction in your trading fees for the first 30 days.
As cryptocurrencies are extremely volatile with a tremendous upside potential, creating a monthly saving plan is an easy way to get aboard. Especially if you're investing with smaller amounts or out of your salary, a monthly saving plan with friendly deposit reminders should be your top choice.