The TA for week 33 covers Ethereum's fundamental changes after EIP-1559, NFTs, and the increased revenue for Bitcoin mining ops.
ETH Burning Continues After EIP-1559, Making The Network More Scarce
The Ethereum network has continued burning Ether tokens following the EIP-1559 upgrade, reaching a cumulative value of 155,33M USD since early August. The Ethereum network is currently burning up to 45,99 percent of its supply, calculated by an average of 1,37 net Ether emitted per block and an average of 0,63 Ether burned per block.
Average net ETH emitted per block: 1,37
ETH burned average per block: 0,63
Average % of ETH supply burned: 45,99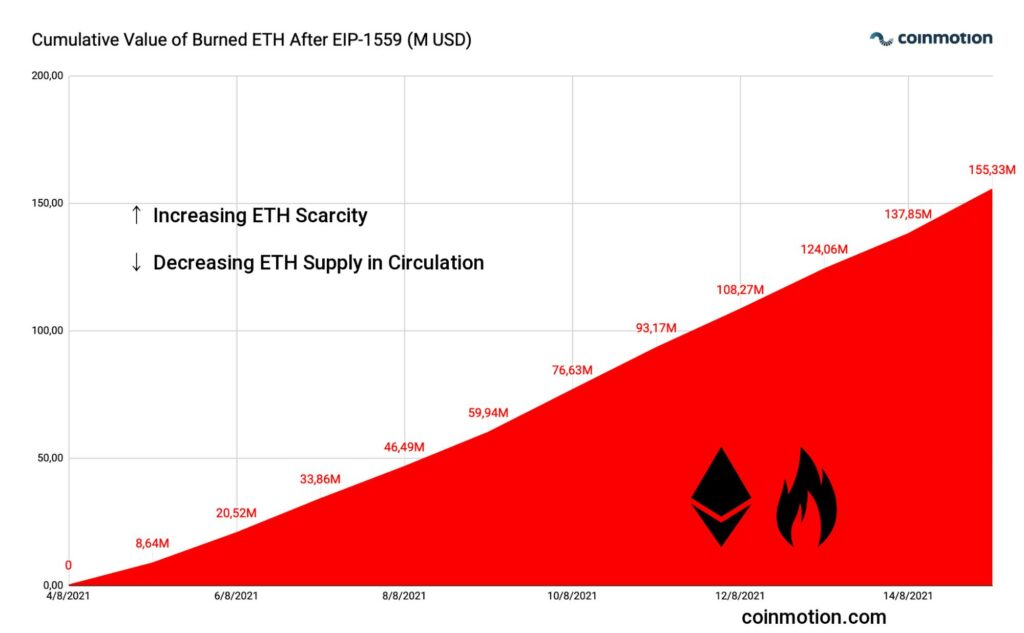 EIP-1559, part of Ethereum's larger London upgrade, removes (or burns) a certain amount of ETH from the circulating supply each time a transaction is processed. EIP-1559 has replaced Ethereum's auction-style transaction fee mechanism with an algorithmic alternative. Now miners no longer receive transaction fees as the fees are burned, effectively reducing Ethereum's circulating supply.
The diminishing circulating supply consequently makes Ethereum more scarce. Ethereum is preparing for the upcoming "merge" event, connecting Ethereum's mainnet with Ethereum 2.0, and in 2022 Ethereum is expected to shift from Proof of Work (PoW) protocol into Proof of Stake (PoS).
The NFT Market "OpenSea" Approaches $1B Monthly Volume
NFTs, or non-fungible tokens, have made a grand debut this year, evolving into an essential part of the decentralized finance (DeFi) ecosystem. OpenSea, the largest decentralized marketplace for digital goods, is approaching a definitive $1 billion monthly volume. OpenSea allows digital art trading, decentralized domain names, trading cards, virtual ecosystems, collectibles, and NFTs.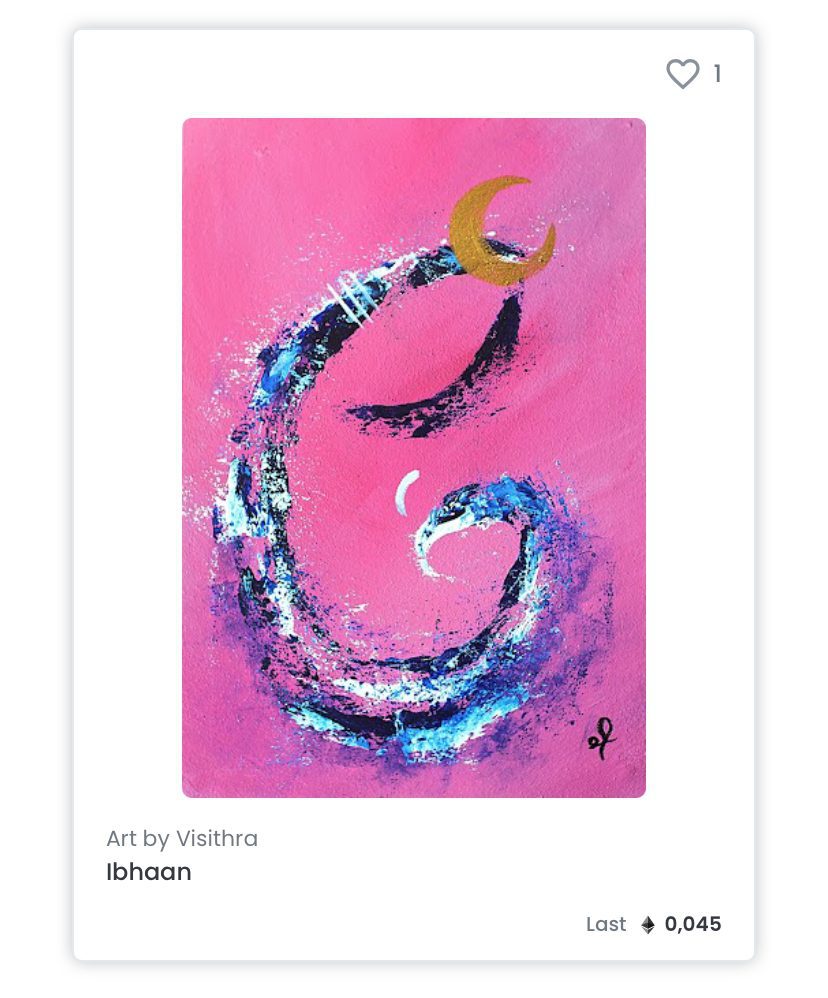 OpenSea's operational model allows anyone to trade NFTs on the platform while taking no custody for any items listed on the site. OpenSea users trade using a smart contract, storing their items in a chosen wallet. OpenSea's current fee is 2,5 percent of the NFT purchase price.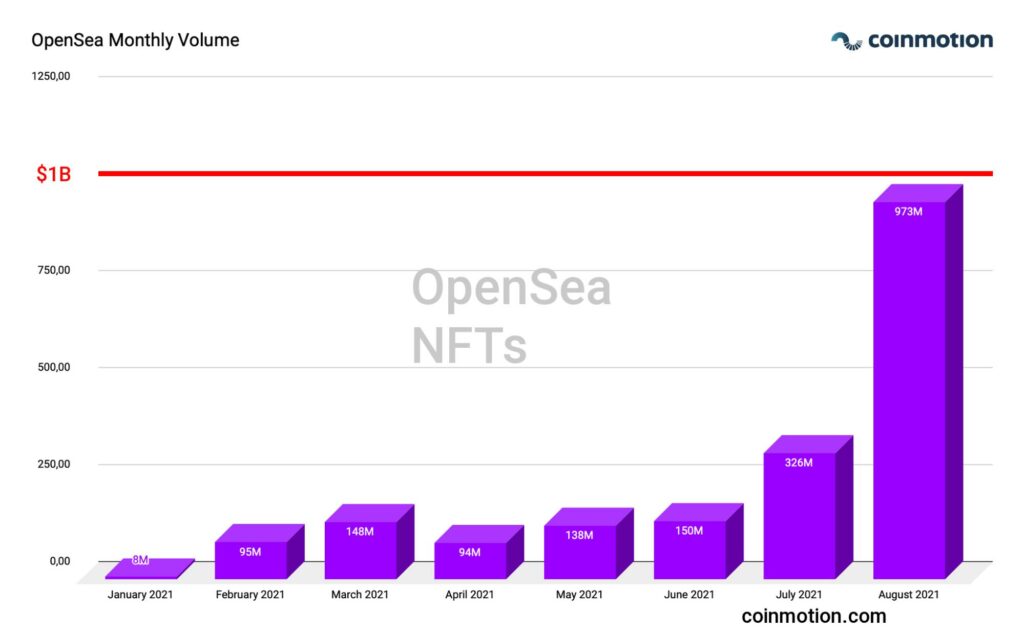 OpenSea is also leading the amount of ETH tokens burned after the EIP-1559 upgrade. So far, OpenSea has burned a total of 8106 tokens, while the decentralized exchange (DEX) Uniswap (UNI) V2 takes second place with 4618 Ether burned. Ethereum-derived Axie Infinity (AXS) takes third place with 3512 Ether burned.
Miner Revenue Increasing After May Crash
Bitcoin miner revenues have recovered after the China-induced drop in May, rising 98,2% between late May lows and this week. Bitcoin miners are currently in a good position as mining difficulty is still at its lowest level since summer 2020. Additionally, many Chinese operators have left the industry, leading to lower competition.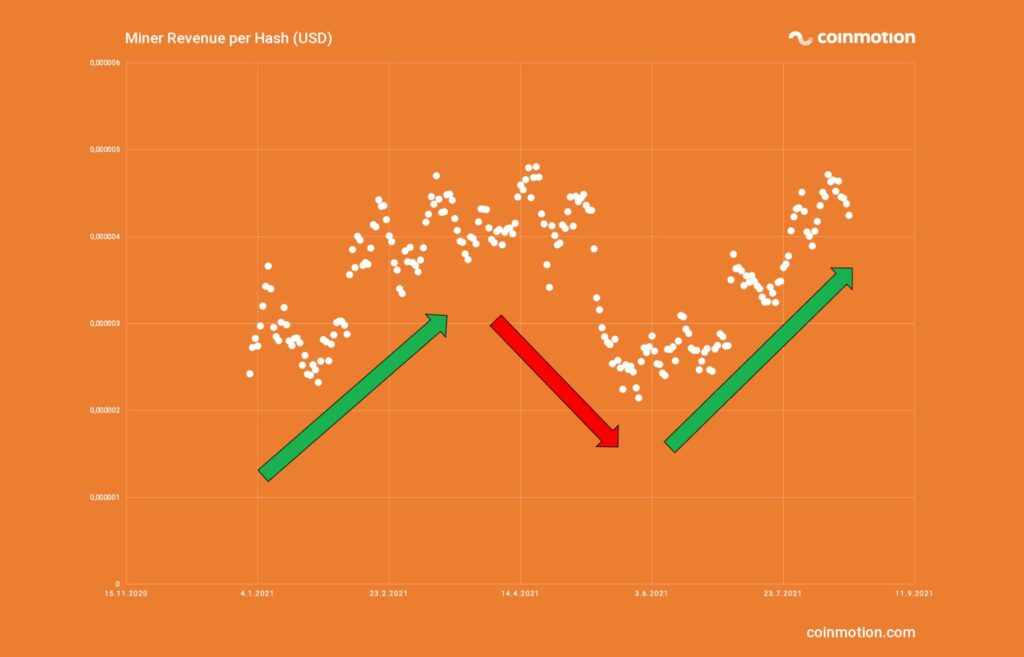 Bitcoin's hashrate bottomed during the first days of July. However, it has ascended 42,87% since then. The hashrate metric still mirrors the shutdown of Chinese mining infrastructure, although many Chinese miners have continued operations abroad. The Chinese intervention might have a longer-term positive effect on the market. This intervention is leading to greater decentralization and possibly more sustainable mining.