The TA of week nine explores the recent market developments including Bitcoin's price action, derivatives, conflict in Ukraine, and corralations.
BTCUSD Hodls The Line
The conflict in Ukraine has been dominating the news recently, reflecting across all markets. Bitcoin's spot price has been relatively flat dropping only -0,6 percent within seven days. The decentralized finance protocol and platform Ethereum is more aligned with uncertainty, descending -5,8%. Many small-cap tokens like Aave and Avalanche have weakened over -10% in 7 days.
7-Day Price Performance
Bitcoin (BTC): -0,6%
Ethereum (ETH): -5,8%
Aave (AAVE): -12,4%
Bitcoin's spot price was able to bounce from the critical $35K level in early February after an epoch of descending trendline from November to January (red). During this period BTCUSD dropped -44,82% from $68K to $35K. Bitcoin has gained new kinetic energy from this inflection point, trying to reach $45K level. However the macro environment stays challenging and acts as a ballast for the spot price. During last seven days BTCUSD climbed from $37K to to $44K, but retraced back towards the weekend.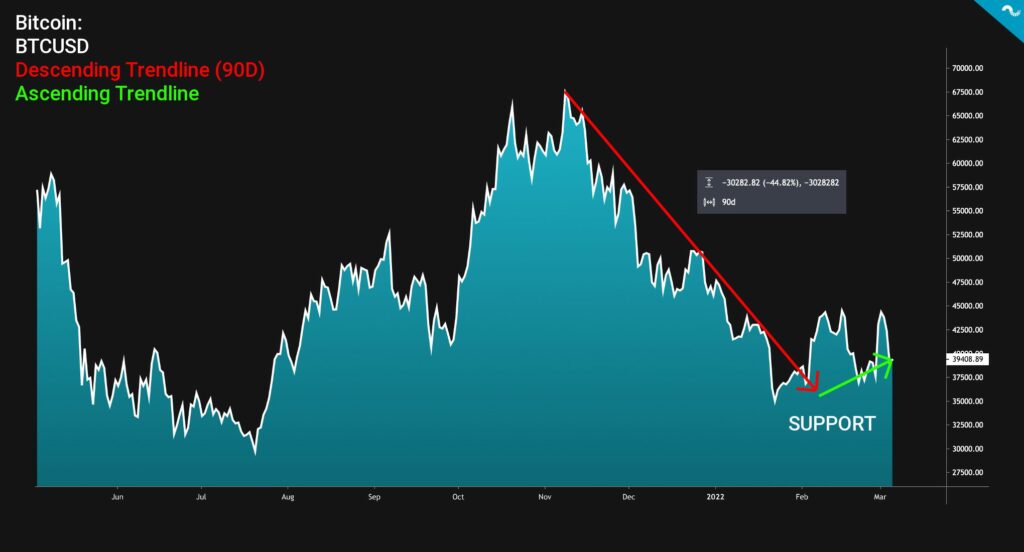 Although bitcoin's spot price has been falling towards the weekend, the estimated leverage ratio (ELR) (blue) has been rising. Open interest (yellow) is also up from February as the derivatives market is in awaits more action. A notable amount of shorts were liquidated in late February, however more recently the liquidations have been more modest.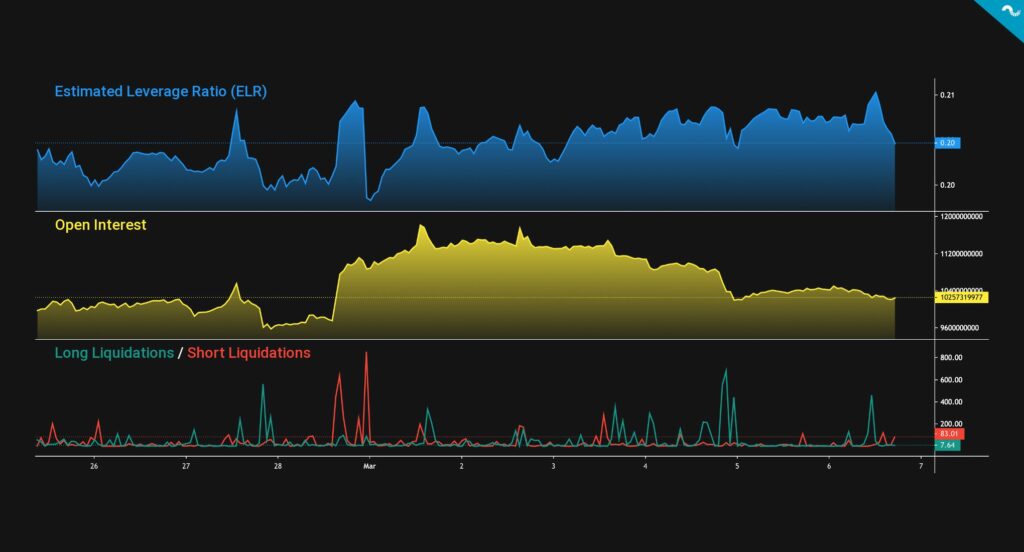 Cryptoassets Flow into Ukraine
The situation in Eastern Europe has dominated headlines after February 24th. The conflict has potential to greatly disrupt global economy and most asset classes, especially if it turns out to be a longer one. While the Ukrainian government has received a lot of material and monetary help from individuals to state level, the really innovative decision was to open direct cryptocurrency accounts for donations. The Ukrainian government has opened three accounts for Bitcoin, Ethereum and USDT (ERC-20), and Polkadot, which can be seen here:
Bitcoin (BTC): 357a3So9CbsNfBBgFYACGvxxS6tMaDoa1P
Ethereum (ETH) and USDT (ERC-20): 0x165CD37b4C644C2921454429E7F9358d18A45e14
Polkadot (DOT): 1x8aa2N2Ar9SQweJv9vsuZn3WYDHu7gMQu1RePjZuBe33Hv
The public nature of cryptocurrencies allows anyone to monitor the inflow and outflow of donated assets, which adds transparency to the process. So far the Ukrainian government has received $9,95 million worth of Bitcoin, $4,62 million worth of Ethereum & USDT, and $1,41 million worth of Polkadot. Bitcoin is clearly the dominating cryptoasset here with 62,3 percent of all donations.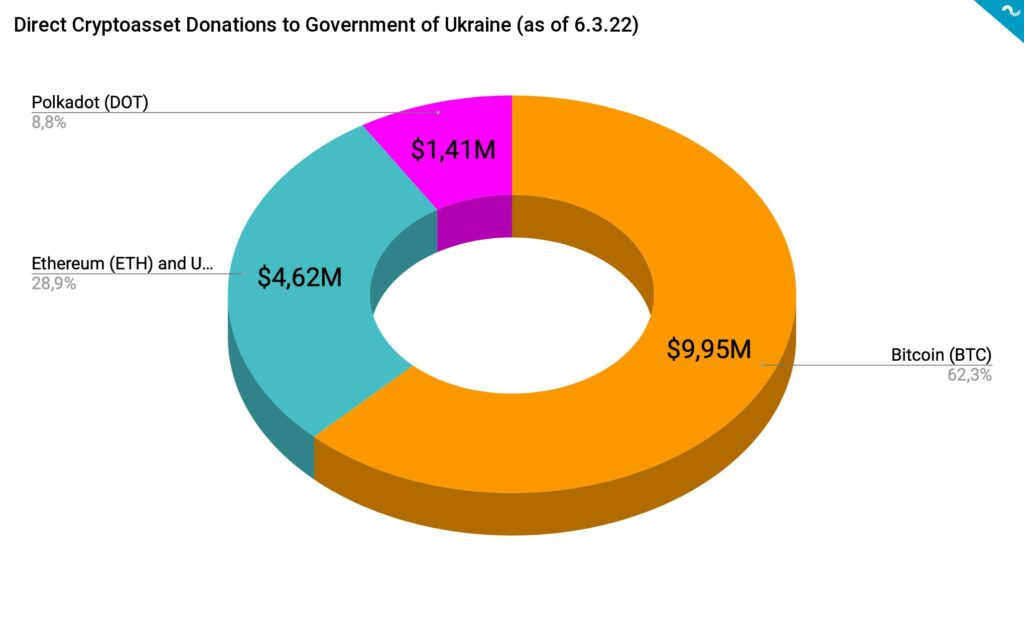 The most recent addition to donation address list is Polkadot, suggested by famous Ethereum and Polkadot founder Gavin Wood. He promised to personally donate 298 367 DOT tokens if Polkadot would be added to the campaign. Wood's donation equals to $5,8 million and it alone represents approximately 10% of all cryptoassets forwarded to Ukrainian government.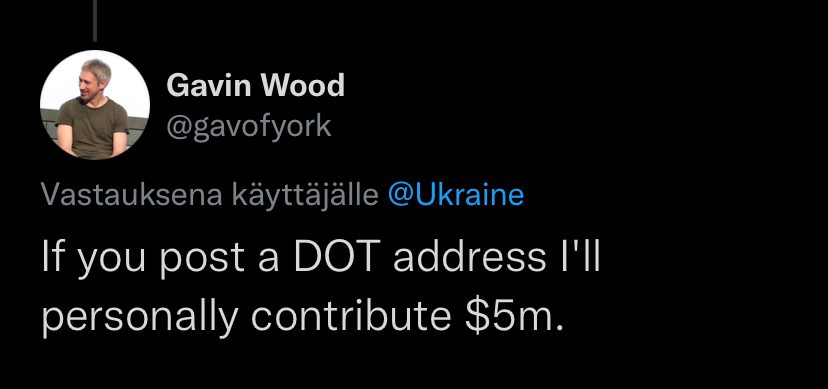 In addition to Gavin Wood the exchange FTX donated $25 to each Ukrainian using the trading platform. Deepak Thapliyal of Chain.com also donated 100 Ether tokens, or around $280K.
Is Bitcoin Decoupling from Stock Market?
Bitcoin's correlation with traditional assets has been growing since January 2022, rising from January 0,33 60-day Pearson correlation to 0,54 in mid-February. After February's peak the correlation has weakened again, dropping to current 0,43. The investors have been anticipating the "decoupling" market setting as Bitcoin is seen as a hedge to traditional assets and weaker correlation would support this thesis.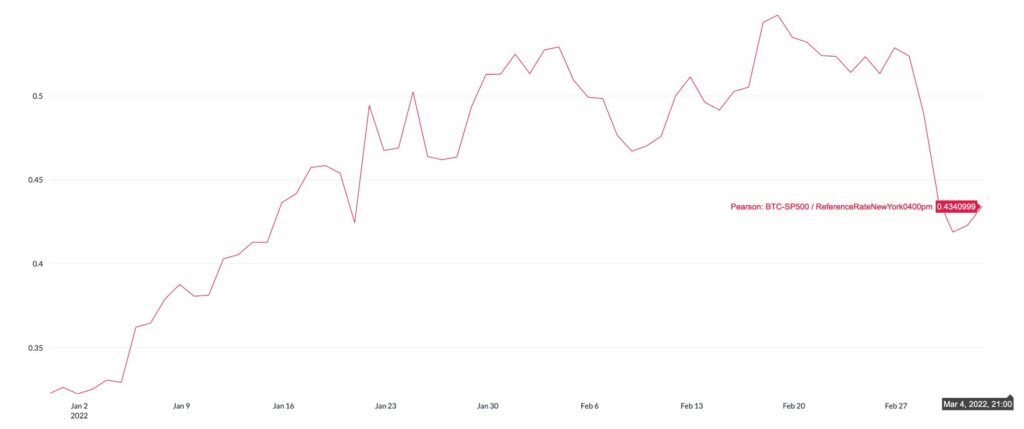 While S&P 500 Index has weakened -4,79 percent from early February, the Helsinki-based OMXH 25 Index has dropped -18,47%. Using these stock market indices as a reference, Bitcoin's +1,75% since February looks promising and Bitcoin really isn't correlated with largest Finnish stocks (OMXH 25). This means that Bitcoin has been an especially good hedge for Finnish investors looking to derisk their portfolios.