Coinmotion has so far been your easy choice for changing euros to the most popular cryptocurrencies and vice versa. Today we are happy to tell you that from now on you can also trade bitcoin to other cryptocurrencies on the platform.
Many investors start their cryptocurrency journey by first buying only bitcoin and diversify to other cryptocurrencies later when they are more familiar with the business. If you are one of them, then this new feature makes it much smoother for you to make the transition from bitcoin investor to cryptocurrency investor.
Bitcoin to crypto trading now available on Coinmotion
We have just added new trading pairs to Coinmotion allowing you to trade bitcoin to other cryptocurrencies and vice versa. You don't anymore have to trade your bitcoin to Euros before buying other cryptocurrencies. We added this feature after many requests from our customers. This makes it easier for you to widen your portfolio and you save in fees.

You can find the new trading pairs from the trading page under the new tab "convert". There you can make the trades between bitcoin and any other cryptocurrency in our selection.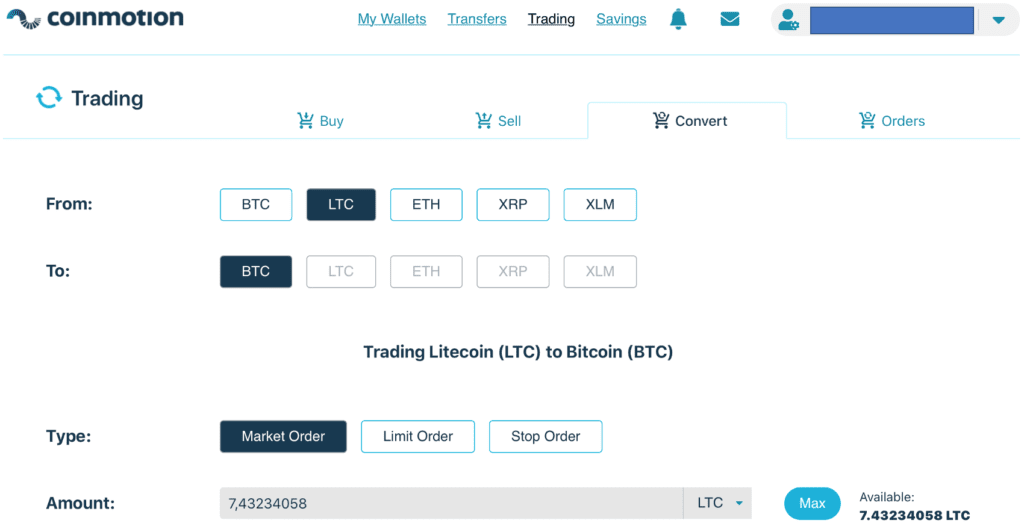 Market orders, Limit orders and Stop orders explained
In the trading options you have three different choices available. If you make a Market Order, your order will be executed immediately with the current market price. With the Limit Order option you can choose the price in which you want the trade to be executed. The third option Stop Order is executed, if the price drops to a stop price of your choice.