The situation in the markets
Bitcoin has never been in the current market environment where central banks are fighting inflation with heavy hike rates trying to increase the value of fiat currencies like USD or EUR.
At the same time, interesting Bitcoin indicators are in satisfying positions. In this article, I will walk you through five Bitcoin indicators that have previously indicated price bottoms.
First, let's look at what indicators are and why they work.
Disclaimer: This article has been made for educational purposes only and should not take as investment advice.
What are indicators, and how they work
Indicators are mathematical computations drawn as lines on a price chart that helps traders identify signs and trends in the markets.
Why do they work then? You've probably heard this before: "History does not repeat itself, but it rhymes."
1. Realized price
Bitcoin Realized Price is the value of every bitcoins at the price they were purchased, divided by the number of bitcoins in circulation. It gives us the average cost at which all bitcoins were purchased.
Looking at the Realized Price line(yellow line) below, you can see that if the bitcoin price has been lower than Realized Price, it has historically been a good buying opportunity.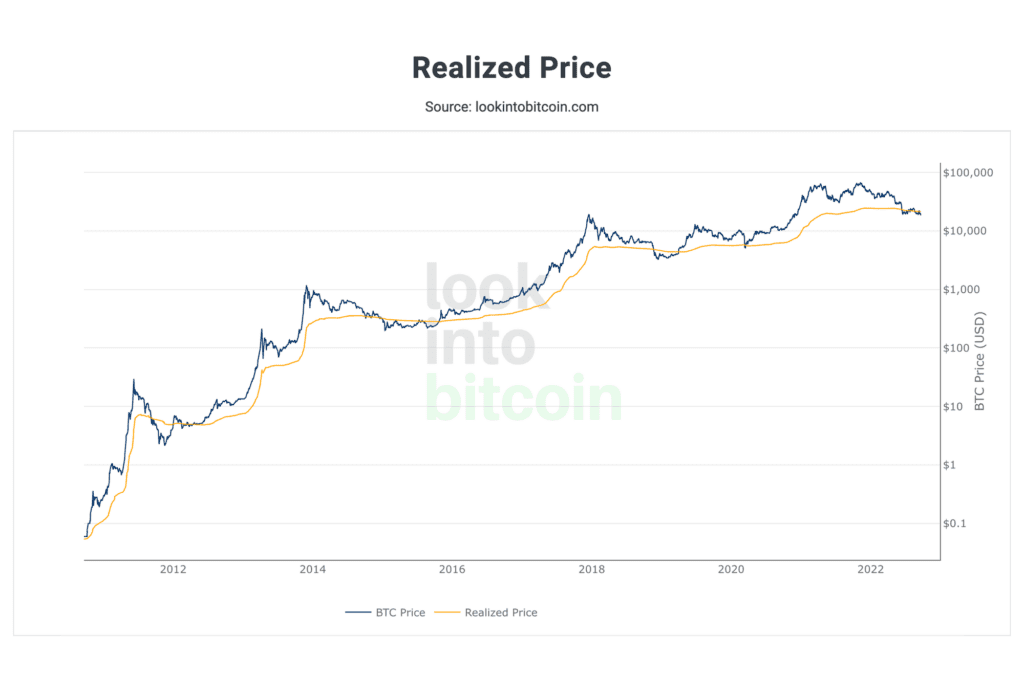 2. Bitcoin hash rate
The mining hash rate is a key security metric for Bitcoin.
Bitcoin hash rate is related to the Bitcoin mining process. ****Mining secures the network and ensures ****that transactions on the blockchain are correct. The more hashing power, the harder it is for someone to attack the network.
The high hash rate is a good sign for investors because no one would like to invest in an unsecured network. Even though bitcoin's price has fallen a lot recently and the macro environment is such depressing, the hash rate is doing all-time highs!
That signals that Bitcoin is doing better than ever, and more people are trusting in decentralized money.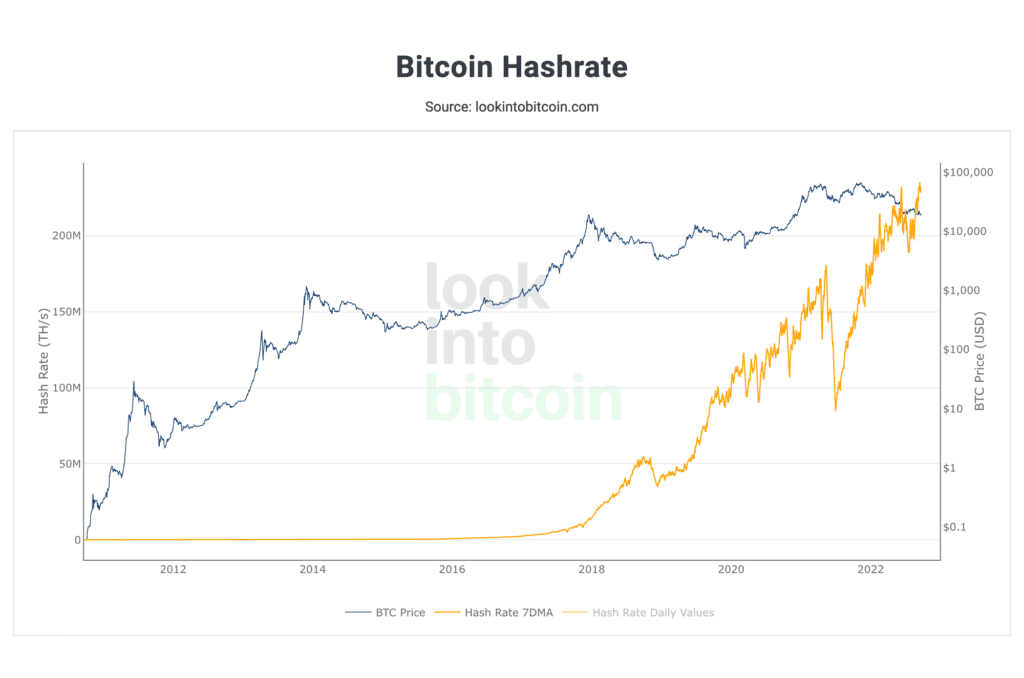 3. Net Unrealized Profit/Loss
Unrealized Profit/Loss estimates the total Profits/Losses in Bitcoin held by investors. It is calculated by subtracting Market Value from Realized Value. By dividing these values, you get the percentage.
Therefore, when NUPL is below 0%, more investors have unrealized losses than profits.
Again, looking at the chart below, NUPL being under 0% has been a generational buying opportunity in the past.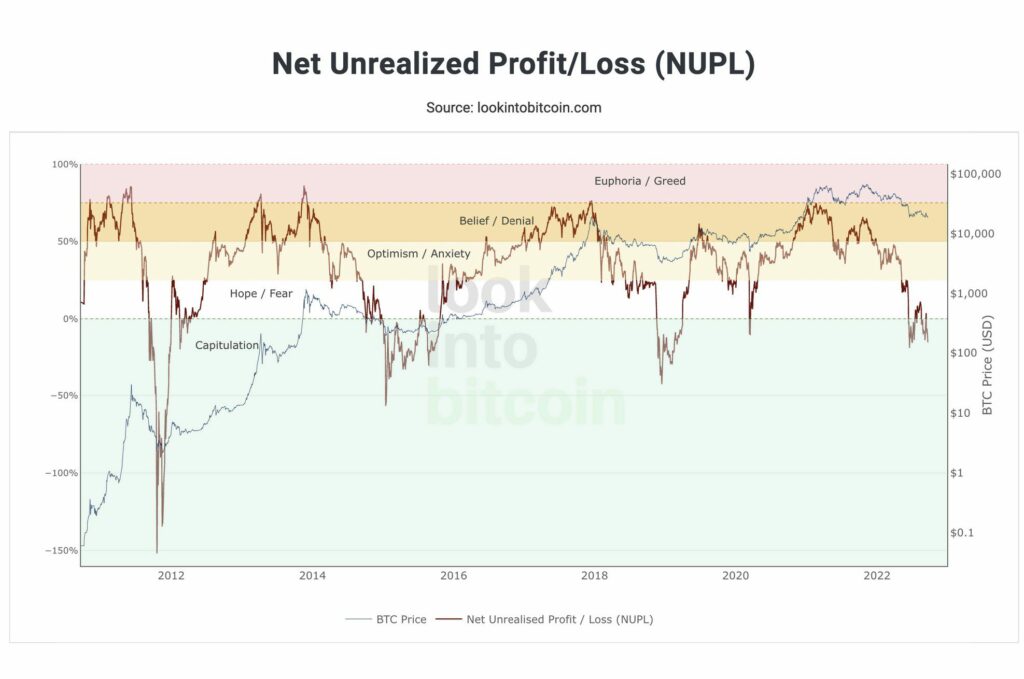 4. MVRV Z-Score
MVRV Z-Score is a bitcoin chart that uses blockchain analysis to identify periods where Bitcoin is extremely over or undervalued relative to its 'fair value.'
MVRV Z-Score uses three values. Market Value (blue line), Realized Value (orange line), and Z-Score (red line).
Historically, Z-Score has been effective in identifying the periods where market value is moving unusually high above the realized value.
I think Z-Score is more effective in identifying the top of the market cycle than the bottom, but it works both ways.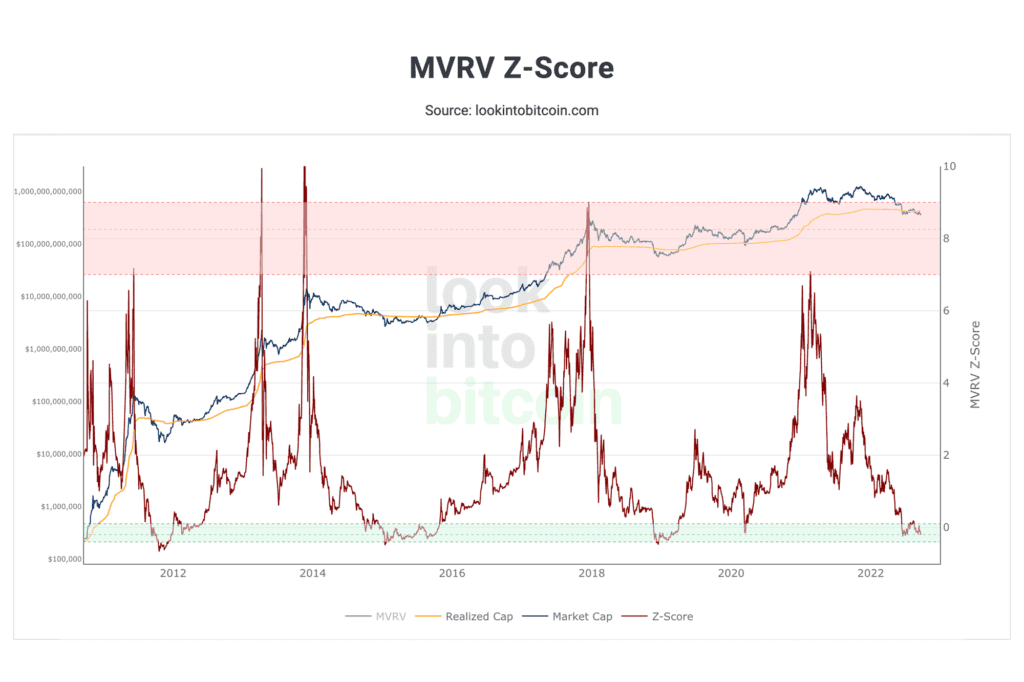 5. Reserve Risk
Reserve Risk is a bitcoin chart that allows us to visualize the confidence amongst long-term bitcoin holders relative to the price of Bitcoin at a given time.
If you like to know how Reserve Risk is calculated, you should visit lookintobitcoin.com for a more specific explanation.
The Reserve risk indicator is hitting all-time lows at the time of writing, which is just another technical signal that bitcoin is bottoming out.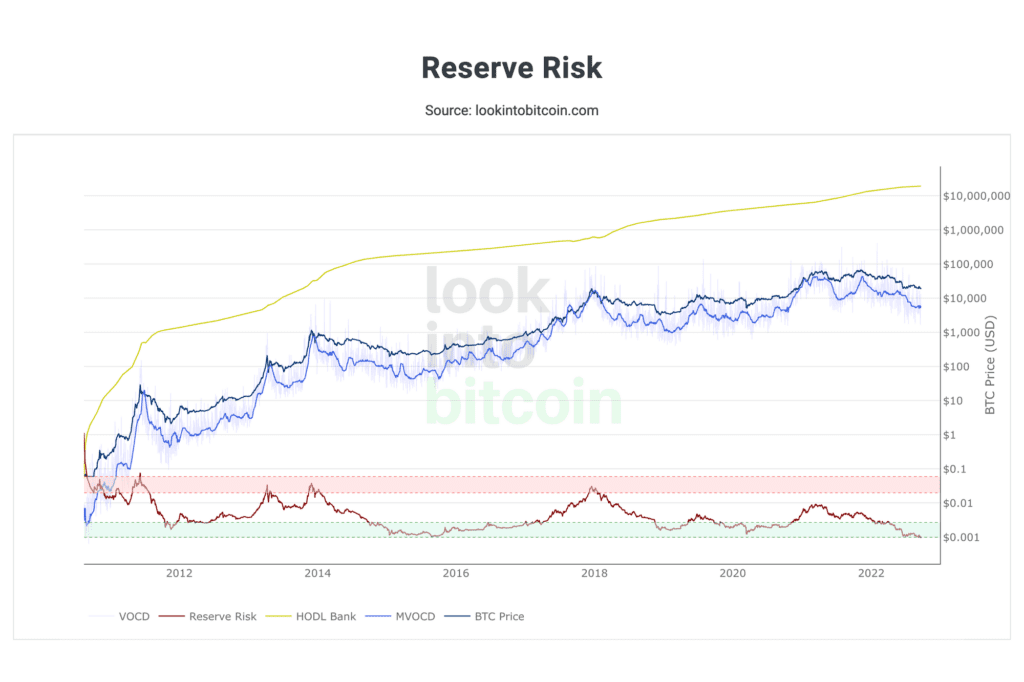 The indicators show optimism
As a reminder, Bitcoin has never been in a current market environment. Federal Reserve told us in January that they will begin hike rates in March, and all markets, including the stock market, have been in a downtrend ever since.
All these indicators are based on the past when we haven't experienced the current market environment. Therefore, don't expect these indicators to work like they used to.
P.S On the other hand, is there anything else you can rely on in making investment decisions than the numbers?

Create your account with Coinmotion today to start investing and spending cryptocurrency.


The views, thoughts, and opinions expressed in the text belong to the author and not necessarily to the author's employer, organization, committee, or other group or individual.
Get started with Bitcoin Litecoin Ethereum AAVE USDC Stellar Ripple
Join Coinmotion and buy your first cryptocurrencies within minutes!