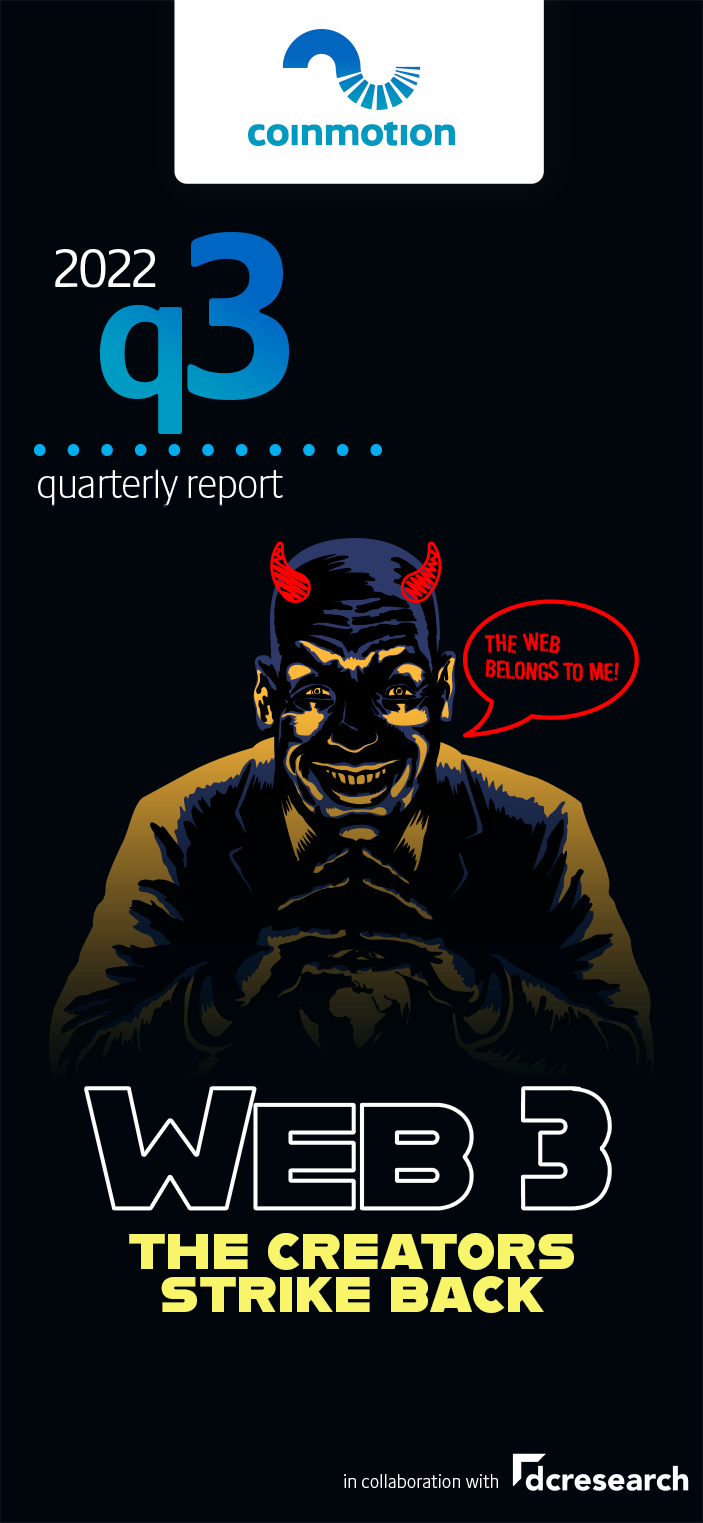 Coinmotion Quarterly Report Q3 2022
Web 3 - The creators strike back
Despite the prevalently bearish landscape of the second quarter of 2022, the third quarter included many signs of new hope for digital assets. The decentralized finance platform Ethereum excelled particularly well in the third quarter, gaining 31,8 percent. Bitcoin was able to strengthen its spot price by 3,7%.

The strong performance of digital assets is especially impressive posthac the technology-related stock decline. In late October, Meta Platforms, formerly known as Facebook, weakened by almost -20 percent. And Snap, which develops social media platforms, fell -30% in early quarter four. Cryptocurrencies are seemingly decoupling from the correlation of favorite technology stocks. [1]
Q3 2022 Performance
Data source: Bloomberg
Q3 2022 Performance
Data source: Bloomberg
Although many popular technology stocks have fallen significantly, the Nasdaq Composite only weakened by -3,9 percent compared with S&P 500's -4,9 % decline. Crude oil prices fell -24,8 percent, and the alleged "safe haven" gold weakened by -8,11 in Q3. Gold's drop is notable in its historical perspective and truly questions its investment narrative.
THE ANNUAL TRANSFER VOLUME
Bitcoin's on-chain transfers have reached $14 trillion in 2022 so far, rising above 2021's 13,1T. This data excludes exchange trading volume. Bitcoin is on track to increase its year-to-year transfer growth by over 30 percent in 2022, as we can expect the total transfer volume to reach $17 trillion.
Bitcoin: Annual Transfer Volume
Source: Glassnode
Bitcoin: Annual Transfer Volume
Source: Glassnode
Bitcoin's growing transfer volume mirrors the staying power of the Bitcoin network, despite the macro-induced price fragility. Compared with 2017's 2,7 trillion transfer volume, the volume in 2021 increased almost five times.
Markets have made it past September's tough seasonality and are now entering a period of historical positive returns: Q4. In the last 10 years, October, November, and December have fared better than September for both bitcoin and the S&P 500.
Bitcoin's average return throughout the 2012 – 2021 calendar years of 22,3% for the month of October compares to a loss of 3,6% in September, while the S&P 500 averages 1,3% in October and a -0,4% loss in September in the same period.
Bitcoin: Seasonal Composition
Source: Coin Metrics
Bitcoin: Seasonal Composition
Source: Coin Metrics
For the full fourth quarter, bitcoin averages a 97,5% gain versus Q3's average of 15,3%, while the S&P 500 averages 4,6% in Q4 versus 2,9% in Q3. This is through the same 2012 – 2021 period. Given that this has been a tough year for markets, seasonality may support renewed positivity in a world of negative sentiment. Seasonals as a potential "invisible hand" paired with any improvements in macro stress factors could set the tone for positive performance in the fourth quarter.
Bitcoin's current "crypto winter" has now lasted for 343 days, and many investors are wondering when we're about to see proper positive momentum again. When benchmarked against the last major bear cycle of 2018, bitcoin could quickly be approaching its spot price bottom. The 2018 bear cycle (left segment) lasted for 364 days before reaching its eventual bottom, while the current cycle (right segment) is only 21 days from that target (red). In summary, the last bear cycle would indicate bitcoin bottoming in 21 days.
The bull cycle of 2021 had a special and rare double-top structure, while 2017's single-cycle top in December was very sharp. After 2017, it took almost three years for bitcoin to fully recover. Some analysts argue that market cycles are getting shorter over time; however, the macro environment of 2022 remains highly uncertain. Markets regarded the zero interest rate policy as a "new normal," and climbing rates now form a wide shock effect across the field. However, rate hikes are nothing new in a historical context, and markets will likely absorb the stress over a longer time horizon.
Bitcoin is a particularly volatile asset, and it has seen multiple long drawdowns since its inception. The current bear cycle has lasted 303 days, meaning we're quite close to the 366-day length of the last major bear (2017-2018). If we use the 2017-2018 bear cycle as a benchmark, bitcoin might find a market bottom within 60 days, i.e., two months.
Bitcoin Market Cycles and Spot Price Drawdowns
Sources: Coinmotion Research, Coin Metrics
When we explore the 2017-2018 bear cycle in detail, bitcoin's spot price saw its last correction during the cycle's last 60 days. If we assume that bitcoin will follow the same path, there should still be a major capitulation event ahead. In order to reach 2018's market bottom, bitcoin's spot price should further decline by -45 percent, and that would drop BTCUSD to 10 290 US dollars. However, bitcoin's current price action is not closely correlated with the year 2018, meaning the outcomes might quickly diverge.
The recent collapse of the Meta Platforms stock and the antifragility of the crypto market again raised speculations about bitcoin's decoupling from the technology stock market. Data from Coin Metrics reveals how the 90-day Pearson correlation between bitcoin and the S&P 500 index has fallen from its peak of 0,64 in September to the current level of 0,53. The correlation has therefore weakened by -17 percent from September to October.
Correlation: BTC / S&P 500
Source: Coin Metrics
The attached correlation matrix reveals that the correlation between bitcoin and the Nasdaq 100 index is 0,52. So, Bitcoin has a weaker correlation with the technology sector than the S&P 500. Ethereum's correlation to the Nasdaq is only 0,5. The correlations of Bitcoin and Ethereum to the dollar index are significantly negative (-0,76, -0,77), but the composure may change as DXY approaches its inflection point.
Bitcoin's halving essentially means the split of the payout of a new block. The halvings have been a fundamental factor for Bitcoin as they incrementally increase Bitcoin's scarcity. The Block reward was reduced to 25 in 2012, 12,5 in 2016, and 6,25 in 2020. With the upcoming halving in 2024, the block reward will be further reduced to 3,125. [2]
When looking at the embedded chart, the last two halvings in 2016 and 2020 (purple) have occurred during accumulation cycles (green) and acted as triggers to distribution phases (red). The spot price increased 1238,59 percent between the halvings of 2016 and 2020. If we use the previous halving cycle as a reference, bitcoin could rise to 117 162 USD by the halving moment of 2024.
While Bitcoin's year 2022 has been brutal in terms of price action, however, the correction can be seen as a mandatory "purge" of excess speculative money. As the following chart shows, speculative money started to enter the market in early 2021, wildly pushing the spot price up. The speculative money also significantly increased the amount of leverage in markets. Over a longer time span, the excess leverage starts to act as a speculative ballast to spot price, and it needs to be "flushed out" on a timely basis.
As the embedded chart shows, under $20K valuations are skewed towards long-term holders, or "holders of last resort." Now with the fresh risk-on sentiment, we'll see speculative money enter the markets again.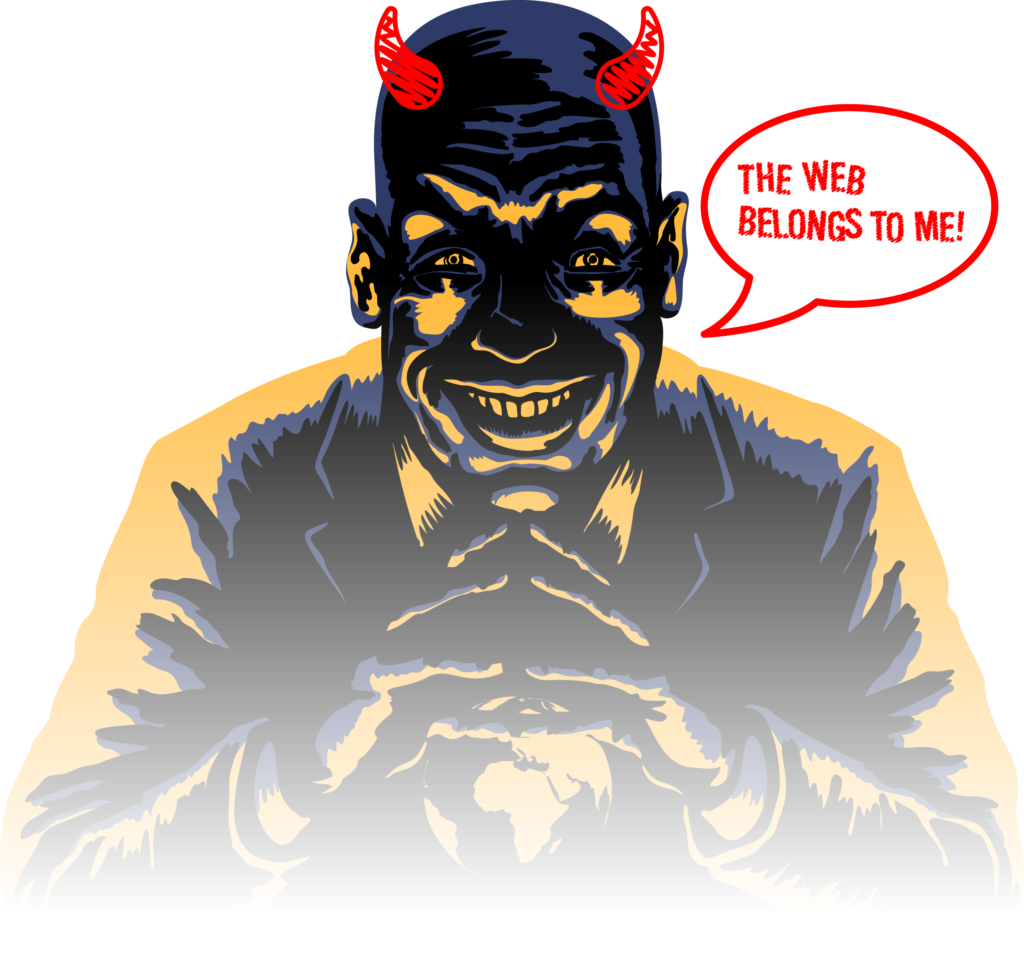 By definition, Web3 is a new iteration of the internet, including features such as decentralization, blockchain technologies, and token economics. The name "Web3" was originally created by Ethereum's founder Gavin Wood in 2014. Back then, Wood described how the web requires too much trust. According to him, the internet we use today relies on trusting a handful of private companies to act in the public's best interests. Let's compare the differences between Web1, Web2, and Web3. [3]
Web1: Primarily built on simple static websites. Most protocols were open, decentralized, and community-governed
Web2: The internet we know today. Most of the value is accrued to huge technology companies
Web3: The value proposition is to re-decentralize the internet. The web would be again owned by the builders and creators
Open protocols that were decentralized and community-governed. Most of the value accrued to the edges of the network – users and builders
Siloed, centralized services run by corporations. Most of the value accrued to a handful of companies like Google, Apple, Amazon, & Facebook.
Internet owned by the builders and users, orchestrated with tokens.
The core principle of Web3 is that it is decentralized: instead of large swathes of the internet controlled and owned by centralized entities, ownership gets distributed amongst its builders and users. Web3 is also permissionless: everyone has equal access to participate in Web3, and no one gets excluded.
Web3 incorporates native payments: it uses cryptocurrency for spending and sending money online instead of relying on the outdated infrastructure of banks and payment processors. Additionally, Web3 is trustless: it operates using incentives and economic mechanisms instead of relying on trusted third parties.

The Web3 scene has also been growing domestically here in Finland, and according to the seasoned blockchain specialist Mikko Ohtamaa's list, there are at least 60 active Web3-related projects with Finnish roots. Particularly the NFT scene has been gaining traction in Finland, alongside the emergence of new NFT art galleries. Let's dive into some of the most relevant projects on Ohtamaa's list.
Kleoverse is a remote-first Web3 startup, founded in the summer of 2021 and launched in early 2022. According to Kleoverse's team, they are building the platform of work in Web3 with a mission to revolutionize talent measurement, signaling, and discovery on the web.

Kleoverse believes that the way we work will be transformed in the coming years, and Web3 turbocharges this change. DAOs and permissionless working opportunities will play a key role, on-chain verified reputation, built on top of proven working history, will become the foundational layer forinternet-native professionals. We want to be a core part of building this future. [4]
Struggle C&C is a Helsinki-based independent digital studio dedicated to making technological advancements available to all. According to Struggle C&C, they are devoted to recognizing disruptions destined to change the world and
using them to redefine the predominant digital experience. [5]

Struggle C&C also manages Struggle Lab, an NFT gallery and creative space in Punavuori Helsinki. The Struggle Lab focuses on showcasing emerging and established artists, both domestic and international. [6]
Token Terminal is the go-to platform for translating complex crypto data into standard financial and business metrics fluently. The goal of the company is to help crypto holders easily quantify and compare their assets.
Token Terminal says its focus is to extract raw smart contract event data from multiple different blockchains and aggregate, clean, and transform it into standardized and comparable business metrics. Their data shows that an increasing number of blockchains and decentralized applications can be valued based on the revenue that they generate.
Total Value Locked in DeFi (USD B)
Source: DeFi Llama