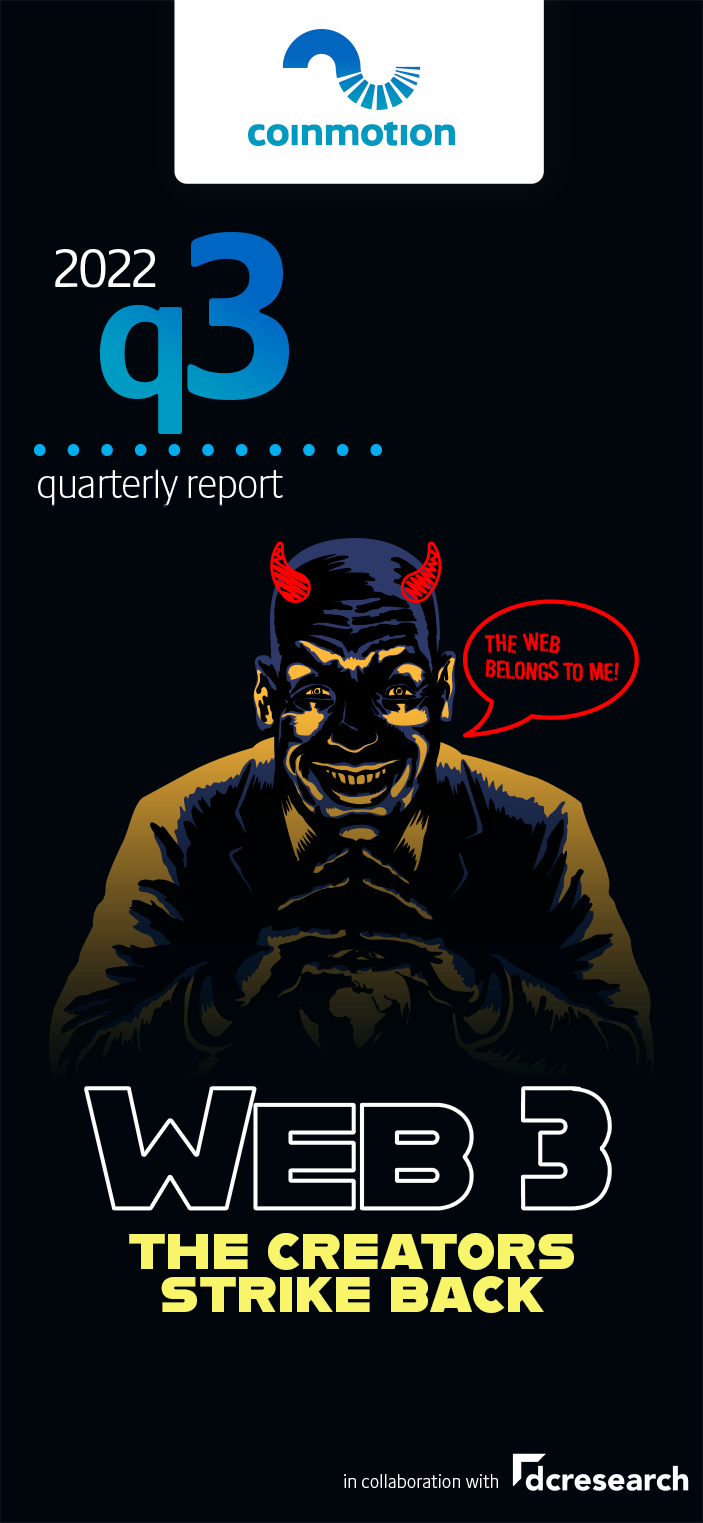 Coinmotion Quarterly Report Q3 2022
Web 3 - The creators strike back
Despite the prevalently bearish landscape of the second quarter of 2022, the third quarter included many signs of new hope for digital assets. The decentralized finance platform Ethereum excelled particularly well in the third quarter, gaining 31,8 percent. Bitcoin was able to strengthen its spot price by 3,7%.

The strong performance of digital assets is especially impressive posthac the technology-related stock decline. In late October, Meta Platforms, formerly known as Facebook, weakened by almost -20 percent. And Snap, which develops social media platforms, fell -30% in early quarter four. Cryptocurrencies are seemingly decoupling from the correlation of favorite technology stocks. [1]
Q3 2022 Performance
Data source: Bloomberg
Q3 2022 Performance
Data source: Bloomberg
Although many popular technology stocks have fallen significantly, the Nasdaq Composite only weakened by -3,9 percent compared with S&P 500's -4,9 % decline. Crude oil prices fell -24,8 percent, and the alleged "safe haven" gold weakened by -8,11 in Q3. Gold's drop is notable in its historical perspective and truly questions its investment narrative.
THE ANNUAL TRANSFER VOLUME
Bitcoin's on-chain transfers have reached $14 trillion in 2022 so far, rising above 2021's 13,1T. This data excludes exchange trading volume. Bitcoin is on track to increase its year-to-year transfer growth by over 30 percent in 2022, as we can expect the total transfer volume to reach $17 trillion.
Bitcoin: Annual Transfer Volume
Source: Glassnode
Bitcoin: Annual Transfer Volume
Source: Glassnode
Bitcoin's growing transfer volume mirrors the staying power of the Bitcoin network, despite the macro-induced price fragility. Compared with 2017's 2,7 trillion transfer volume, the volume in 2021 increased almost five times.
Markets have made it past September's tough seasonality and are now entering a period of historical positive returns: Q4. In the last 10 years, October, November, and December have fared better than September for both bitcoin and the S&P 500.
Bitcoin's average return throughout the 2012 – 2021 calendar years of 22,3% for the month of October compares to a loss of 3,6% in September, while the S&P 500 averages 1,3% in October and a -0,4% loss in September in the same period.
Bitcoin: Seasonal Composition
Source: Coin Metrics
Bitcoin: Seasonal Composition
Source: Coin Metrics
For the full fourth quarter, bitcoin averages a 97,5% gain versus Q3's average of 15,3%, while the S&P 500 averages 4,6% in Q4 versus 2,9% in Q3. This is through the same 2012 – 2021 period. Given that this has been a tough year for markets, seasonality may support renewed positivity in a world of negative sentiment. Seasonals as a potential "invisible hand" paired with any improvements in macro stress factors could set the tone for positive performance in the fourth quarter.
Bitcoin's current "crypto winter" has now lasted for 343 days, and many investors are wondering when we're about to see proper positive momentum again. When benchmarked against the last major bear cycle of 2018, bitcoin could quickly be approaching its spot price bottom. The 2018 bear cycle (left segment) lasted for 364 days before reaching its eventual bottom, while the current cycle (right segment) is only 21 days from that target (red). In summary, the last bear cycle would indicate bitcoin bottoming in 21 days.
The bull cycle of 2021 had a special and rare double-top structure, while 2017's single-cycle top in December was very sharp. After 2017, it took almost three years for bitcoin to fully recover. Some analysts argue that market cycles are getting shorter over time; however, the macro environment of 2022 remains highly uncertain. Markets regarded the zero interest rate policy as a "new normal," and climbing rates now form a wide shock effect across the field. However, rate hikes are nothing new in a historical context, and markets will likely absorb the stress over a longer time horizon.
Bitcoin is a particularly volatile asset, and it has seen multiple long drawdowns since its inception. The current bear cycle has lasted 303 days, meaning we're quite close to the 366-day length of the last major bear (2017-2018). If we use the 2017-2018 bear cycle as a benchmark, bitcoin might find a market bottom within 60 days, i.e., two months.
Bitcoin Market Cycles and Spot Price Drawdowns
Sources: Coinmotion Research, Coin Metrics
When we explore the 2017-2018 bear cycle in detail, bitcoin's spot price saw its last correction during the cycle's last 60 days. If we assume that bitcoin will follow the same path, there should still be a major capitulation event ahead. In order to reach 2018's market bottom, bitcoin's spot price should further decline by -45 percent, and that would drop BTCUSD to 10 290 US dollars. However, bitcoin's current price action is not closely correlated with the year 2018, meaning the outcomes might quickly diverge.
The recent collapse of the Meta Platforms stock and the antifragility of the crypto market again raised speculations about bitcoin's decoupling from the technology stock market. Data from Coin Metrics reveals how the 90-day Pearson correlation between bitcoin and the S&P 500 index has fallen from its peak of 0,64 in September to the current level of 0,53. The correlation has therefore weakened by -17 percent from September to October.
Correlation: BTC / S&P 500
Source: Coin Metrics