When you decide to invest in bitcoin and other cryptocurrencies, you want an affordable way to deposit fiat money and buy crypto instantly. Getting money into a cryptocurrency account using a credit card or another instant payment method on other exchanges typically costs 2-4%. Now you can deposit fiat money (i.e., your local currency) to your Coinmotion account for free. You can do so through Klarna in 14 countries in Europe.
In what countries can I use Klarna deposits on Coinmotion?
You can deposit cash instantly to your Coinmotion account in Austria, Belgium, Denmark, Finland, France, Germany, Great Britain, Italy, Norway, Switzerland, Spain, Portugal, Sweden, and The Netherlands. Users can log in to their Coinmotion account and head to Transfers to see a complete list of supported banks.
We are working on bringing this service to more countries in the future.
How to deposit fiat to buy crypto instantly on Coinmotion?
Head to the Transfers page in your account and then select Receive – Euros.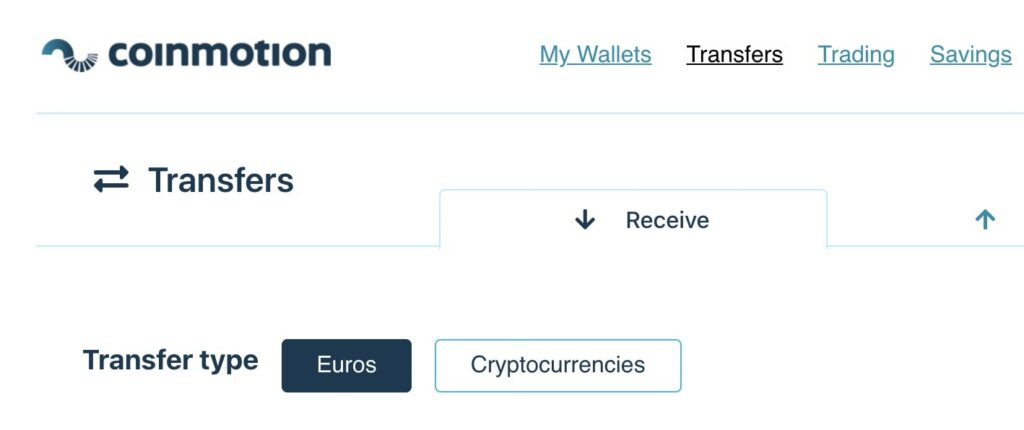 Choose Online banking via Klarna below.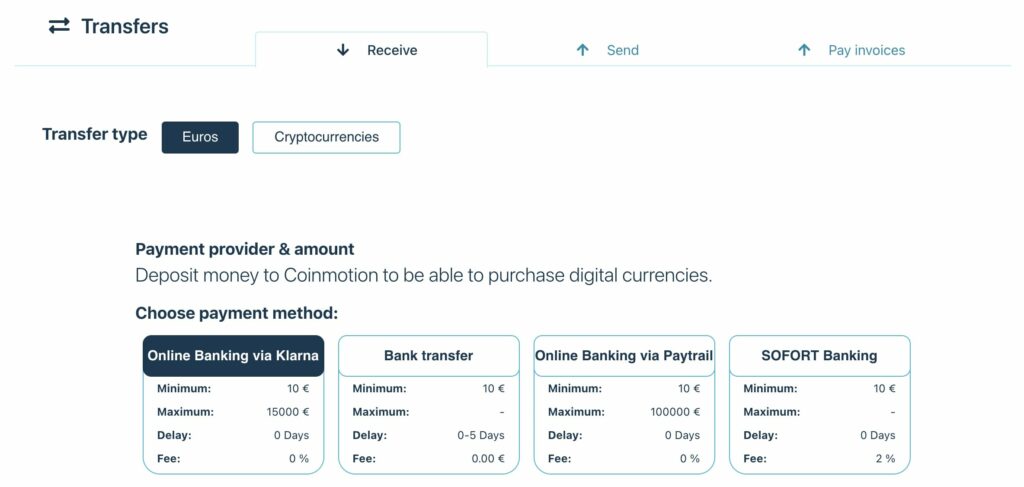 Choose the sum you want to deposit

Then, click Next, choose your country, bank, and your bank will guide you through confirming the transfer.
How do instant fiat deposits work on Coinmotion?
The minimum sum you can transfer through Klarna is 10 euros. This payment method has a daily deposit limit of 5,000 EUR. After the customer has established a stable customership with us, the daily deposit limit rises up to 15,000 EUR.
Your bank may have lower deposit limits than the specified amount. If your large deposit does not succeed at your bank, you can do the following. Try a lower amount or use a bank transfer instead.
If the currency of your bank account is other than euro, your bank converts the currency to EUR based on its exchange rate and terms.
The deposit will be credited to your account immediately as a pre-approved deposit until the funds have reached our bank account. With a pre-approved deposit, you can buy and sell cryptocurrencies. Temporarily, you cannot transfer funds away from Coinmotion before the transfer has reached our bank account. The transfer usually takes 1-2 business days.
We only accept deposits from your bank account. If you want to use a 3rd party account for the deposit, the bank account holder has to make a separate Coinmotion account. The holder then can send you the funds through Coinmotion. The service is also fee-free.
How to buy cryptocurrencies on Coinmotion
When you have fiat money in your Coinmotion account, you are all set to invest in cryptocurrencies! Read how to create an account and buy bitcoins (BTC) on Coinmotion.
The process of buying is the same for other cryptocurrencies listed on Coinmotion — Ethereum (ETH), Litecoin (LTC), Stellar Lumens (XLM), Ripple (XRP), Aave (AAVE), Chainlink (LINK), Uniswap (UNI), and USD Coin (USDC).