Suppose you want to use your bitcoin funds from a cold wallet like a Denarium coin or paper wallet; you first need to transfer the funds to an online wallet. Several desktop and mobile wallets enable sweeping funds by inserting a private key. This guide shows you step-by-step how to transfer bitcoin and bitcoin hard fork coins from a cold wallet to a mobile wallet. Coinomi is just one option and used here is as an example, but the process is similar to many other mobile and desktop wallets. We don't recommend any certain mobile wallet or take responsibility for problems related to any other services than Coinmotion.
Bitcoin hard forks
If you have bitcoin, which you have stored in the same wallet since the summer of 2017, you have bitcoin fork coins there. To get those coins to yourself, you need to sweep them separately. The mobile wallet Coinomi, which these instructions guide you to use, supports the following cryptocurrencies: Bitcoin Cash (BCH), Bitcoin Gold (BTG), and Bitcoin SV (BSV).
It's recommendable first to sweep the most valuable coin from the wallet, after which you can claim the rest of the coins. You can make the transfers, for example, in the following order:
Sweep BTC
Sweep BTG
Split BCH/BSV (read "Claiming BSV")
Sweep BCH
Sweep BSV
Sweeping funds to a Coinomi mobile wallet
Coinomi is a mobile cryptocurrency wallet enabling sweeps of bitcoin, bitcoin cash, bitcoin SV and bitcoin gold. Coinomi is an easy-to-use app, and it works on both android and iOS devices. Coinomi supports three different private key formats. When creating a Coinomi wallet, make sure you save the backup keyphrase to a safe place and create a strong wallet password. After these steps, you can choose which wallets you want to use. Choose as many cryptocurrencies as you like. You need only the bitcoin and bitcoin hard fork wallets to sweep bitcoin and bitcoin hard fork coins.
The picture below shows the sweeping page for bitcoin and bitcoin cash and the wallet page in the Coinomi App.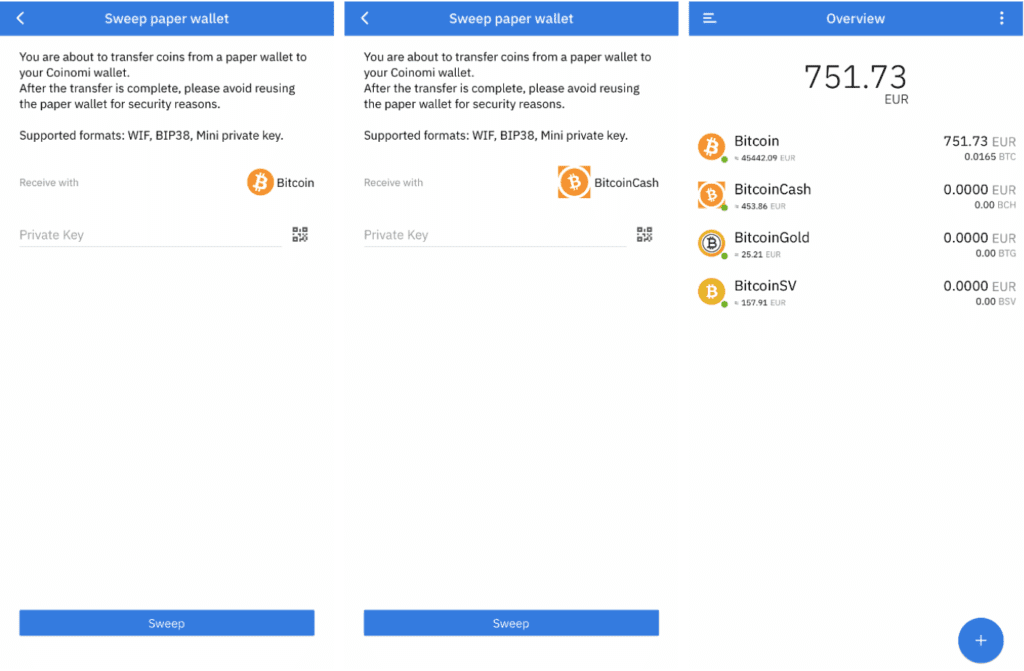 Sweeping funds from Denarium bitcoin wallet
If you have a Denarium or Casascius bitcoin coin wallet, you don't know the private key before removing the hologram shield from the back of the coin. The private key is stored there safely, usually in a Mini private key format. After removing the hologram shield, you can see your private key. If there is a QR-code, you can read the code with Coinomi sweep functionality. If the private key is only in a written format, you need to type it yourself.
How to make the sweep
The sweeping process is the same whether you transfer funds from a Denarium coin, Casascius coin, or any paper wallet. After adding your private key to the sweeping page, press the sweep button. After a short while, your funds will appear in your Coinomi bitcoin wallet.
If you have fork coins in your cold wallet, continue to sweep those next. The process is completely the same. All you need to do is to change the cryptocurrency, which you want to transfer. You can change the cryptocurrency in the sweeping page from a drop-down menu, which you can open from the cryptocurrency symbol next to the "receive with" text. In the menu, you can see all the wallets, which you have created. If you can't find the needed wallet from the list, just go back to the overview page and create a new wallet from the + symbol.
Claiming Bitcoin SV
Bitcoin SV is a fork that originated from Bitcoin Cash. In case you'd like to claim BSV coins, you should first split the BSV / BCH as there is no replay protection between BSV and BCH. This means that a BCH transaction may also move the BSV funds or vice versa. It may be a problem depending on where they are moved.
The easy way to make sure this doesn't happen is to send some BCH to the address in question. A minimal amount is enough. Then send all the BCH out from the address. It will not move the BSV since the tx includes the new BCH sent, and those coins (and their inputs) do not reside there on the BSV chain. Then they are effectively split, and the BSV will remain in the address to be sent out separately.
Selling your funds after the sweep
After you have swept your funds to Coinmotion, you still need to transfer them somewhere else if you want to sell your coins. Coinmotion doesn't support hard forks, so before transferring money to Coinmotion, you need to change the hard fork coins to bitcoins. You can convert your funds to bitcoins in Coinomi with Changelly service. You can find it from the menu in Coinomi.
After changing all your funds to bitcoin, you can transfer your funds to another bitcoin wallet with the send option. All you need is the bitcoin wallet receiving address. Add the receiving address, choose the amount you want to transfer, and press send.