The technical analysis of week 44 charts how Bitcoin's hash rate has ultimately left China and how mining ops relocated. Additionally, the TA will assess miner reserves and other relevant mining-related metrics.
The Great Hashrate Flippening
Bitcoin mining operations have ultimately left China after the country's final crackdown on cryptocurrencies this year. By some calculations, China has already "banned" bitcoin nineteen times since 2009; however, the 19th time seems to be the final and definitive one. The radical new crypto-hostile policy caused virtually all miners to exit the country or cease operations. Consequently, China's share of hash rate distribution has dropped from January's 79,5 percent to virtually zero in November.
Hashrate Distribution in January 2021:
China 79,5%
United States 15,7%
Russian Federation 10,3%
Canada 1,3%
Hashrate Distribution in August 2021:
China 0%
United States 35,3%
Russian Federation 11,23%
Canada 9,55%
As the data shows, the United States has totally replaced China as the number one country for mining operations, currently owning 35,3 percent of the global hash rate. Inside the U.S., miners prefer states like Washington for their cheap low-cost hydropower energy. Texas is another favorite state due to its deregulated energy infrastructure. A shift towards US-based mining operations makes bitcoin more environmentally friendly as the U.S. utilizes nuclear and hydro-derived power sources. Chinese mainland miners used to exploit local cheap coal energy and hydro during rainy seasons.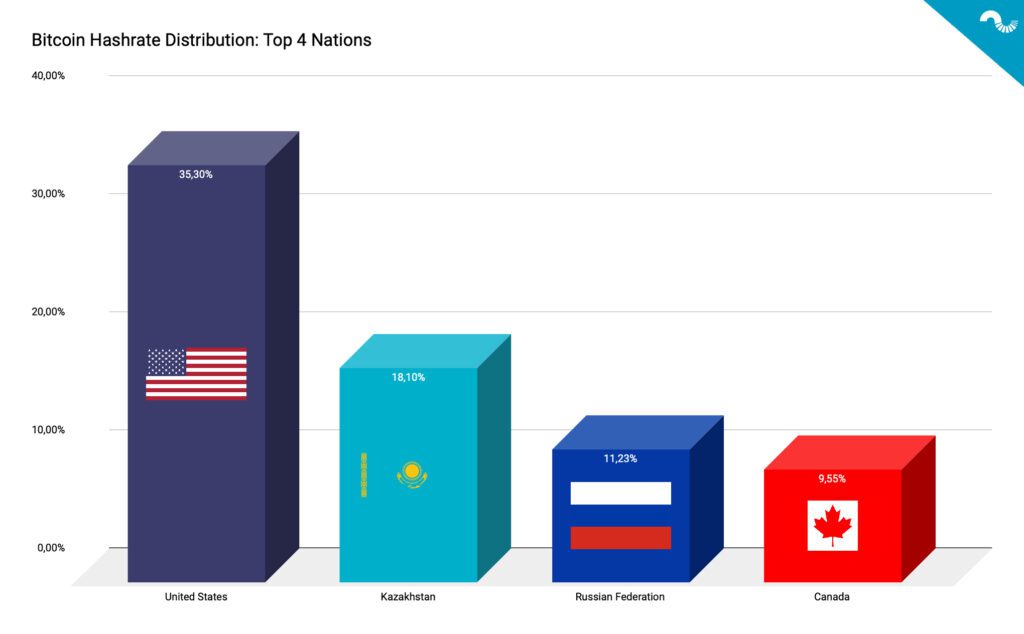 Kazakhstan has managed to lure in the second-largest amount of miners globally, and the country's hash rate is at 18,1%. Unlike the United States, Kazakhstan mainly relies on fossil energy. Russia had a significant tranche of the global hash rate before, and it has been able to strengthen its position to 11,23% further. Russia is one of the world's largest producers of carbon-zero nuclear energy, and mining companies are likely getting good deals close to NPPs. Canada has increased its share of the global hash rate by almost ten times since January, rising to proximity to 10%. Canada produces 25,7% of its power from hydroelectric sources.
Bitcoin Mining Difficulty and Revenue Growing in Correlation
Bitcoin mining difficulty has climbed 58,41 percent from mid-July to November 2021, crossing 20 trillion. The difficulty drop during summer 2021 represented a rare opportunity for miners as difficulty approached late 2019 and early 2020 levels. The difficulty system was stirred by a suddenly dropping hash rate as China-based miners quickly exited the country or ceased operations during the summer.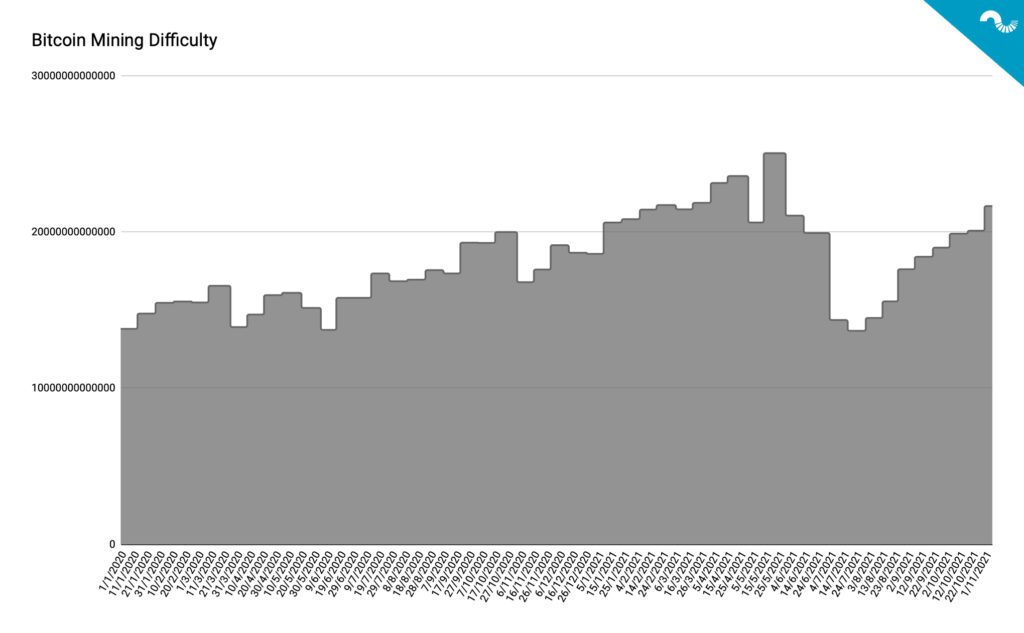 The daily revenue of bitcoin miners has grown to quarter one (Q1) 2021 levels, crossing $60 million in late October. Following the China-induced hash rate drop, the revenue momentarily descended below daily $20M. The low difficulty and availability of cheap second-hand mining devices from China significantly boosted the miner profitability from Q3 to Q4; however, bitcoin mining will likely get more expensive in the future.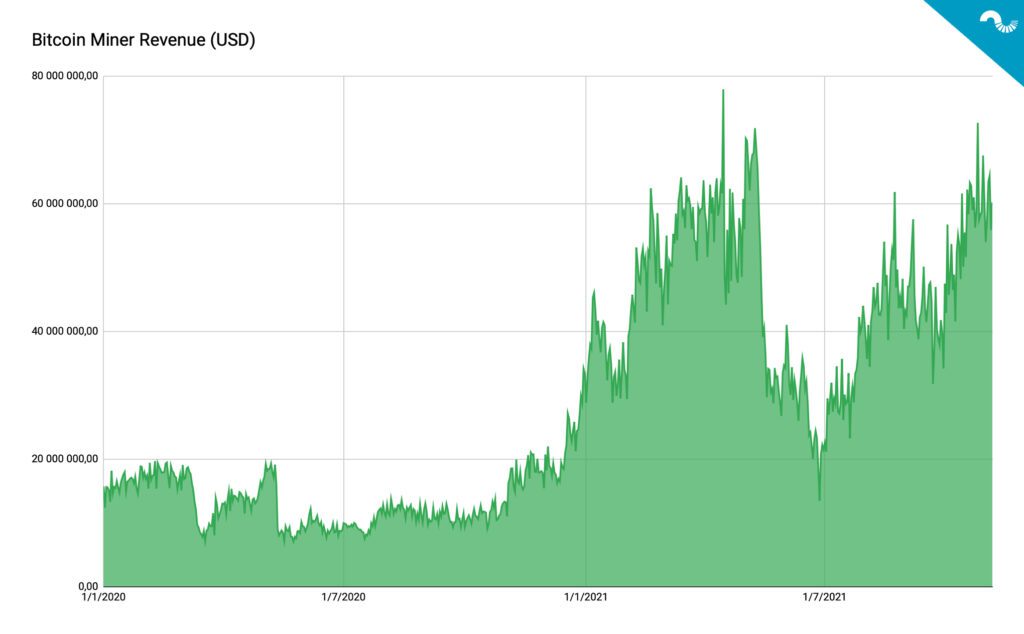 Miner Reserves Up, No Selling Pressure (Yet)
The miner reserves are another bullish indicator for bitcoin as professional bitcoin miners are steadily accumulating native bitcoin units instead of the market selling them. Miners held approximately 1,845 million bitcoin units in January 2021, and the reserves climbed to 1,859 million units in June. May's correction caused some miners to sell their reserves, resulting in a drop to 1,853 million units. The miner reserves are an essential market indicator, and the prospective selling pressure from miners would likely tank the spot market. However, the miners usually have an incentive to support bitcoin's price, and they are among the first to benefit from price asset appreciation.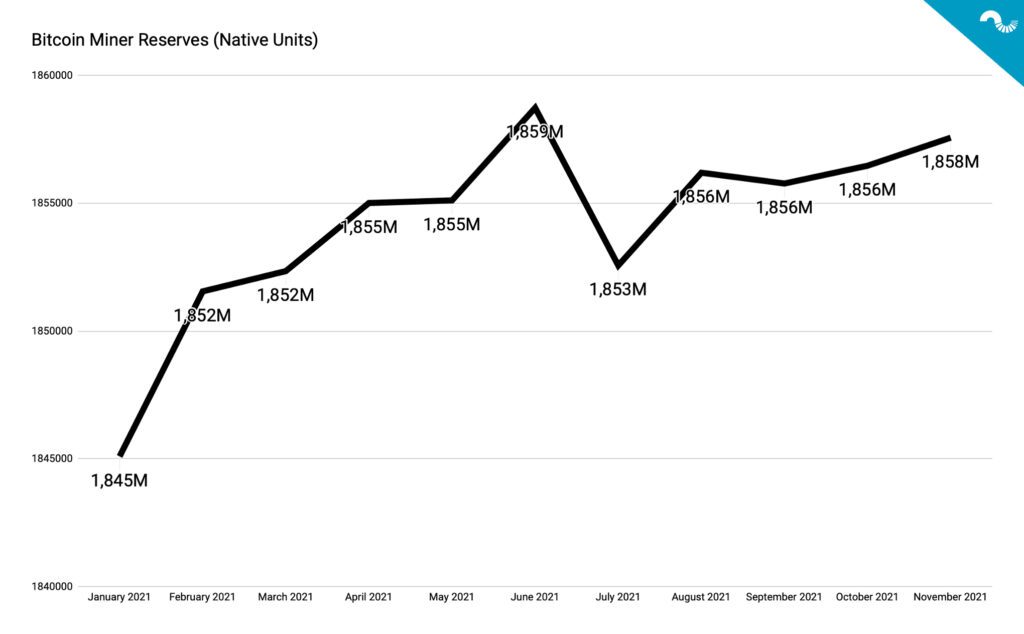 Bitcoin's hash power has climbed 88,47 percent since early July lows, mirroring the network's security. Hashrate indicates the network's computing power (hashing), and thus more computational power means greater security, resilience, and resistance to attacks. Even though Bitcoin's exact hashing power is unknown, it's possible to estimate the hashrate from the number of mined blocks.