The long wait for a new bitcoin all-time high ended with a huge bull run in December 2020. By the end of the year, the price reached 23 500 euros and just a week later it topped 30 000 euros. Other cryptocurrencies followed taking the total value of all cryptocurrencies close to trillion dollars. In our quarterly report for Q4/2020 we take a closer look in this record breaking period for cryptocurrencies.

The report has been produced in collaboration by Coinmotion team and Timo Oinonen from DC Research.

Coinmotion quarterly report Q4/2020
Institutions accumulating bitcoin
The current market cycle, emerging in 2020, has been characterized by growing institutional demand. Perhaps the most famous bitcoin allocation was made by MicroStrategy (MSTR), an US-based business intelligence company. MicroStrategy's CEO Michael Saylor has distinctively positioned himself as a "bitcoiner", allocating his own wealthvis-à-vis MicroStrategy's resources.
Saylor sees Bitcoin as "hard money" and a store of value (SoV). Additionally he's mainly indicating using Bitcoin as an instrument to hedge global currency devaluation, technology disruption, social dislocation & political uncertainty. In the end of 2020 MicroStrategy owned 70 000 bitcoins already and has continued accumulating more.
Bitcoin has been gaining increasing attention from media and public as well. Many celebrities and investors have started commenting it in the social media as bitcoin seems to be a hot topic for discussion at the moment. Below you can see how the search volume has been developing in the past years.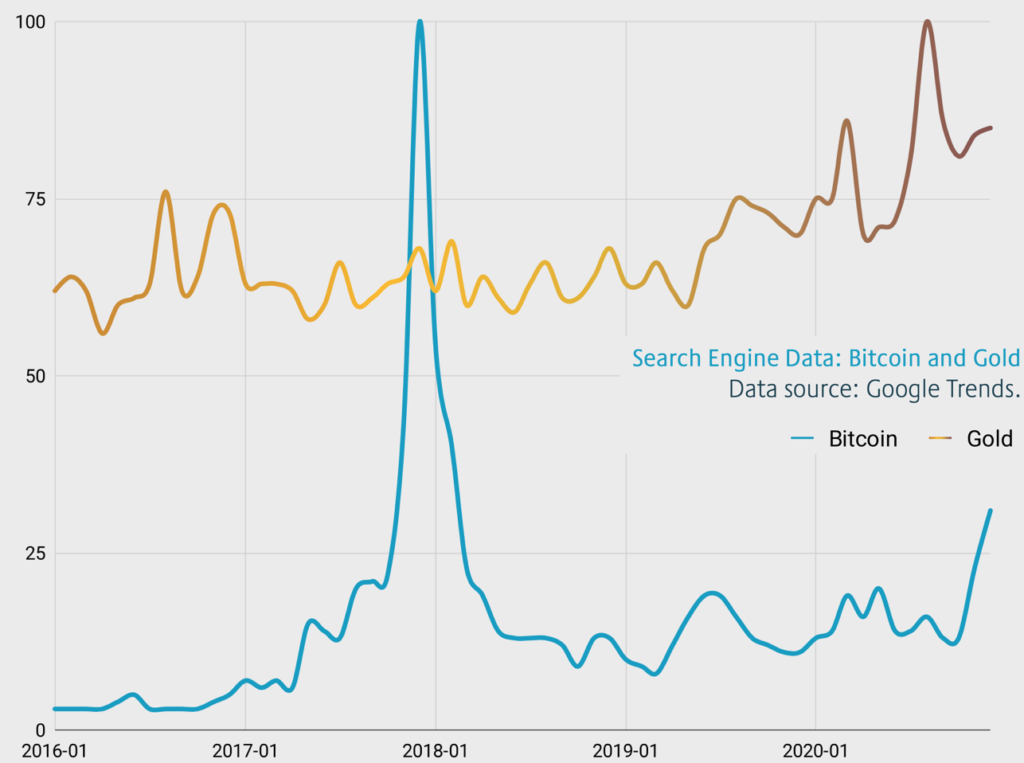 Decentralized finance (DeFi) keeps growing
Demand for DeFi services has been on the rise through 2020. In the quarterly report we take a look at the latest numbers from DeFi sector. We also share statistics and analysis about correlations between bitcoin and other asset classes.

This is just a short introduction of the report, which covers a wide selection of market insights and latest statistics from cryptocurrency market. I want to thank Timo Oinonen for your big contribution to this document.