Bitcoin price projection
How high can the price of Bitcoin (BTC) rise? This is one of the most common questions I usually encounter with new customers. The question is hard to answer, but several institutions have made Bitcoin-related price projections. Pantera Capital, one of the first US-based asset managers for bitcoin and blockchain funds, has studied Bitcoin's price development for the rest of the year. Funds managed by Pantera Capital (AUM) are currently valued at over $4.3 billion dollars.
Bitcoin has performed exceptionally well starting from the beginning of the year (YTD), rising 67.77% up to this day. Bitcoin's average price from the beginning of the year has been $48 513.67 dollars, falling slightly at the beginning of the second quarter. Pantera Capital is projecting price levels above $115K for bitcoin during the third quarter of the year. Pantera Capital has used stock-to-flow (S2F) models for these price simulations.
Pantera Capital's price projections:
15/6/2021: $88 676
15/7/2021: $104 761
1/8/2021: $115 212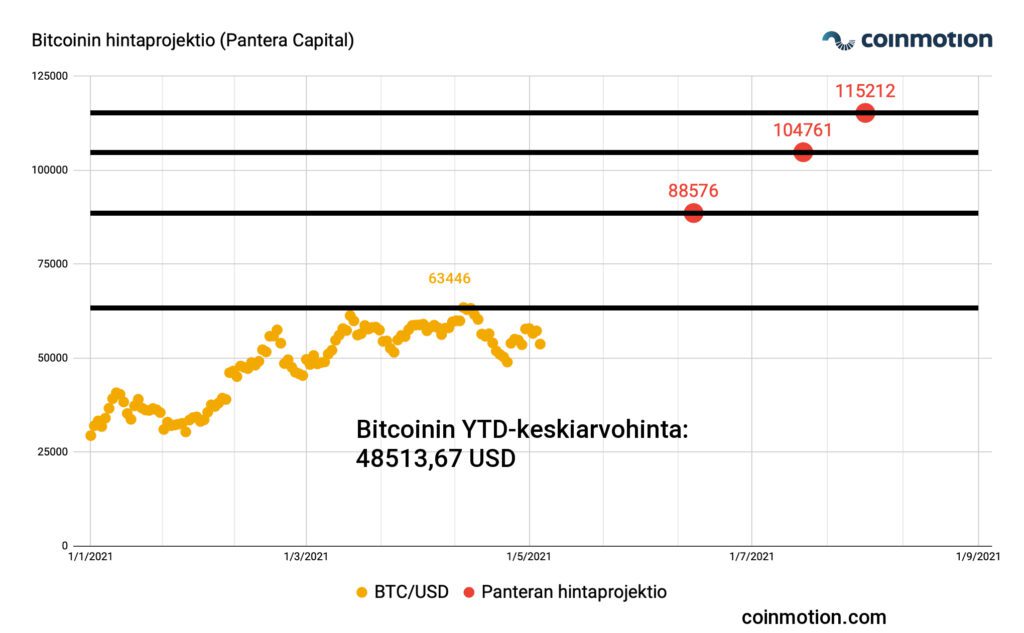 Convergence of funds: GBTC and GLD
Bitcoin's market value (one trillion dollars) is currently roughly 10 percent of the market value of gold (11 trillion USD). Bitcoin's daily trading liquidity currently stands at $17.4 billion dollars, whereas the respective number for gold is $183 billion USD. While Bitcoin as an asset only comprises 10% of gold, certain Bitcoin-related financial products are approaching gold as a reference pair.
Those following Bitcoin's value drivers should pay attention to the accelerating convergence of GBTC and GLD funds. With the current market trend, these large funds are approaching and may soon encounter a so called flippening situation. While Bitcoin performed strongly throughout the whole first quarter, gold has in turn weakened in an inverse correlation. Funds managed by the GBTC fund (AUM) have risen above $30 billion dollars, whereas the GLD fund has sunk below $60 billion. The Grayscale company behind the GBTC fund is planning to convert the fund in question to an ETF after the United States SEC starts accepting ETF funds.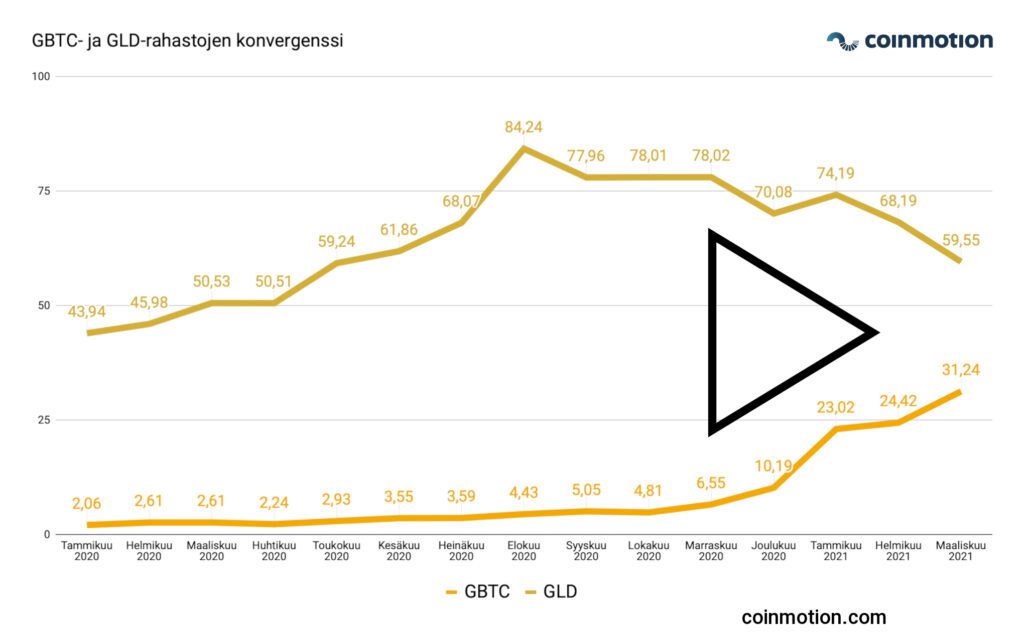 Ethereum is approaching Bitcoin (ETH/BTC)
Ethereum (ETH) has recently strengthened significantly in relation to bitcoin. Meanwhile bitcoin's dominance index has decreased and is now moving around 48 percent. Ethereum alredy passed the important levels of 0.05 and 0.06 BTC at the beginning of May. Now ETH seems to be on its way toward the 0.1 BTC level, an important psychological milestone for ETH traders.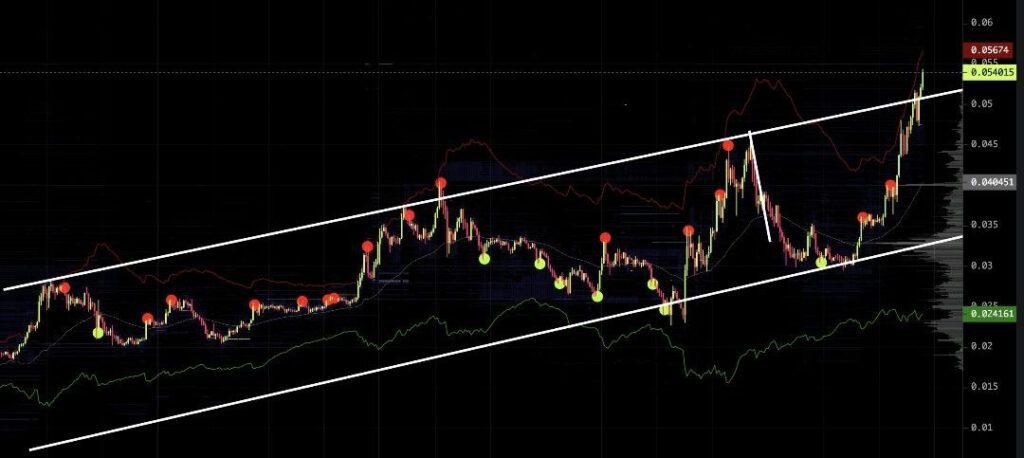 Is Ethereum a serious competitor for Bitcoin? I dealt with Ethereum as a store of value and cash flow source in the latest Coin Alpha newsletter. The same content can also be read in Finnish in Coinmotion's Coinmotion Wealth newsletter, which is sent to all customers owning investments above €10 000 euros in Coinmotion.