This week's technical analysis dives into Grayscale and what it means for cryptocurrency markets and investors. Grayscale is the largest digital currency asset manager. Investors can buy and sell Grayscale Bitcoin Trust shares, each of which roughly tracks the price of bitcoin. In other words, Grayscale owns a significant portion of the BTC supply, and we explain the effect it has on the market.
Why is Grayscale Trust Important
Institutions have incrementally entered the bitcoin market in recent years, and Grayscale has been at the cutting edge of this trend. Grayscale is an entity governed by Digital Currency Group (DCG), which launched in 2015. DCG also owns a large selection of bitcoin and crypto-related companies.
Mirroring the mass of Grayscale, the company owns 3,117 percent of all bitcoin units (BTC) in circulation, holding 654,600 bitcoins in its reserves (at the time of writing). This amount of bitcoin reserves potentially grants great power to the company. Besides, it increases the centralized risk profile or single point of failure. Grayscale saves its bitcoin reserves in gold storage to minimize risks.
It's safe to say that Grayscale and the Grayscale Bitcoin Trust (GBTC) have a notable effect on digital asset markets. People see GBCT as a leading indicator of the market, so the Grayscale Trust's main use is for arbitrage trades.
What is Grayscale Trust & the Unlock Season
The Grayscale GBTC fund is structured to include a six-month lockup period, during which nobody can sell the GBTC shares. Investors can sell their shares after the lockup period. Therefore, the unlock events could potentially release vast amounts of BTC during weeks 28-29/2021. According to Grayscale, GBTC would release 26,150 BTC worth of shares during one week and 16,240 BTC worth of shares on Sunday, July 18 alone.
In anticipation of the unlock, there were various speculative forecasts on markets. But one thing was clear. 49,256.39 bitcoins will be released to the market between July and August 2021. That's 1,33 billion euros (EUR) by the spot price at the time of writing.
JPMorgan estimated the unlock season to be "bearish" on the bitcoin market, arguing that institutions that acquired GBTC did it during the first quarter (Q1) of 2021. Because of that, they are heavily underwater due to the ongoing correction. As premium shifted to discount in February, the arbitrage trade turned out to be bad, and the investors could be looking for a way to stop the loss.
Kraken has expressed a contrary view to JPMorgan. According to Kraken, the unlock events will not stir the market, as many anticipated. Kraken mentions that institutions that acquired GBTC shares have tremendous resources and actually benefited from high GBTC premium early in the trade.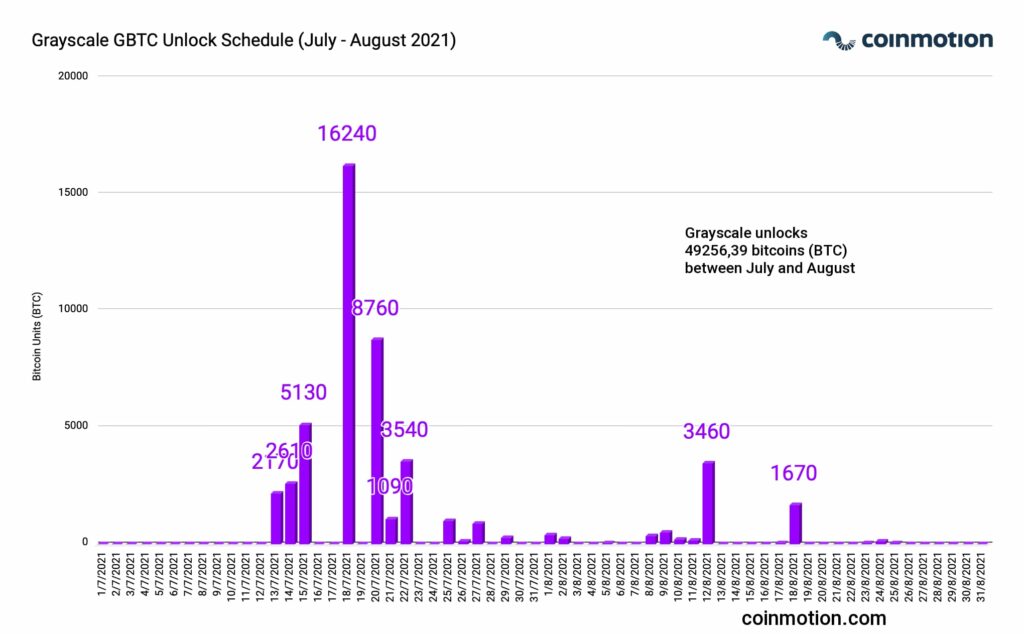 Hours after the GBTC share unlock took place on Sunday, July 19, 2021, bitcoin price slid further down, dragging the whole crypto market with it. The market saw 6.48% decrease over the last day (at the time of the article update). Bitcoin registered its lowest weekly close and was priced at below 30,000 USD.
Grayscale Trust Premium, Discount, and The Famous Arbitrage Trade
The majority of Grayscale's clients are institutions, including a notable amount of hedge funds. These leveraged funds have used GBTC's premium in a famous "arbitrage trade," aiming to exploit the premium over a six-month lockup period. The arbitrage trade is implemented in the following order:
-> Buy GBTC shares at net asset value (NAV)
-> Short equal amount of bitcoin
-> Hold six months until the unlock
-> Sell GBTC shares, profit by price increase & premium
-> Close the bitcoin short
-> Repeat
The arbitrage trade worked seemingly well until February 2021, and we can argue that many newcomer institutions used this arbitrage opportunity. Just like a typical anomaly, the time window for arbitrage trade closed in February, and GBTC premium shifted negative (discount).
The premium-discount event was a massive paradigm shift for GBTC and started to generate selling pressure to the underlying asset (bitcoin). The institutions that implemented arbitrage trades during the Q1 2021 bull cycle now need to decide whether to sell their GBTC positions at a loss or use other measures to cover the loss.
Nevertheless, GBTC can be seen as a leading indicator for the broader market too.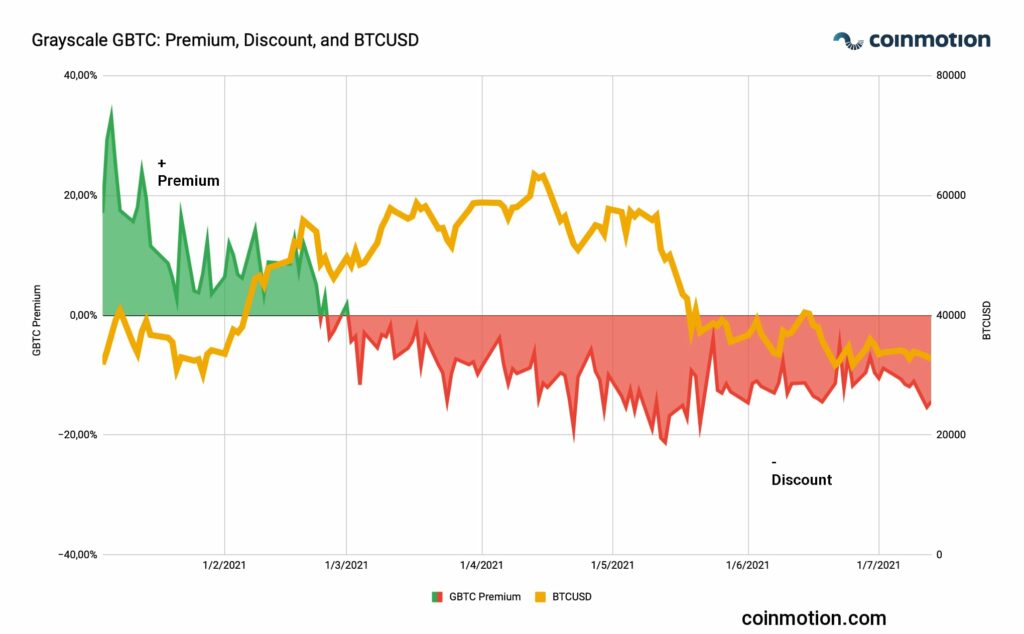 Grayscale Trust's Future Prospects
Despite the currently negative premium, the bigger picture looks bright for Grayscale. The company has gained a dominant market position, offering a six-month unique set of crypto products since 2015. Despite the increasing competition and bearish market, Grayscale still holds 3.117 percent of all bitcoin units in circulation.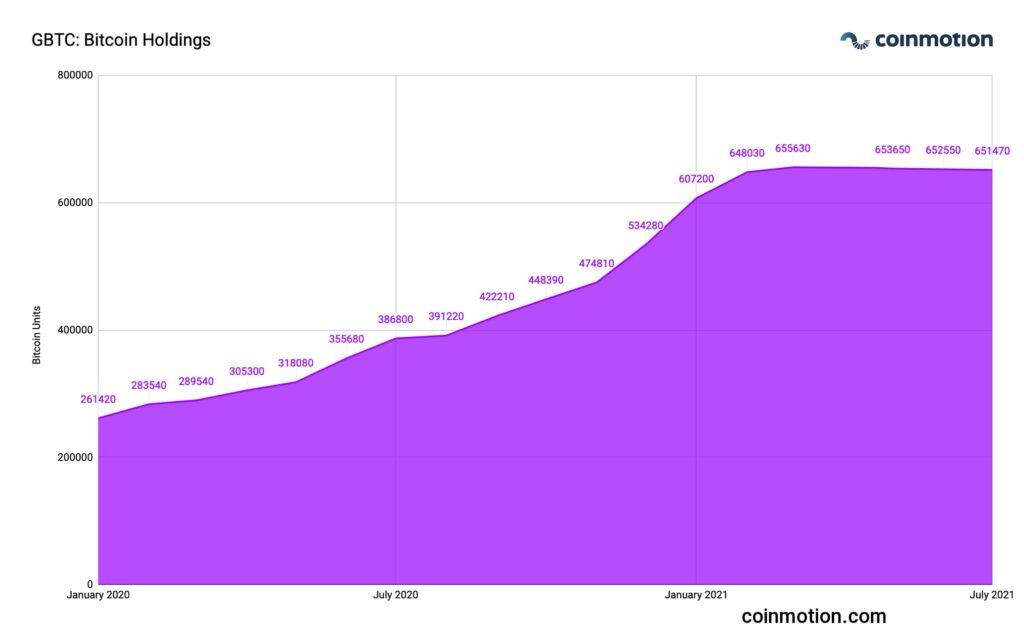 Grayscale has announced that it will soon convert the GBTC fund into an ETF (exchange-traded fund). The conversion to ETF would arguably enhance GBTC's competence, e.g., against new Canadian rivals. ETFs are another emerging trendy form for crypto-hungry investors to get into the market without buying cryptocurrency directly.
Grayscale also announced a new partnership with BNY Mellon bank. BNY Mellon will help Grayscale with ETF-related governance.
Increasing Competition between Bitcoin ETFs
The escalating competition is one of the main drivers behind Grayscale's ETF conversion, as particularly Canadian rivals are stepping up their game. Meanwhile, GBTC's management fee is 2 percent, and the management fee of the leading Canadian bitcoin ETF is 1%. The Canadian Purpose Bitcoin ETF (BTCC) has grown significantly during 2021 and currently holds 22411 bitcoins in its reserves.
3iQ CoinShares ETF (BTCQ) is another ascending Canadian competitor. BTCQ currently holds 21,237 bitcoin units. SEC is expected to approve the first US-based bitcoin ETF shortly. Grayscale, of course, wants to be among the first approved applications.