This week has been a week of breaking records. After the last week's activation of Segregated Witness scaling update, the price of bitcoin has seen a steady rise towards new all-time highs. And in 31th of August it broke the last record, rising globally as high as 4 747 dollars per piece of bitcoin. Bitcoin even briefly crossed the mark of 4 800 dollars, though it soon returned to lower averages. Currently bitcoin is trading for a little over 4 740 dollars.
As usually happens, the rise of bitcoin also bestowed new gains for the blooming altcoin markets. The overall market capitalization of cryptocurrencies has for the first time broken the barrier of 170 billion dollars. Ethereum, Litecoin, Dash and other cryptocurrencies are on the rise as more and more people see the bright future that cryptocurrencies are offering. The trend seems to be clear: cryptocurrencies are becoming mainstream and this quick adaptation gives powerful investing opportunities for those with a keen eye.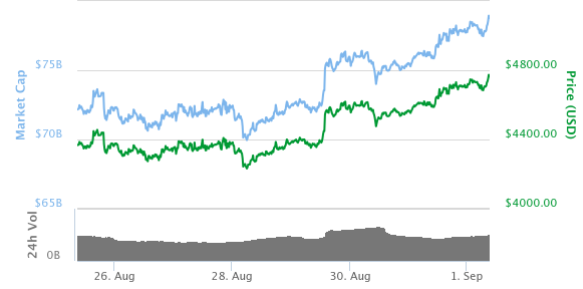 Cryptocoin mining is booming
The cryptocoin boom can also be seen in the hardware markets. Graphics processor manufacturer AMD just presented its new graphics card Vega 56, which had been long awaited by both gamers and cryptocoin enthusiasts. The new card was sold out even before the first cards came out of factory and the demand remains huge.
This is not the only time this has happened, but GPU makers like Nvidia and AMD have reported that people buy their graphics cards as fast as they can make them. This is not due to new Battlefield coming out, but mainly because of the growing cryptocoin mining industry. As the prices of cryptocurrencies rise, mining has become profitable even for small, independent miners once again. You don't need to have a large hall full of ASICs to make profit, for you can make small profits even with your own home computer.
All in all the this means that the mining industry is transforming back to a more distributed state, which is good for the whole infrastructure. One of the main benefits of cryptocurrencies over traditional money is that cryptocurrencies are distributed, which means that there is no single point of failure. To be as good as they can be, cryptocurrencies need to remain at least somewhat distributed.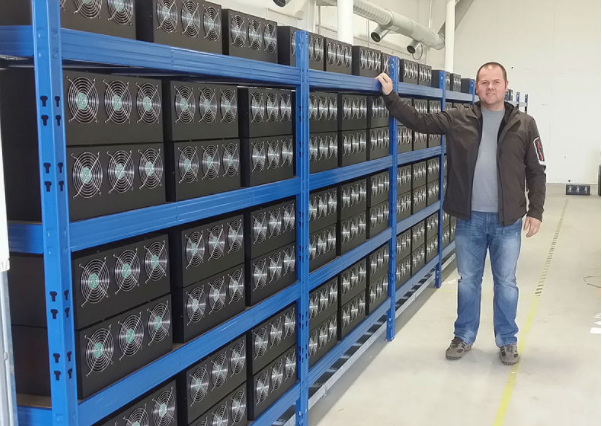 Blockchain as a proof of identity
At the same time as cryptocurrencies, ICOs and other innovations offer great gains for investors, the technology that makes this all possible – blockchain – is also demonstrating its power. One of the blockchain's most potential applications is that of digital identity. As blockchain is immutable, permanent and open, it is an ideal way to store information that is required to be trustworthy and valid.
The state of Illinois has launched a pilot program which is focused on bringing birth certificates to the blockchain. This is an ideal use-case for the blockchain, since the validity of birth certificates is important to secure the rights of the born child. Immutable blockchain is probably the best way known to mankind to store this kind of information.
Of course the pilot program won't be satisfied with just registering newborns. Registry is just a one part of Illinois' blockchain ventures, which aim to give Illinoans a wide access to blockchain's benefits. In the future the state of Illinois might give its people access to digital signatures, digital contracts and so on – all with the benefit of blockchain.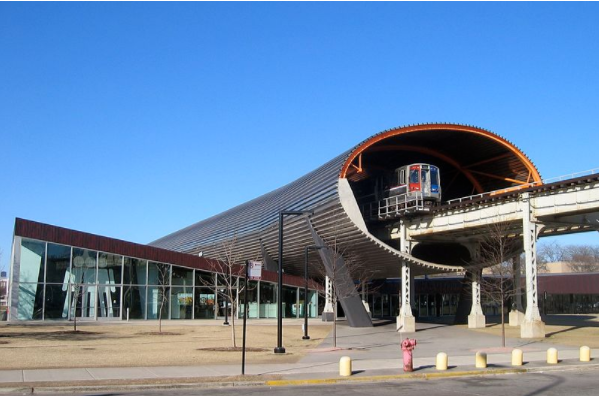 Blockchain can help refugees and combat against terrorism
Illinois is not the only party that's trying out blockchain's possibilities of digital identity. The European Parliament is pushing for EU to use blockchain to register refugees and bestow them with a digital identity, which the governments and officials could then use to identify and handle the refugees in a more effective and trustworthy way.
The refugee crisis that has hit Europe in the last few years has taken EU by surprise. Some in actual need of asylum are exported from EU and at the same time ISIS activists pose as refugees and use the crisis as a gateway to Europe. This kind of a situation is far from ideal, so the governments and officials are hard-pressed to think of new ways to solve the problems.
Blockchain seems to be a good way to handle at least some of the problems, especially with registration and identity. Blockchain is immutable and it cannot lie, so it will reduce the risk of counterfeit passports and other documents. Blockchain could also be used in effective manner for communication and information sharing among the officials of different European states. That is; blockchain could both help the actual refugees and eliminate at least some of the dangers that covert terrorists pose.
No one can say that blockchain and digital currencies are just hype. They have billions of dollars of actual money from actual investors behind them and new use-cases are implemented every single day. Blockchain future is almost upon us and you are right on time.