Bitcoin's price took a major blow in mid-May of 2021 when the Chinese government announced that it would be banning working relationships between crypto companies and financial institutions. As a result, sentiment amongst Bitcoin investors also took a big hit. After all, regulatory issues have been a long-standing concern for BTC hodlers. However, the tides turned for Bitcoin later in the month when a historic piece of positive regulatory news hit headlines. El Salvador would become the first country in the world to classify Bitcoin as legal tender.
While Bitcoin advocates have spoken about the benefits of accepting BTC as legal tender for years, the move stunned analysts. Jack Mallers, founder of the Lightning Network-based payments platform Strike, told CNBC that the news would go down as the "shot heard 'round the world for bitcoin."
And indeed, El Salvador's embrace of BTC has analysts the globe over wondering whether or not this is a turning point for bitcoin and cryptocurrency more generally. For many of them, the answer is yes–absolutely.
The El Salvador Bitcoin acceptance: a step toward de-dollarization?
Perhaps the most significant thing about El Salvador's decision to classify bitcoin as legal tender has to do with the following fact. The country's economy uses the United States dollar (USD) as its reserve currency.
When the COVID-19 pandemic swept the globe in early 2020, concerns about economic ruin and depression were imminent. In an attempt to mitigate the possible effects of economic fallout, the United States government began quantitative easing–and a lot of it. By the end of the year, it was estimated that one-fifth of all USD had been printed in 2020 alone.

Bitcoin's influence grows
Therefore, bitcoin–which had been loosely spoken about as a hedge against inflation–began to take on a much more serious role. Fearing possible inflation, retail and institutional investors began buying bitcoin as a way to protect the value of their savings.
And it seemed to be working–with each new round of stimulus payments, the price of BTC continued to increase. At the beginning of 2020, BTC was priced at roughly $7,000. By the end of the year, it was worth nearly $30,000.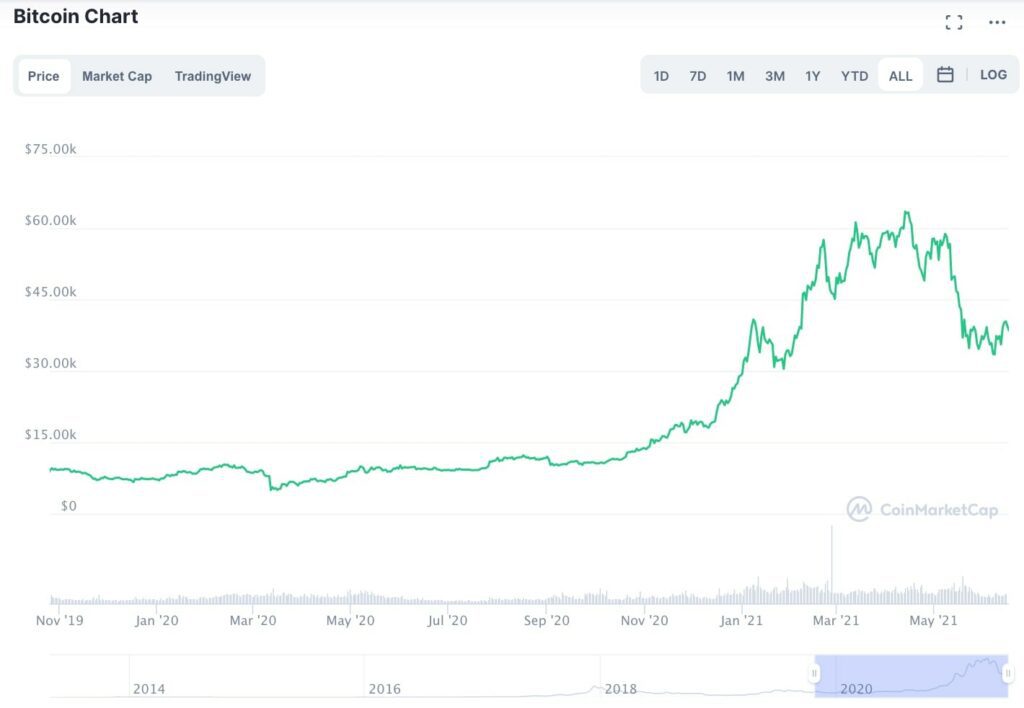 The price of BTC has fluctuated considerably in the first half of 2021. Despite this, the asset has continued to gain ground as possible protection against inflationary forces. However, while retail, institutional, and corporate investors have shown an increased increase in bitcoin on this basis, this kind of interest in BTC has never played out on a national scale–until now.
"Holding bitcoin provides a way to protect developing economies from potential shocks of fiat currency inflation," Jack Mallers explained, speaking further to CNBC.
Indeed, Mallers and other analysts believe that El Salvador's embrace of BTC isn't just a signal of technological progress. It could also be a step toward de-dollarization.
Is El Salvador's embrace of BTC irresponsible?
However, not everyone is convinced that this plan will work. And, in fact, some critics have declared that the move was reckless.
In a piece for Foreign Policy, author and crypto critic David Gerard wrote that the move was "likely to be a disaster for the country." Not only that — it was also "typical of Bukele's erratic style of government."
"Bitcoin has utterly failed to be useful as currency…so the promotional line is now that it's a 'store of value,'" Gerard wrote. "That is quite a claim for a speculative commodity given to spectacular asset bubbles, whose price can go up and down 50 percent within a couple of months."
Intergovernmental institutions seem to be skeptical as well. For example, the International Monetary Fund (IMF) mentioned their economic and legal concerns raised by El Salvador's bitcoin move. And the World Bank refused to assist the country with the implementation of BTC. The latter is concerned with the transparency of the Bitcoin network and the environmental impact of BTC mining.
Will other nations follow in El Salvador-Bitcoin's footsteps?
Still, supporters of bitcoin believe that El Salvador's embrace of BTC could position the country as the first of many developing economies to begin accepting bitcoin (and possibly other digital currencies) as legal tender.
However, the situation in countries with developed economies seems to be quite different. Peter McCormack, the host of the "What Bitcoin Did" podcast, tweeted on June 17th, 2021, that he "spoke to a British MP this morning about how we can lobby the government to support #bitcoin economic freedom. I was told there is little to no interest from the treasury."
Most major economies may not be interested in accepting or investing in BTC now. Meanwhile, there is some evidence that other developing economies have a vested interest in bitcoin. For example, it is believed that Iran avoids trade sanctions through the use of bitcoin payments.
more countries are considering using cryptocurrency
On June 14th, Tanzanian President Samia Suluhu Hasaan encouraged her country to prepare itself for the adoption of Bitcoin and other digital assets. "We have witnessed the emergence of a new journey through the internet. I know that throughout the nation, including Tanzania, they have not accepted or started using these routes. However, my call to the Central Bank is that you should start working on that development," she said.
Argentina's president has indicated that he is open to the notion of cryptocurrency having a greater part in the economy. Alberto Fernandez has stated that the country is open to adopting Bitcoin.
During an interview with Filo News' Caja Negra, Fernandez said, "I don't want to go too far out on a limb …, but there is no reason to say 'no,'". Fernandez also explained, "They say the advantage is that the inflationary effect is largely nullified,"
El Salvador may be the first country to adopt Bitcoin as legal tender. But this may not be the last time that a sovereign nation becomes intimately involved with the world of BTC. Watch this space.