The TA of week twelve focuses on Bitcoin's upward momentum as it tries to break through the $45-47K resistance level. Additionally we explore other technical & on-chain metrics, and see what investors should follow now on social media.
Cryptocurrencies continued their upward momentum this week, as the spot price bounce from February lows moved on. Bitcoin has climbed 5,5 percent within seven days and Ethereum 6,6%. The market is also showing signs of emerging altcoin season (altseason), as decentralized finance and privacy-focused coins have rallied during last weeks.
7-Day Price Performance
Bitcoin (BTC): 5,5%
Ethereum (ETH): 6,6%
Litecoin (LTC): 7,3%
Aave (AAVE): 2,4%
Chainlink (LINK): 5,5%
Uniswap (UNI): 8,3%
Stellar (XLM): 9,6%
XRP: 1,4%
Bitcoin is currently consolidating between $35K support level (turquoise) and $45-47K resistance level (orange). After bitcoin's spot price found its local bottom in early February, the asset has strengthened almost 30%. Bitcoin was able to pivot its trajectory upwards after falling almost 50% from November 2021 to February 2022. The current consolidation phase has been running for approximately 50 days.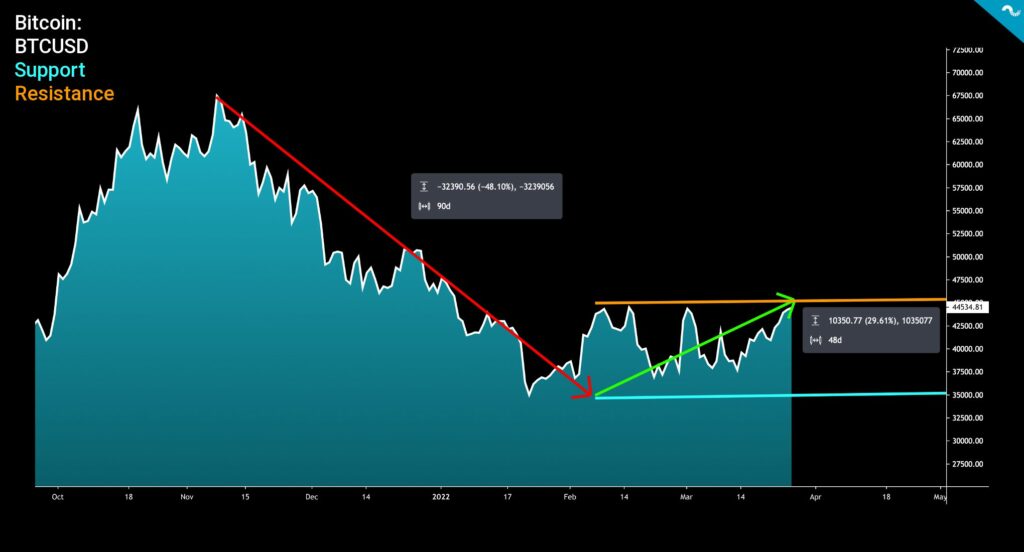 Bitcoin Crosses The Essential 100DMA Level
Driven by the new spot price momentum, bitcoin recently crossed the 100-day moving average level (purple). During its 90-day downtrend from November to February bitcoin smashed through both 100-day and 200-day (yellow) moving averages. If the positive spot price momentum continues, bitcoin might touch 200-day moving average next, further supporting its ascent.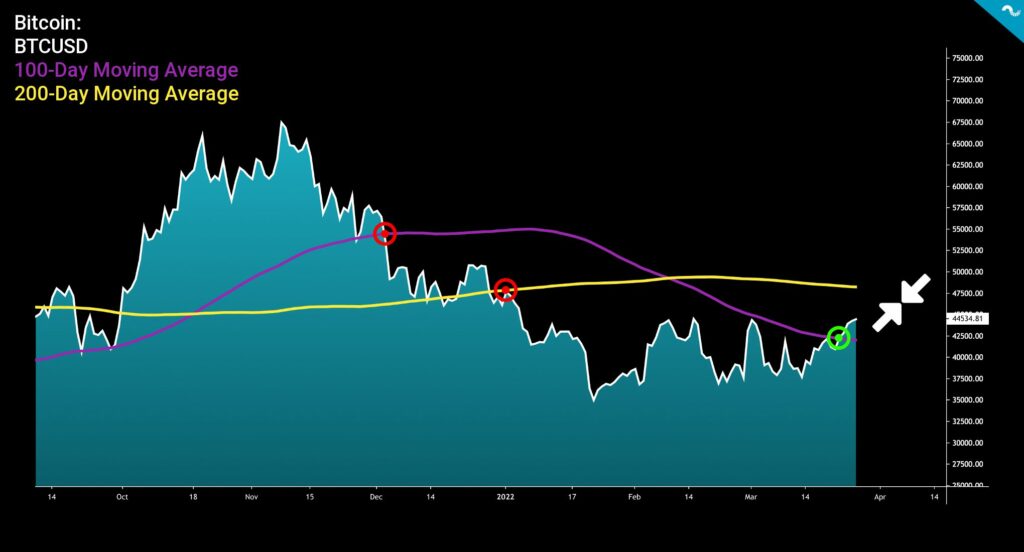 Back in January bitcoin went through a "Death Cross" setting as its 50-day moving average (50DMA) crossed below 200-day moving average (200DMA). While these two indicators are still showing divergence, rising spot price could bring 50DMA close to 200DMA. This would generate a "Golden Cross" setting that's considered to be highly bullish.
↑ Golden Cross: 50DMA Crosses 200DMA to The Upside
↓ Death Cross: 50DMA Crossed 200DMA to The Downside
Open Interest Reaches Highest Level in 2022
Bitcoin's Open Interest (green) breached 14 billion contracts this week, marking a new high for 2022. Open interest is the number of open derivative positions, including longs and shorts, currently in derivative exchanges. Increasing open interest mirrors more liquidity entering the market, usually aligned with more volatility. The increasing open interest currently supports bitcoin's spot price momentum.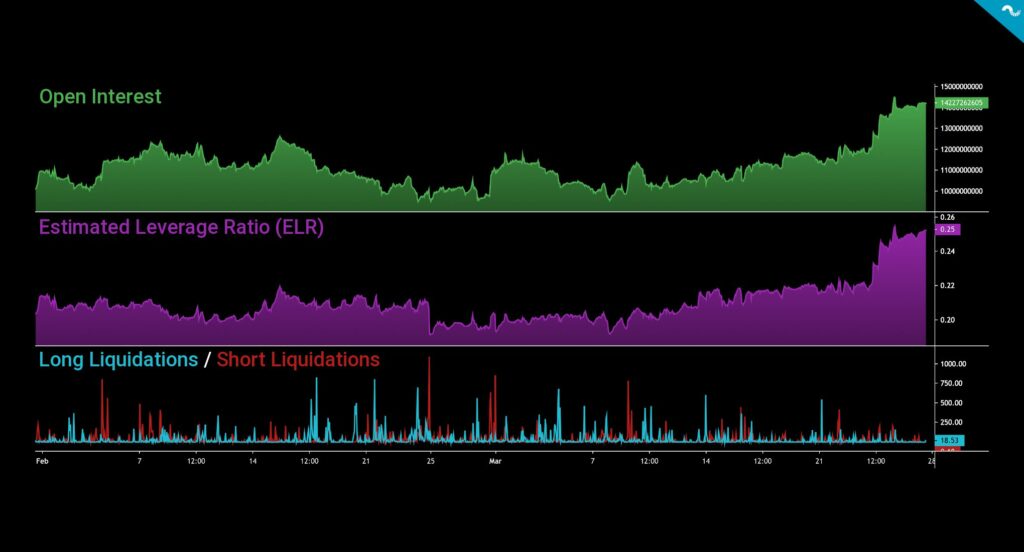 Estimated Leverage Ratio (ELR) (purple) has been rising as well, reaching the value of 0,25. Growing ELR means traders are increasingly taking risk. Long and short liquidations (blue and red) are basically going sideways towards the end of March. The market seems to anticipate a big spot price shift.
Bitcoin's MVRV Indicator in Buy Zone
While Bitcoin's spot price has increased almost 30 percent in 50 days, the Mean Value to Realized Value indicator (MVRV) stays low at 1,83. Low MVRV levels like this indicate Bitcoin being deep in the buy zone. Bitcoin is generally considered as overvalued when MVRV exceeds 3,7 and undervalued when it's below 1.
MVRV, or Market Value to Realized Value, was firstly developed by David Puell and Murad Mahmudov in early October 2018. The Puell Multiple indicator used in technical analyses is also named after David Puell. MVRV is calculated by dividing the market cap by realized cap and it's a good instrument for estimating if market participants are in profit or not.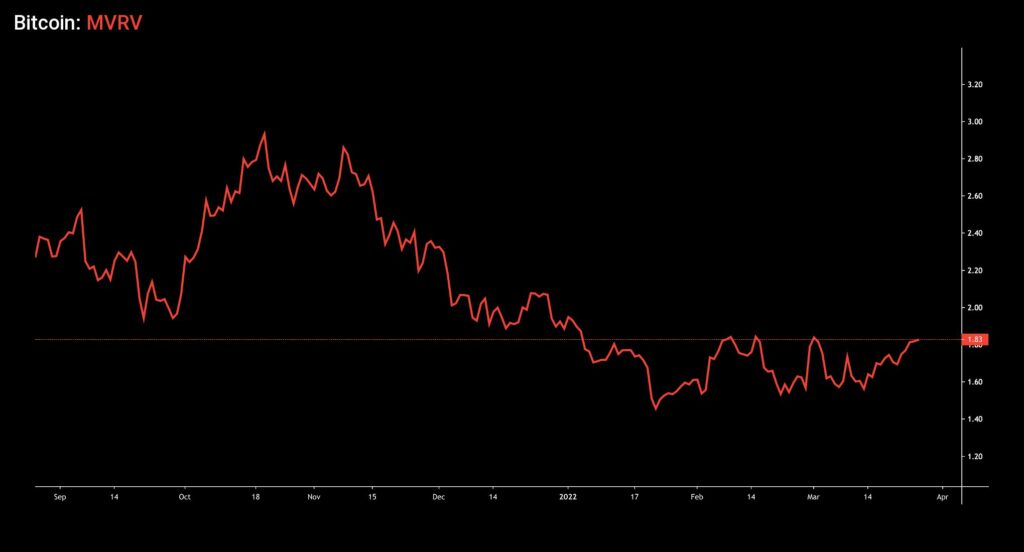 What to Read Next?
Privacy coins have gained momentum recently and Zcash (ZEC) is up 95,8 percent in 30 days. Grayscale's founder Barry Silbert suggests every investor should allocate 5% to privacy-focused coins.
As explored in the TA of week 11, inflation is going through the roof. Analyst Lyn Alden states that Turkey is experiencing inflation rates of more than 50 percent.
Ukraine has received over $100 million worth of donations in cryptoassets. The government plans to launch a NFT museum to raise funds and awareness. The museum will run on Ethereum and Polygon platforms.